4
March
Alum-founded Women's International Pharmacy compounds custom pharmaceuticals to meet unique needs
By Katie Gerhards & Stuti Bhardwaj
Hormones are crucial chemical messengers throughout the body, affecting numerous bodily processes — everything from bodily growth to blood sugar control to reproduction. Their integral roles mean that if hormone levels deviate much, whether it's due to age or a disorder, you're going to feel it.
"As we age, the already small amount of hormones that we produce declines, so in order to maintain the systems in our bodies — because hormones are related to just about every system in our body — many people supplement and replace those hormones," says Gina Besteman (BS '93).
Besteman is the general manager at Women's International Pharmacy (WIP) in Madison, Wis and in Youngtown, Ariz. For nearly 40 years, WIP has specialized in compounding bio-identical hormonal preparations, meaning the hormone molecule used in the preparation is identical to that produced by the human body.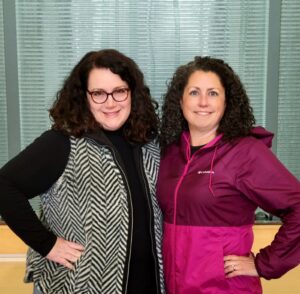 Founded in 1985 by University of Wisconsin–Madison School of Pharmacy alum Wallace Simons (BS '62), Women's International Pharmacy was originally connected with a PMS (pre-menstrual syndrome) clinic and originally focused on a single hormone — progesterone — to potentially help women manage symptoms like bloating, moodiness, and headache, which can accompany a hormonal imbalance.
Since then, Simons opened a second location in Arizona and their offerings have expanded to cover a range of custom compounded hormonal medications for men and women alike. Some conditions that may respond to hormone therapy include infertility, menopause, and testosterone deficiency. In 2021, WIP became a member of Belmar Pharma Solutions, and Simons retired from the company.
"Hormonal needs are very specific to each individual," says Besteman, also a School of Pharmacy alum. "Oftentimes, we find that the medications that are available commercially take a one-size-fits-all approach."
She has been with WIP for 27 years, where she works with a team to provide these custom compounded medications to thousands of patients each year in all 50 states.
"Before I got into management, I spent many years speaking with people on the phone who say that we've changed their lives with what we've done and how we made them feel," says Besteman. "It's a rewarding career to have that kind of communication with patients."
Personalized care
Michelle Violi (PharmD '01) got started at WIP shortly after earning her PharmD, following a clinical rotation at the pharmacy as a student at the UW–Madison School of Pharmacy.
"I just loved it. I love the idea of making sure that each person is addressed and cared for individually and that we can create medication exactly as the patient needs it," says Violi, WIP's pharmacist in charge. "Additionally, I've always had an interest in women's health, so it was a very natural fit."
WIP often sees hormone replacement therapy used by women in menopause. Because the sudden decline in estrogen and progesterone can cause a range of issues, there are different therapeutic approaches depending on patient goals.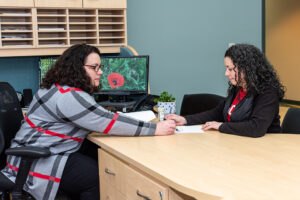 "Some patients and providers are looking to relieve symptoms like hot flashes, night sweats, and mood swings, but others may focus on bone health and mental clarity," says Besteman. "This particular area of medicine is being able to meet the patient where they are and really address their needs and long-term goals."
In a compounding pharmacy, pharmacists take the active ingredients in precise amounts and mix them with a base to form capsules, creams, gels, lozenges, and suppositories.
"It's very specific to each person's need, in contrast to manufactured drugs where they are producing a lot of the same dose quickly," says Violi.
A typical prescription sent to WIP contains specified strengths of estrogen, progesterone, testosterone, or DHEA — dehydroepiandrosterone, which is a hormone that helps to produce other hormones — at precise amounts that aren't offered commercially. These hormones, and others, may be prescribed to be included in any strength and combination.
"A commercial product may be available in just a few standard strengths such as 0.5 milligram, one milligram or two milligrams, whereas we could make a 0.6 milligram strength or a 0.03 milligram strength," says Violi.
And because each prescription is compounded for one specific individual, they can make very minute dose adjustments.
"After the initial prescription, the patient might come back to their health care practitioner and, based on symptoms or testing, need an adjustment of a quarter of a milligram," says Violi. "As a compounding pharmacy, we can do that."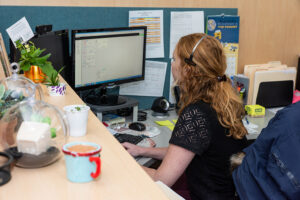 While the active ingredients are tweaked in precise increments, the inactive ingredients, such as the base of a cream or the food coloring in a capsule, can also be modified to accommodate patient allergies or intolerances.
"We work with a lot of very chemically sensitive patients, so we are very used to evaluating different options and finding medications that they can tolerate," says Violi.
Over Violi's 21 years at WIP, she estimates that they have compounded more than 200,000 different combinations of preparations.
"Compounding is essentially the basis of pharmacy, and it's important for patients to know that there are more options than what is available commercially, because more and more people are developing allergies or problems with dyes, fillers, and binders," says Besteman. "And it's important to know as a pharmacist that you might be able to make a difference or make something available to someone who otherwise wouldn't have been able to use it."
Badger legacy
Besteman and Violi work with a large team, including fellow School of Pharmacy alumni Heather Stoner (PharmD '18), dispensing pharmacist and technician Manager; James Haines (PharmD '09), lab supervisor; Cameron Seiser (PharmD '18), lab pharmacist; and dispensing pharmacists Michele Esser (PharmD '01) and Carla Berg (BS '92).
When Besteman first joined WIP following an internship at the VA Clinic in Milwaukee, Judy Thompson (BS '67), UW–Madison School of Pharmacy emeritus clinical associate professor, was in charge of the School's compounding lab.
"She was really knowledgeable and my primary influence in getting interested in compounding," she says, and hopes to serve as a similar role model to student pharmacists as a preceptor for clinical rotations.
"I spent many years speaking with people on the phone who say that we've changed their lives with what we've done and how we made them feel."
—Gina Besteman
The Badger pharmacy connections within WIP are broad and deep, stretching back to Simons as founder, current pharmacy staff and leadership, and future practitioners through precepting.
"I am very pleased with the education I received and the caliber of the education I received," says Besteman, who holds a pharmacy licensure in 19 states. "We try to be involved as much as we can with the School of Pharmacy. I really appreciate what it's done for me."