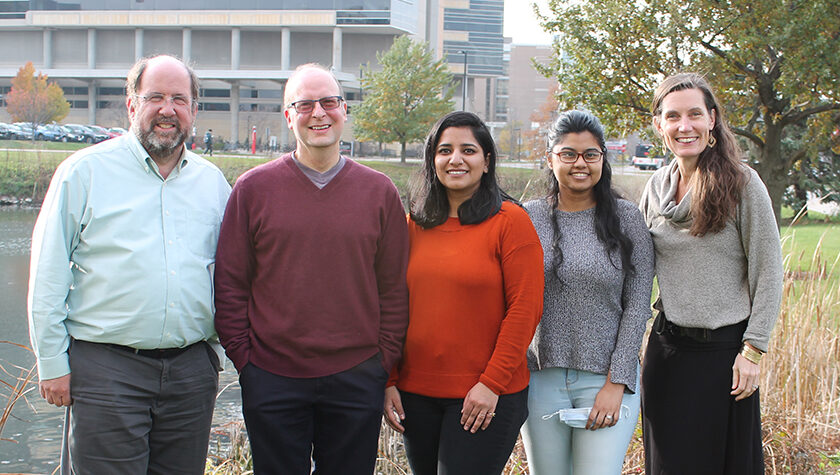 4
December
Through a string of NIH grants, Assistant Professor Jay Ford advances critical research to improve access to medication-assisted therapy for opioid use disorder
By Emma Gran
In the U.S., an estimated 2.4 million people are living with opioid use disorder (OUD), a complex disease that puts patients at higher risk of depression, suicide, infectious disease, and even death. Integrated therapy — using opioid antagonists like buprenorphine, methadone, or naltrexone to manage physical symptoms in combination with counseling and psychosocial support — gives patients the best odds of staying clean. In fact, use of any of the three medications has been shown to increase the duration of patient engagement with treatment and reduce future use of opioids.
However, among existing treatment programs for substance use disorders, only 36 percent offer medication-assisted therapy, and just 6 percent offer access to all three medication options. Rates of access and utilization of medications for opioid use disorder (MOUD) have increased in the past few years, but the continued toll of the opioid epidemic highlights the need to address this concerning treatment gap.
"It is really important to recognize that opioid use disorder is a chronic disease that individuals are going to battle and struggle with for the rest of their lives," says Jay Ford, an assistant professor in the Social and Administrative Sciences Division of the University of Wisconsin–Madison School of Pharmacy. "Counseling and medication are going to help treat this chronic condition for most people, but only if they have access to them."
"It is really important to recognize that opioid use disorder is a chronic disease that individuals are going to battle and struggle with for the rest of their lives."
—Jay Ford
Through a string of grants from the National Institutes of Health's National Institute of Drug Abuse (NIDA), Ford has been conducting research across the country to enhance OUD treatment processes and promote best practices.
Ford's latest five-year NIDA grant will fund a new project, Stagewise Implementation-To-Target-Medications for Addiction Treatment, to engage up to 72 community addiction treatment programs in a series of interventions designed to improve their ability to offer effective treatment options for OUD. The grant application received a perfect impact score of 10, a rare designation that showcases that the panel believes the project is highly innovative and has the potential to make a significant impact in the field.
"Knowing that the work I'm doing is making a positive difference for the people interacting with the behavioral health system keeps me motivated to continue doing this research," he says.
No 'one-size-fits-all' solution
Ford's new study — coming on the heels of another NIDA-funded project that led to one of the Recovery Research Institute's most-read articles of 2020 — goes beyond the typical structure of a randomized trial, which usually consists of half of participants receiving an intervention and the other half not receiving the intervention.
Instead, this study takes on an adaptive trial design approach, which allows the research team to deploy a series of increasingly intensive strategies based on the unique level of needs and progress at each participating clinic. Through this approach, Ford and his co-primary investigator, Stanford University Professor Mark McGovern, can evaluate the relative impact of four implementation strategies offered in the study.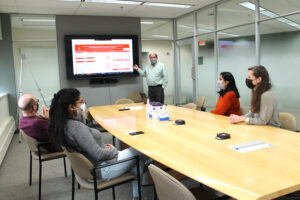 "It's possible that a clinic in this trial could be exposed to only one, three or all four of the implementation strategies," says Ford. "There is no one-size-fits-all way to resolve these issues occurring in behavioral health systems."
The number of strategies each clinic experiences is based on their improvement, defined in this study as progress toward three specific goals: First, at least 50 percent of their patients with an opioid use disorder should be receiving appropriate medication. Second, those medications should be dispensed by an on-site prescriber. Lastly, on a scale of 1 to 5 rating how supportive staff and management are of implementing the changes designed to increase access to MOUD, clinics should earn a 3 or greater using the Integrating Medications for Addiction Treatment (IMAT) Index.
"If clinics meet all three criteria, they're deemed to be successful, and they don't move to the next strategy," Ford says. "Otherwise, they'll move to the next strategy and continue the process until they achieve these goals."
Each participating clinic will begin by completing an initial IMAT assessment to gauge their current ability to provide their clients with medications for opioid use disorder, which will then be used in a feedback report that is given to the organization.
"We are going to basically see what happens when they are just exposed to the feedback report, but we're not expecting a lot of organizations to improve at this stage," he says.
If the clinics do not show improvement, Ford says they will then be provided with intensive training and education on Network for the Improvement of Addiction Treatment (NIATx) strategies and how to provide different medications for opioid use disorders at a two-day workshop.
Six months later, the organization will complete another assessment to evaluate their progress. Clinics showing improvement will be monitored over time, and clinics that don't improve after this educational step will then be randomized to receive either internal or external coaching.
"We hope addiction treatment providers are able to make meaningful changes to their practice in order to better accommodate the needs of individuals experiencing OUD."
—Jay Ford
Essentially, the internal facilitation will train staff inside the clinic to become their own coaches, so they can work and coach internally. In the external facilitation, the clinic staff will work with an external coach and expert who's has extensive prior experience in guiding agencies through change.
After nine months of coaching, clinics will be assessed again. If the clinics assigned to the internal facilitation arm didn't improve, they will receive external facilitation.
This stage-wise implementation approach will provide critical context into how well community addiction treatment providers can incorporate evidence-based strategies into their treatment program and provide critical insights into the most cost-effective intervention methods for expanding MOUD treatment and advance understandings of how to best respond to a substance-related epidemic.
Currently, Ford and McGovern are in the process of working with health systems partners from the state of Washington, which has robust administrative data systems, to build a strategy for recruiting treatment programs. Ford estimates the interventions will be underway in the spring of 2022.
"We hope addiction treatment providers are able to make meaningful changes to their practice in order to better accommodate the needs of individuals experiencing OUD," says Ford. 
Building on expertise
Ford, who grew up in Georgia and worked for healthcare systems in Tennessee for over 17 years, came to UW–Madison to get his PhD in industrial engineering. Before joining the School of Pharmacy in 2018, he worked as a scientist at the UW–Madison College of Engineering, where he had the opportunity in 2003 to collaborate with the Robert Wood Johnson Foundation and the Center for Substance Abuse Treatment.
Through the collaboration, Ford helped to establish the national Network for the Improvement of Addiction Treatment (NIATx), a 10-step process improvement model to help treatment organizations enhance treatment access and retention through coaching services and peer-to-peer learning opportunities.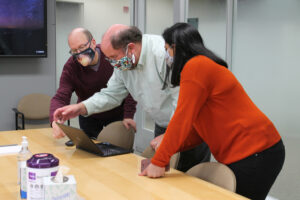 "I think there's a lot of attention that is given to improving processes in big healthcare systems like UW Health, but community behavioral health organizations, nursing homes, or community pharmacies don't get that same level of attention," Ford says. "I saw working with the NIATx as an opportunity to make a difference in a specific part of the healthcare environment."
Ford's NIATx research, which accounts for many of his 60-plus publications, has helped to improve the model and serves as a solid foundation for this latest initiative. For example, he and collaborators found that the NIATx framework increased retention between the first and fourth substance misuse treatment sessions by 18 percent, and he found that external coaching is the most cost-effective intervention to guide behavioral health clinics through process improvement.
"Building off of our most recent study, we are using scales that are looking at both participation and cost in each of the implementation strategies," says Ford. For the former, they're using the established through previous NIDA-funded research to see how well clinics are abiding the framework's basic principles. And while Ford's earlier research has shown that coaching is a cost-effective solution, through his current study, he hopes to see how that translates for expanding MOUD programs.
"I think about it from the perspective of the individuals who are interacting with systems and facing these barriers," he says. "One day, I could be that individual out there facing similar barriers and I just want to try to make a difference for not only the clients of these organizations, but also for the organizations themselves."