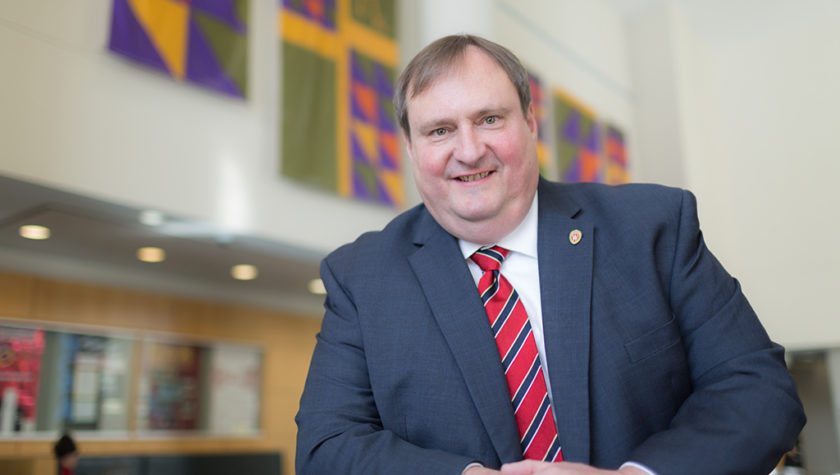 1
June
Dear Fellow Badgers,
As of this writing, it's been about 14 months since the SARS-CoV-2 virus that causes COVID-19 drove us all to live and work in more stressful and isolated ways. Routine errands were no longer routine. Grandparents couldn't hug their grandkids. Handshakes were replaced by elbow bumps — if anything at all. In the fall of 2020, hospital ICUs reached capacity, ventilators were in short supply and health care workers struggled with their mental health as they struggled to support their COVID-19 patients.
The death toll was staggering. According to the Johns Hopkins COVID-19 Dashboard, there have been over 590,000 COVID-related deaths in the U.S. This death toll approaches the estimated 666,000 combat deaths in all the wars the U.S. has been engaged in since the Revolutionary War and the estimated 675,000 Americans who died from the N1H1-driven 1918 pandemic, which raged without a vaccine.
Finding a new normal
The good news is that several effective COVID-19 vaccines are now available, and the country is rolling up its sleeves. Here in Dane County, 64 percent of residents have received at least one dose and about 55 percent have completed a vaccine series. Hospitalizations due to COVID are down across the country. Dodger Stadium's parking lot has transitioned from a COVID-19 testing site to a vaccination center. Soon the lot will be filled with the cars of baseball fans as the Dodgers plan on moving to full capacity in their stadium by the middle of June. Our Brewers have a similar timeframe planned for full capacity at AmFam Field.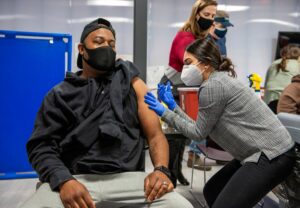 Absent a resurgence of the virus, the University plans on opening up to a new normal this fall. Most faculty, staff, and students are expected to be on campus, residential housing will be full, and most classes will be in person. However, the campus, like the rest of the world, is likely to retain some of the measures we took during the pandemic. Faculty, staff, and students found that in certain situations, virtual experiences are as good or better than in-person. Some events, classes, and large meetings may continue to be offered online for convenience and greater participation.
Here at Rennebohm Hall, we have taken down barriers in the building that regulated foot traffic. Furniture will soon be returned to rooms and spaces previously limited in occupancy to allow for distancing. Over the summer, life at the School will slowly begin to look like it did before the pandemic. We are hopeful that the coming academic year will be a new normal that is more like 2019 than 2020.
Celebrating student achievement
Despite all the challenges we faced in 2020 and early this year, the School has thrived due to the generous support of our Badger alumni, the dedication and passion of our faculty and staff and the grit and resilience of our students.
During this historic time, the Wisconsin Society of Pharmacy Students, which is our school's chapter of the American Pharmacists Association's Academy of Student Pharmacists (APhA-ASP), won regional awards for Operation Diabetes and Generation Rx, which provide education on diabetes and drug misuse and abuse, respectively. PharmD students Nickolas Ruark, Victoria Cancelliere, and Sean Van Helden advanced to Round 2 of the American College of Clinical Pharmacy Clinical Skills Competition. Samantha Lewiston (PharmD '21) was one of only 12 students nationally to win an American Society of Health-System Pharmacy (ASHP) Student Leadership Award, which "recognizes and celebrates the contributions of students who represent the very best attributes and accomplishments of ASHP student members." Another of our gifted students, Maddie Wiarek, won this year's APhA-ASP National Patient Counseling Competition, out of more than 100 participants nationwide.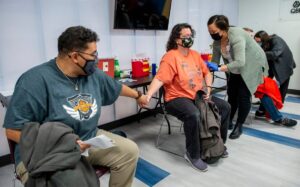 Not only are our students talented, but they have served our communities well during the pandemic and were outstanding ambassadors for the School and the profession of pharmacy.
Nearly 300 students volunteered over 2,500 hours to vaccinate the public — in addition to the hours that they spent working as pharmacy interns. Almost 19,000 vaccines were administered during the clinics where pharmacy students volunteered. Our students joined the efforts to reach disproportionately affected populations by volunteering with the Boys and Girls Club of Dane County, the HoChunk Nation, Goodman and Lussier Community Centers, and several mobile clinics. The work to immunize Wisconsinites will proceed through the summer, and our students will be there to help.
Honoring alumni success
While our students continue to impress us, our alumni do the same. It's my honor to announce the four School of Pharmacy alumni selected for 2021 Citations of Merit — the School's highest annual award.
Dan Luce (BS '81)

Bill Doucette (BS '83, MS '88, PhD '93)

Mehran Yazdanian (MS '88, PhD '90)

Jayne Hastedt (MS '88, PhD '90)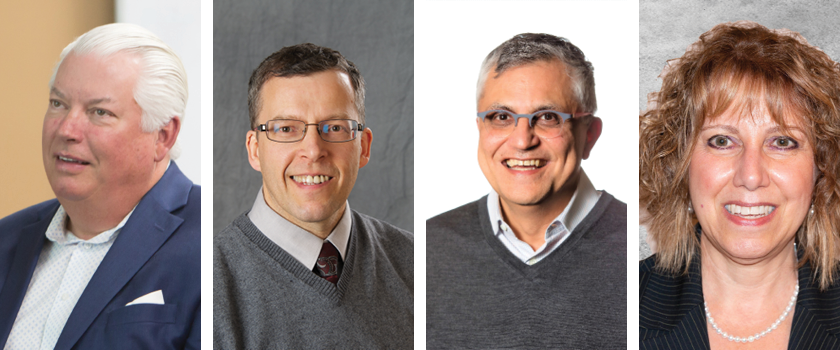 Each of these individuals has advanced their fields and contributed to the education of future pharmacists and researchers, including through their involvement here at the School of Pharmacy. After the cancellation of last year's Citation of Merit Awards and Dinner, we're optimistic that we'll be able to gather for a small ceremony this fall, celebrating both our 2021 recipients as well as our 2020 winners: Susan Sutter (BS '78), Bruno Hancock, Greg Higby (PhD '84), and Nita Pandit (MS '78, PhD '80).  
I am very proud of our students, faculty, staff, and alumni, and want to thank our alumni and friends for all they have done to support the School during one of the most challenging years in its long, proud history.
On, Wisconsin!
Steve