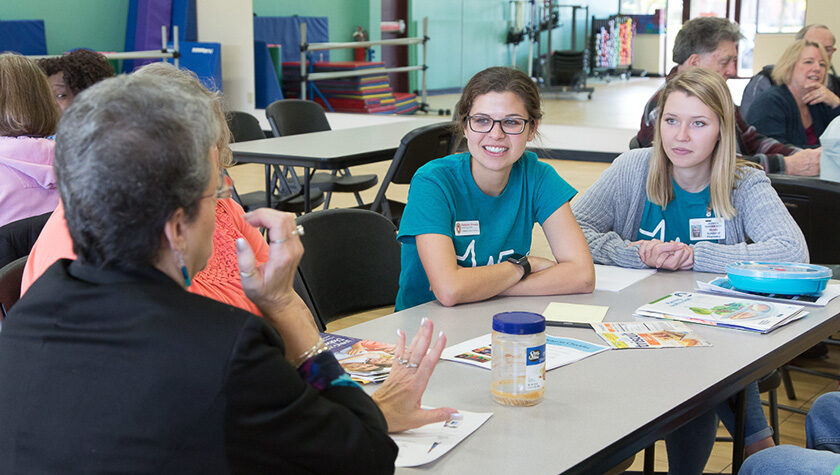 10
December
WSPS' Operation Diabetes and Generation Rx receive regional recognition for outstanding community outreach
By Katie Gerhards & Arushi Gupta
By design, pharmacists are patient educators: They not only review the risks and instructions for prescriptions, but they can also consult with and inform patients about managing and preventing diseases ranging from high blood pressure to chronic obstructive pulmonary disease.
The University of Wisconsin–Madison School of Pharmacy's PharmD students begin practicing these skills early and often, through not only their formal Pharmacy Practice Experiences but also through community outreach events organized by student groups like the Wisconsin Society of Pharmacy Students (WSPS).
WSPS — the School's chapter of the American Pharmacists Association's Academy of Student Pharmacists (APhA-ASP) — has numerous education and outreach initiatives in focused areas, such as Operation Heart, Operation Airways, Operation Self-Care, MedDrop, and other facets of health that pharmacists can help address.
These operations are orchestrated by APhA-ASP chapters around the nation, but two of our students' initiatives have gone above and beyond to serve their communities in unique and impactful ways.
"Our main goal was identifying opportunities where we could reach a vulnerable population and targeting that population in unique ways."
—Britney Youngchild
At the 2019–20 APhA-ASP Regional Midyear Meeting, which included 25 student chapters, WSPS received two Region 4 awards recognizing their Operation Diabetes and Generation Rx initiatives. This marks the third consecutive year that WSPS' Operation Diabetes has received the Region 4 award and the second time in three years for Generation Rx, which provides education on drug misuse and abuse.
"Our main goal was identifying opportunities where we could reach a vulnerable population and targeting that population in unique ways," says Britney Youngchild, 2019–20 Generation Rx co-chair.
Both Generation Rx and Operation Diabetes pursued and succeeded in that mission, organizing several events and designing new ways to get patients interested and informed about their health.
Diabetes outreach
"This past year, we worked hard to not only help patients understand what diabetes is, but to also help them understand what they can do if they're concerned about developing diabetes," says Natasha Virrueta, third-year PharmD student and co-chair of Operation Diabetes.
With co-chair Adam Klamt, now a fourth-year PharmD student, Virrueta brought Operation Diabetes to various health fairs and events focused on distinct populations, such as the Latino Health Fair, Hmong New Year, Wunk Sheek Powwow, and Black Women's Wellness Day.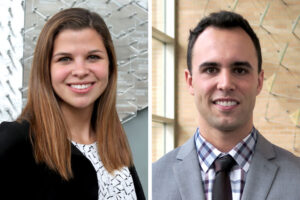 Each of these communities has a different experience with diabetes, from cultural foods and traditions that impact how the disease is managed, to perceptions of treatment options. The PharmD students in Operation Diabetes tailored their presentations to be culturally appropriate and relevant, which will be a valuable skill when these future pharmacists are dealing with BIPOC (Black, Indigenous, people of color) communities in practice.
"Students may learn about the social determinants of health in a public health class, but to actually meet a patient who is living in poverty, who can't afford their medications on a regular basis or uses the food pantry to obtain food for their family — that is what students benefit from the most: learning from patients," explains Professor Eva Vivian, the operation's faculty advisor.
In 2019, Virrueta and Klamt also debuted a new mode of outreach that helped them earn the APhA-ASP award: community diabetes classes, offered through Madison School and Community Recreation (MSCR), which has a large outreach network across the Madison area.
"I was sold from the start," says MSCR Fitness Specialist Jean O'Leary, who welcomed the student-led course. "We knew we had people interested, so it was a really good fit."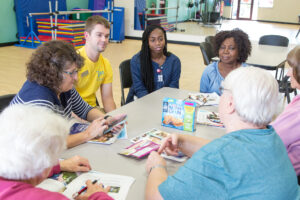 Their first diabetes education session, which ran in fall 2019, consisted of five weekly discussions about the disease. Each meeting would include a breakout session, where Operation Diabetes PharmD student volunteers would lead table discussions on specific topics. At the end, the group would come back together to discuss what they learned.
"Attendees were able to talk about their own experiences and hear from others what has worked for them," says Virrueta. "We even had one participant say, 'I have learned more about this disease in this class than I have learned in the 15-plus years I've had diabetes.'"
O'Leary also heard from participants that the courses were revolutionary for their understanding of their health and has welcomed the group back to offer the course twice a year.
"It's been a great program for us and I think people really appreciate the collaboration with the students at UW–Madison," she says.
Preventing drug misuse
Like Operation Diabetes, Generation Rx goes out into the community to spread information that promotes health and well-being. In particular, they focus on prescription drug misuse and abuse.
"In a non-COVID world, that means going into high schools and giving presentations about what the opioid epidemic is, what prescription drug misuse and abuse looks like, myths surrounding it, and how students and pharmacists can help," says Johanna Van Epps, third-year PharmD student and Generation Rx co-chair.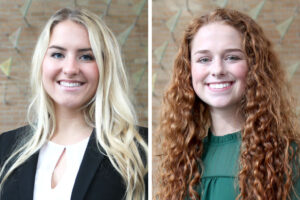 In addition to presentations in high schools, Generation Rx PharmD student volunteers also present to PATCH (Providers and Teens Communicating for Health), a local organization composed of teens who want to learn more about health care and how they can better communicate with health professionals, and attend local health fairs.
For 2019–20, the group elevated these high school presentations through a partnership with pharmacists at the William S. Middleton Memorial Veterans Hospital. Theresa Frey (PharmD '09), the hospital's PGY2 Pharmacy Psychiatry Specialty Residency program director, and Erica Frazier, psychiatric clinical pharmacy specialist supervisor, reviewed presentation materials and coordinated PGY2 Psychiatric resident participation in Generation Rx events to answer questions and facilitate communication between students and healthcare practitioners.
"We also encouraged our PharmD student volunteers to go back to their hometowns and present at their local high schools, so we were able to reach populations that we otherwise wouldn't have been able to just staying in the Madison area," says Youngchild.
Throughout the year, Youngchild and Van Epps also revamped their presentation materials to include more engaging visuals and up-to-date statistics that address the most pressing drug misuse issues of today and held a total of 36 presentations that reached nearly 1,300 individuals.
Making progress
As student pharmacists advance through the four years of the PharmD curriculum, leadership of each WSPS operation transitions to a third-year student and a second-year student, who work together as co-chairs. Youngchild, now a fourth-year student out on her Advanced Pharmacy Practice Experience rotations, says she valued the opportunity to grow with each year of her involvement with Generation Rx.
"Having the opportunity to take everything that I learned in my first and second year and make changes as co-chair in my third year was really impactful," says Youngchild. "Being in this leadership role has helped develop my communication skills, presentation skills, and organizational skills with all different audiences, whether that be students, pharmacists, or teachers within the community."
Virrueta also says the experience of working with Operation Diabetes — collaborating with faculty and interacting with patients in the community — has set her up to be a more effective clinician.
"Professor Vivian has taught me to be aware of what I am saying and how people are perceiving it," says Virrueta. "In pharmacy school, you can get caught up in the technical terminology, which isn't always patient-friendly. Working with her in Operation Diabetes has made me think about how I can really tailor my education to the patients."
"It's about taking things as they come and finding opportunities for how we can best interact with the community, given the circumstances."
—Johanna Van Epps
As fourth-year students, Klamt and Youngchild have passed the torch of leadership on to Van Epps and Virrueta, who have new co-chairs and new ideas. The first opportunity for innovation is meeting the challenge of engaging community members during a pandemic. Health fairs are temporarily off the table, but other virtual events are in the works.
Operation Diabetes continues to offer their community education class, but for the fall of 2020, participants met on Zoom. Virrueta says she and her new co-chair Jack Kumbalek, second-year PharmD student, are also planning more changes to reach families or a younger audience.
"Our plans are to really start to open up our audience," says Virrueta. "Diabetes isn't just something you should worry about when you're older, but also when you're young and healthy and want to maintain good health."
Similarly, COVID means that Generation Rx can no longer walk into high schools to deliver presentations, so Van Epps and the new Generation Rx co-chair, second-year PharmD student Sarah Fierek, are working on establishing new events, such as a virtual naloxone training available to both pharmacy and undergraduate students.
"It's about taking things as they come and finding opportunities for how we can best interact with the community, given the circumstances," says Van Epps.