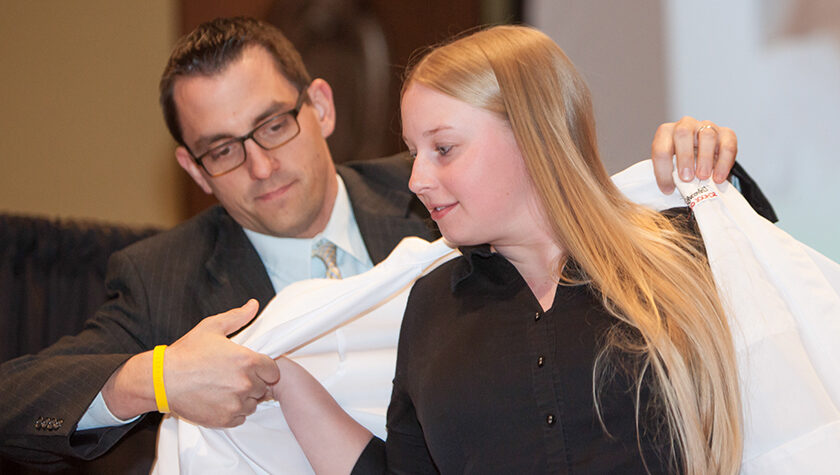 15
September
Konkol strives to foster relationships and advance pharmacy in healthcare administration 
By Katie Ginder-Vogel
Justin Konkol (PharmD '06) is steeped in the profession of pharmacy, from time in the office to time spent with family.
Konkol, the director of pharmacy at Froedtert Hospital, was the first of his four brothers to pursue the career when he enrolled at the University of Wisconsin–Madison School of Pharmacy. But one by one, each of his brothers was inspired to follow suit. His passion and dedication to the profession is part of what made the career path so tantalizing to his brothers, and it's also what has earned him the 2020 Young Alumnus of the Year award from the Pharmacy Alumni Association (PAA).
"It's an honor for people to think this highly of me," Konkol says. "I love my profession, but I don't do it for the awards. It's really about people and relationships; that's what's most meaningful to me. I hope to continue to motivate people who want to do what I do."
"Justin served the PAA from 2012 to 2019, as president-elect and president, and then he remained on the board as the wisdom in the room, helping with decisions and sharing background information," says Kim Lintner (PharmD '01), PAA executive secretary and senior lecturer and co-coordinator of the Resident Teaching Certificate program at the School.
"He has such a warm and enthusiastic personality, and he served so well as the face of an organization and bringing as much enthusiasm to difficult decisions as he does to festive and fun times," she says.
Nominations for the Young Alumnus of the Year award are solicited from the entire pharmacy alumni body, looking specifically at direct involvement and contributions to PAA and the practice of pharmacy or pharmaceutical research.
"A big mark of his tenure as president was strengthening our communication network," says Lintner, who has known Konkol since he was a PharmD student. "He's a bridge between generations of alumni, always looking to strengthen connections for the sake of moving things forward positively."
Path to pharmacy
"I've always loved science, and I appreciate applying science to patients," Konkol says.
He logged six years of experience as a pharmacy tech prior to pharmacy school and knew he enjoyed working directly with patients, so he had initially intended to open an independent pharmacy.
"I love my profession, but I don't do it for the awards. It's really about people and relationships; that's what's most meaningful to me."
—Justin Konkol
"I'm a bit of a social butterfly, so community pharmacy would let me have relationships with patients where we could shoot the breeze, I could help health outcomes, and I could put all that together with my clinical interests," he says. But that goal began to change as he explored more areas of the profession.
When he applied to pharmacy school, he was drawn to the School of Pharmacy's strong reputation and varied opportunities.
"They challenge you for excellence and prepare you to be the next pharmacy thought leader, clinical specialist, and retail owner," he says. "The UW name itself resonates in the real world. People know about the program's rigor, training, and experiences, and people search out UW–Madison School of Pharmacy graduates."
As a student, he made the most of all opportunities presented to him and participated in several organizations, served on the Student Senate, and held a leadership position with the Wisconsin Society of Pharmacy Students (WSPS).
"The School's rigorous, challenging curriculum and high level of expectation for students prepared me well for my career," says Konkol. "I took advantage of opportunities like meeting hospital health system leaders who were affiliated with WSPS and the medication safety curriculum."
Community pharmacy to community hospital
In Konkol's third year of pharmacy school, after completing his Introductory Pharmacy Practice Experience rotations at UW Health, he found himself interested in hospital pharmacy. He applied to residencies everywhere he knew a Badger pharmacy alumnus.
Konkol was invited to apply to Oregon Health Sciences University (OHSU) by another UW alumnus, Karie Gielow (formerly Van Rens) (PharmD '05). He ended up matching with the program and moved to Portland, Oregon, with his girlfriend, who is now his wife. He completed a standalone clinical residency and was invited to apply for a second-year standalone administrative residency at OHSU by two of the pharmacy managers and former UW Health health administration residents, Jennifer Tryon (MS '06) and Kavish Choudhary (MS '06).  
"I was the first administrative resident in the program," Konkol says. "Six months in, I was invited to stay on as operations manager."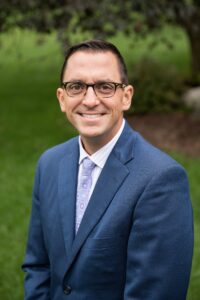 Konkol held the operations manager role for a year and a half, then did interim work as the assistant director working with both the clinical and operational teams. He also got board-certified and completed the Pharmacy Leadership Academy (PLA) certificate program offered by the American Society of Health-System Pharmacists (ASHP).
"I love figuring things out on the fly, and the creativity of it all drew me to administration," he says. "How do you look at a problem and figure out an easier, more efficient way for staff and providers to solve it? How do you advance practice by letting pharmacists practice at the top of their licenses and improve outcomes for patients? That's my drive and why I love administration."
When Konkol and his family returned to Wisconsin in 2010, he began working in pharmacy management for the ProHealth Care hospital system on the west side of Milwaukee. In 2012, he joined Froedtert Hospital as a pharmacy manager and was promoted to director of pharmacy in early 2019.
"Froedtert is a cutting-edge institution with a large residency program," says Konkol. "In my time here, I've done operations, clinical pharmacy, and ambulatory management. Now, I get to set the direction with my team on how I want them to lead and interact with each other and put my spin on the future of Froedtert Pharmacy."
To continue to grow and develop his skill set, in 2018 he enrolled in a master's program in health administration at UW–Milwaukee affiliated with ASHP's PLA program. He is slated to graduate in December 2020.
"My cohort includes residents, a dentist, members from the health insurance industry, nurses, and career changers," Konkol says. "It's fascinating to learn from non-pharmacy people about how they approach concepts and policy."
Konkol loves mentoring people and using technology and informatics to positively impact pharmacy practice. He also appreciated the time he spent working in a community hospital setting and being able to share best practices and network with other pharmacy leaders across the state. 
"Eighty percent of patients seek care at community hospitals, so how can we help the staff there advance pharmacy practice, outside of the academic hospital environment?" he asks.
Badger pharmacy family
The same ideals are what he enjoyed about his schooling at the UW–Madison School of Pharmacy, which has strong interdisciplinary relationships with the campus' nursing and medical schools and UW Health.
"Healthcare now is all about team-based care, so having that as a component of the academic infrastructure is really important," says Konkol. "The School wants to advance pharmacy practice and do what's right for students and the health care field as a whole."
"You're part of the UW family once you graduate, and they will advise and support you throughout your career. They'll seek you out. They care about you forever."
—Justin Konkol
Konkol encourages pharmacy students to learn and take in as much as possible and build relationships with faculty and staff.
"There's so much you can learn and be exposed to in those three short years on campus," he says. "Try research, because you might find something new you're passionate about that you weren't aware of. Form lifelong relationships with professors who can help you open doors and lead to partnerships on quality improvement and research after you leave school."
It's been more than a decade since Konkol earned his PharmD, but he's still anchored to the School through his connections with faculty, staff, and other alumni.
"You're part of the UW family once you graduate, and they will advise and support you throughout your career," he says. "They'll seek you out. They care about you forever. Having that network of mentors and colleagues to fall back on is special and unique."
Learn more about the Pharmacy Alumni Association and how the PAA offers opportunities to sponsor student scholarships, precept and mentor student pharmacists, or participate in virtual events.