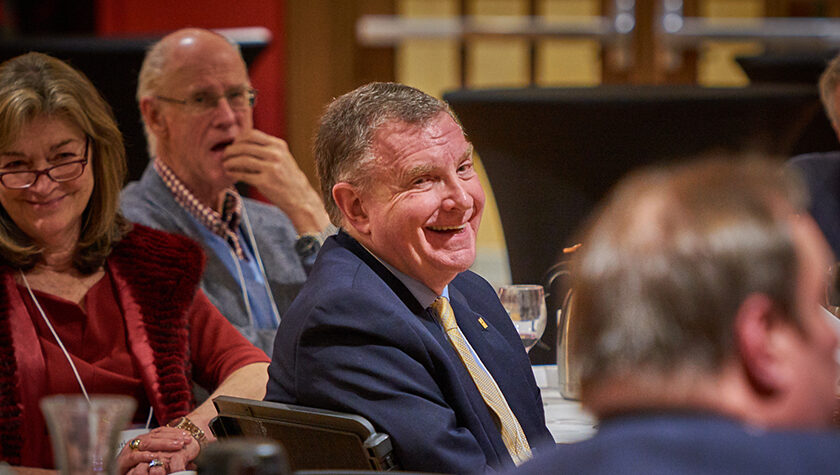 7
September
Pharmacy Alumni Association honors Jensen as a leader in Wisconsin pharmacy
By Katie Ginder-Vogel
As a freshman at the University of Wisconsin–Madison, Russ Jensen (BS '70, MS '74) started off as a chemistry major. A conversation with his lab partner during the second semester of the course "Chemistry for Chemistry Majors" ultimately led to his long and meaningful career in pharmacy.
"We were talking during lab, and my lab partner mentioned he was considering pharmacy school," says Jensen. That small mention stuck with him and reshaped his plans.
"I realized I wasn't excited about working on a bench with chemicals," he says. "I did some research and decided pharmacy could be a good direction for me."
Jensen applied and was accepted into the University of Wisconsin–Madison School of Pharmacy. After graduating, he would spend the next four decades advancing pharmacists' roles in the state and improving health care. For these efforts, the School's Pharmacy Alumni Association (PAA) is honoring Jensen as the 2020 Alumnus of the Year.
"I'm very honored and humbled to receive this award," says Jensen. "The list of previous winners includes deans, professors, and practitioners from a variety of different areas, known nationally and, in some cases, even worldwide — it's an honor to be part of that group."
"Be willing to change course, try new things, and be persistent."
—Russ Jensen
The PAA solicits nominations for the Alumnus of the Year award from the entire School of Pharmacy alumni body, with a focus on direct involvement and contributions to PAA and to their field, whether it's pharmacy practice, health research, or pharmaceutical science.
Jensen spent 35 years as director of pharmacy at St. Mary's Hospital, 15 of which were spent in a dual appointment also as the director of pharmacy at Dean Medical Center. He carved out time to stay engaged at the School of Pharmacy as a preceptor and clinical instructor, all the while remaining an active member and leader in the PAA and statewide professional organizations.
From 1996 to 2001, he served as treasurer of the PAA, returning in a leadership role from 2013 to 2018 as executive secretary, during which time he oversaw the organization's largest fundraiser for student scholarships, the annual PAA/Wisconsin Society of Pharmacy Students Golf Outing.
"Russ was devoted to making sure it was a really fun event for everybody," says Kim Lintner (PharmD '01), current PAA executive secretary and senior lecturer and co-coordinator of the Resident Teaching Certificate program at the School.
"Russ brought such a wisdom to the board," says Lintner. "He has had so many different roles and projects throughout his career, and as we debated decisions, he always had something thoughtful to add."
Exploring pharmacy careers
Jensen got involved in the profession early, working every weekend at Busse Pharmacy in Watertown to pay for pharmacy school, studiously completing his coursework on Sunday nights when the pharmacy was closed, between classes, and in the evenings. He had assumed he'd become a community pharmacist, but once his courses got under way, pharmacology and clinical pharmacy piqued his interest.
"The pharmacology course, where we really started getting into what drugs do in the body, was my favorite undergraduate course," says Jensen. "I also did an extra credit research course, assisting a graduate student with pharmacology research, during my second year of pharmacy school."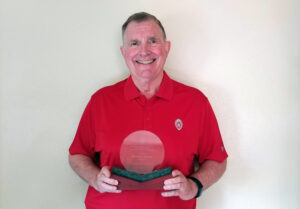 Jensen's clerkship at University Hospital, now UW Health, where his mentors and preceptors were legendary names in hospital pharmacy and national pharmacy leaders, like Dave Zilz (BS '62, MS '64), Tom Thielke (BS '67, MS '69), Pam Ploetz (BS '68), and Marianne Ivey (BS '67), who convinced him that clinical pharmacy was the right setting for him.
"I realized I could have an impact on drug therapy in the hospital," says Jensen. "So I applied and was able to start working at University Hospital for my last semester of pharmacy school. Marianne Ivey was one of my preceptors at University Hospital, and she taught me a great deal."
Jensen applied for the Master of Heath System Pharmacy Administration residency program offered by the School of Pharmacy and UW Health, knowing he wanted to pursue clinical pharmacy, like his master's program classmate Professor Ron Sorkness (BS '72), now retired, and clinical professor Art Schuna (BS '73), who started his master's residency the year after Jensen.
"I took primarily clinical courses — radiopharmaceuticals and nuclear pharmacy," he says. "I wanted to explore a variety of different areas."
Master's residency, interrupted
The outbreak of the Vietnam War disrupted Jensen's residency. He had gone into the Selective Service, which gave him an exemption to complete his two-year residency program. But a few months later, a letter informed him that the exemption was a mistake.
"I wasn't opposed to going, but I didn't want to get away from pharmacy mid-training period," says Jensen. "I had the opportunity to get into the U.S. Public Health Service and served as a commissioned officer for two years on the Oglala Sioux Indian Reservation in Pine Ridge, South Dakota, where I was asked to be director of pharmacy," says Jensen.
Jensen gained experience in management and administration and returned to his master's residency program in 1973 with a new perspective and an interest in management. He took courses at the Wisconsin School of Business and worked at the hospital to gain experience.
"The master's residency program pushed us pretty hard to help us learn to make decisions and handle a variety of responsibilities," recalls Jensen. "In the real world, you're dealing with multiple things at same time, not one thing after another, so I think that was very helpful."
Jensen passed his boards, finished his master's program, and was hired as the assistant director of pharmacy and central supply at the Albert B. Chandler Medical Center in Lexington, Kentucky, in 1974.
Expanding hospital pharmacy capabilities
"When I arrived at St. Mary's, they had just implemented the unit dose system, nurses still had meds on the patient units, they didn't use many generic drugs, and they didn't have 24-hour service," says Jensen, who returned to Madison to join St. Mary's in 1978. "I really wanted to get 24-hour service. It took a year, but it happened."
Jensen launched an additive program for large volume intravenous medications, and when mini bottles with antibiotics were available, they began preparing them in the pharmacy.
"The bottles came with the drug in powder form. We added the appropriate amount of IV fluid to dilute the drug before dispensing," says Jensen. "We began with antibiotics and expanded until all IV drugs were made within the pharmacy and sent out."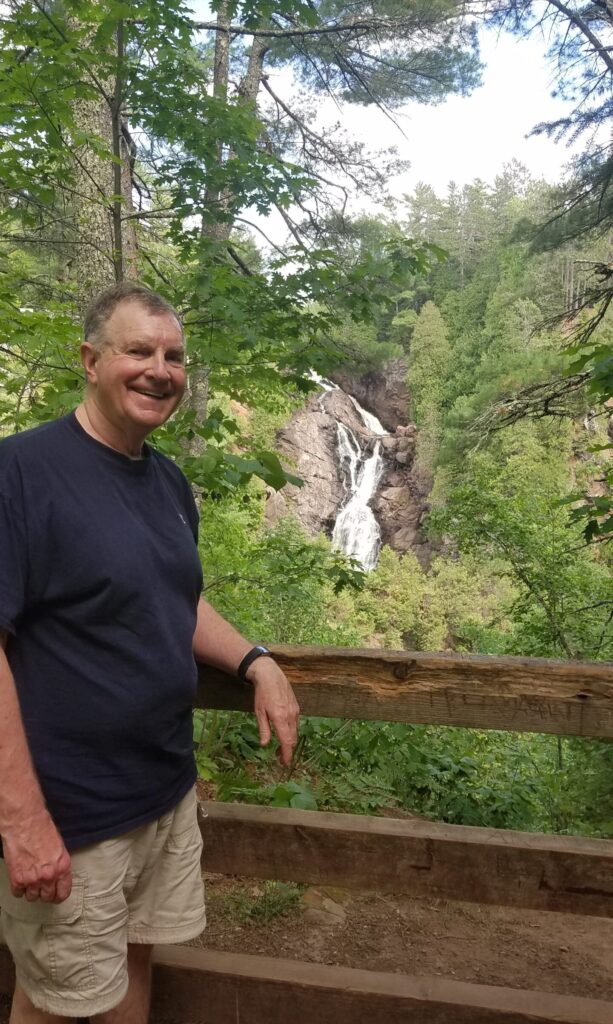 After that, Jensen started stationing pharmacists in different hospital units, until all areas had pharmacist coverage.
Around the year 2000, Jensen decided the hospital could do more to improve patient safety, and St. Mary's became one of three pilot hospitals in the country to develop a bar code verification system to guard against dispensing errors. Today, the bar codes are universally utilized.
"It took time to expand," says Jensen. "We began with four beds, expanded to eight beds, then 16 beds, then a whole unit, then the whole hospital."
Jensen applied this same enterprising spirit to his dual appointment at Dean, where he expanded the anticoagulation program and the role of pharmacists in outpatient oncology.
"We started with one pharmacist in the oncology clinic and expanded to the point that we could send pharmacy techs to sites around the state with physicians," says Jensen. With the infrastructure Jensen set up, pharmacists could review orders remotely and oversee medication preparation utilizing video cameras, expanding patient access to pharmacists with oncology expertise.
Jensen also oversaw the process of integrating pharmacists into the infectious disease clinic, working with patients on antibiotic therapy and helping with the infusion clinic.
"Pharmacists began to get involved clinically in seeing patients and monitoring drug therapy in clinics," says Jensen. "All that came from my training at the School of Pharmacy and my master's residency program — that's where my motivation came from to always want to improve therapy for patients, patient care, and patient safety."
Jensen advises students to make patient care their primary focus and get exposure to as many areas as they can.
"The excellent education you get at the School of Pharmacy gives you a good base for moving into a career in all different kinds of areas," Jensen says. "Be willing to change course, try new things, and be persistent."