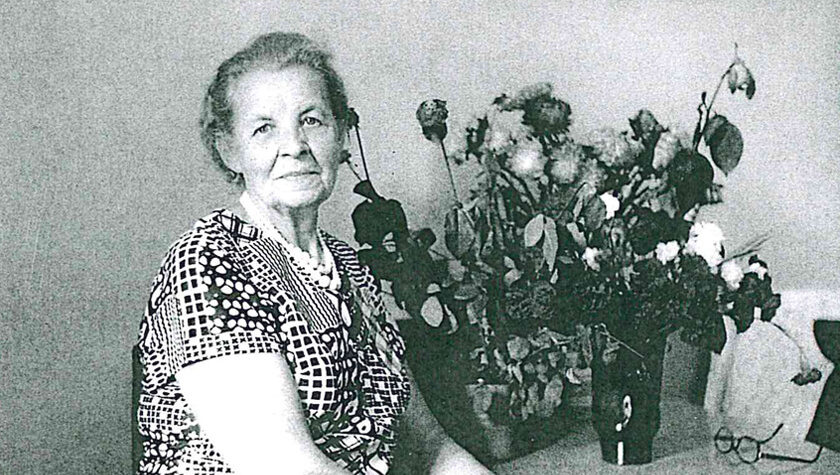 29
February
Anna Apinis' healthcare career inspires her son to endow a professorship at the School of Pharmacy
By Katie Ginder-Vogel
When Anna Apinis emigrated from Latvia with her family during World War II, she had to leave her pharmacy career behind. Anna had earned her Master's degree in pharmacy in Latvia in the 1930s and owned a small rural pharmacy with her husband, Janis. The family—Anna, Janis, their four-year-old son John, and baby daughter Rasma—left Latvia after Russia invaded the country for the second time. They moved to the American Zone in Germany, where they spent five years in refugee camps before they could move to the U.S. 
To receive entry to the U.S., refugees needed a sponsor to find them housing and employment. Because Janis Apinis had a pharmacy degree, experience running Latvia's national drug manufacturing enterprise, and experience owning and running his own pharmacy, he received two resettlement offers. The family chose Madison. Their sponsor, Luther Memorial Church, found Janis a job at the warehouse of Madison Drug Company, a drug wholesaler and distributor, as well as a rental home for the family. Later, Janis attended and graduated from the UW–Madison School of Pharmacy in 1954 and spent the rest of his career as a pharmacist at the Madison General Hospital. 
However, the professional path in America was different for Anna Apinis, who worked as a custodian to support the family, and eventually worked her way back to the healthcare profession. Now, John Apinis and his wife Inara, who have sponsored three scholarships and an endowed professorship to honor his father, Janis Apinis, have endowed another professorship, this time to honor John's mother, Anna Apinis.
"My mother had a master's degree in pharmacy in Latvia, but the degree was not valid in the United States," says John Apinis. "The first job my mother had was cleaning homes for well-to-do people, and from there, she moved up to cleaning an entire floor at the First National Bank." 
John Apinis helped his mother when he was in high school. 
"We must have cleaned out a million ashtrays," he recalls. "I remember that because in those days, everybody smoked, and every desk had a gigantic ashtray that was overflowing by the end of the day. We would work at night, vacuuming the floors, emptying wastebaskets, and cleaning all the offices on the floor." 
Anna Apinis was able to return to her professional roots in healthcare when she landed a job as a medical lab technician—with on-the-job training—for Frederic Mohs, a researcher and surgeon at the University of Wisconsin Hospital.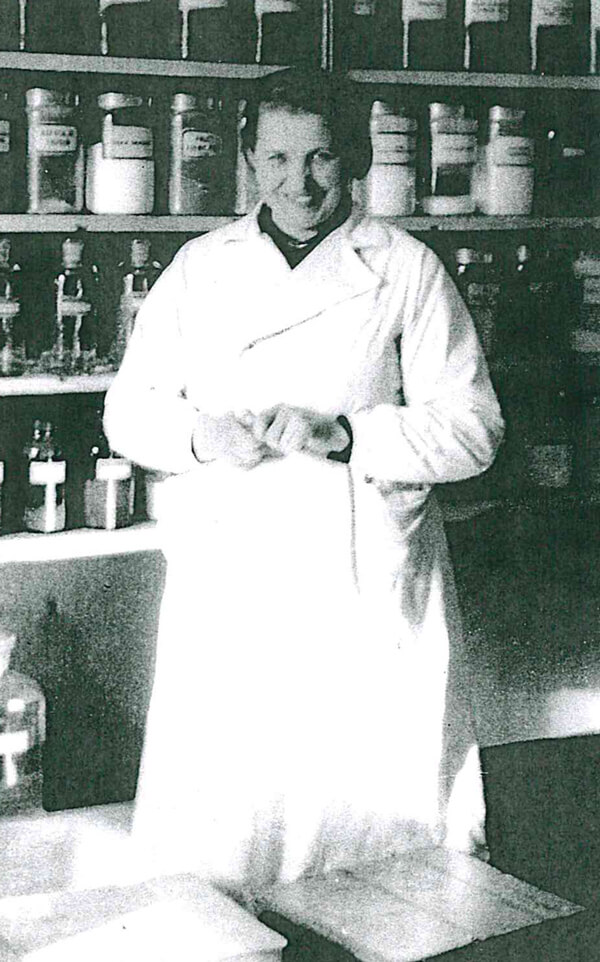 "Dr. Mohs was pioneering a new skin cancer treatment at the time, now known as Mohs micrographic surgery," says John. "Later, he sent my mother to introduce the laboratory procedure to other technicians in a New York City hospital. What Dr. Mohs did was a revolutionary breakthrough, and his procedure is now commonly practiced all over the U.S."
Supporting pharmaceutical research and education
John and Inara Apinis were inspired to give to the School of Pharmacy (SoP) as a way to honor Janis Apinis, shortly after he passed away. 
"It all began with establishing one scholarship in my father's name, shortly after his funeral, using donations given in his memory as seed money, and I added some to round it out to a more useful number," says John. "Then, along came the Great People scholarships, so I established one of each of those."
The John Apinis Scholarship supports one student pharmacist each semester, and the Apinis Memorial Great People Scholarships support two PharmD students each semester, in honor of each of John's parents. In 2019, PharmD students Sydney Ertz, Garrett Gunderson, and Maria Huck received these scholarships.
"I have met all the scholarship recipients, and I have been very impressed with the quality of people selected," says John. "I feel confident that the University of Wisconsin is a good steward of the funds."
Then, the opportunity came for John and Inara to double their impact with Morgridge matching funds and establish a new professorship at the School of Pharmacy in honor of his father. Professor Weiping Tang in SoP's Pharmaceutical Sciences Division currently holds the Janis Apinis Professorship.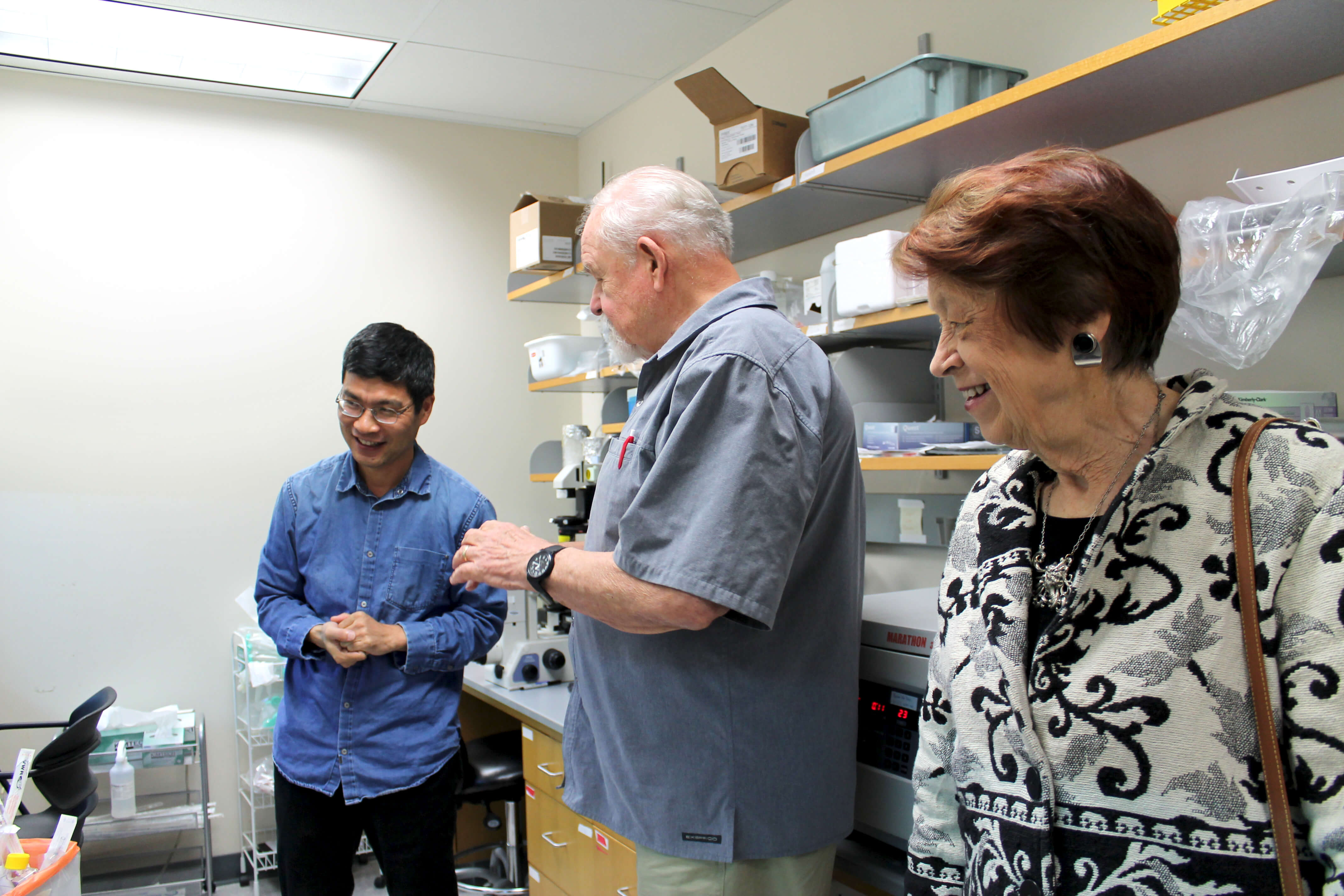 "I visited Dr. Tang, the principal researcher, and he has a laboratory of nearly 20 people, all of whom seem like very smart, hardworking people," says John. "I liked his approach. His research has broad applicability and is very promising."
When School of Pharmacy Dean Steven Swanson called John to let him know there was a new set of Morgridge matching funds, John was ready.
"It occurred to me that if we opened up a second laboratory, it would be another step toward making the University of Wisconsin–Madison a real powerhouse in drug research," he says. "I had such a positive impression from the first round, I said, 'let's do it again,' and I've been very pleased." 
The new Anna Apinis Professorship will be dedicated to drug discovery research. Funds provided by John will be matched dollar for dollar by the Morgridge Match.
"Our research enterprise is stronger than ever, thanks to important efforts like this endowed professorship, which will fund vital research in the area of drug discovery," said Swanson. "We are grateful to the Apinis family for their unwavering support of our faculty and students and for their commitment to our ongoing success at the School of Pharmacy."
When fully funded in five years, the professorship will have $1 million in principal and yield about $45,000 per year to support the School and a Pharmaceutical Sciences faculty member.
"Of all the different options, this focus struck me as being the closest to the cutting edge of new results, breakthroughs, and new advances, with the greatest potential for something really great," says John. "I'm very results-motivated, and this has that potential." 
Plus, the topic connects to Anna Apinis' twin passions for the field of healthcare and scientific research.
"My mother Anna started and ended her career in the healthcare profession, so it makes sense to connect her to this professorship," says John. "I am pleased we have set some things in motion that will produce good results."