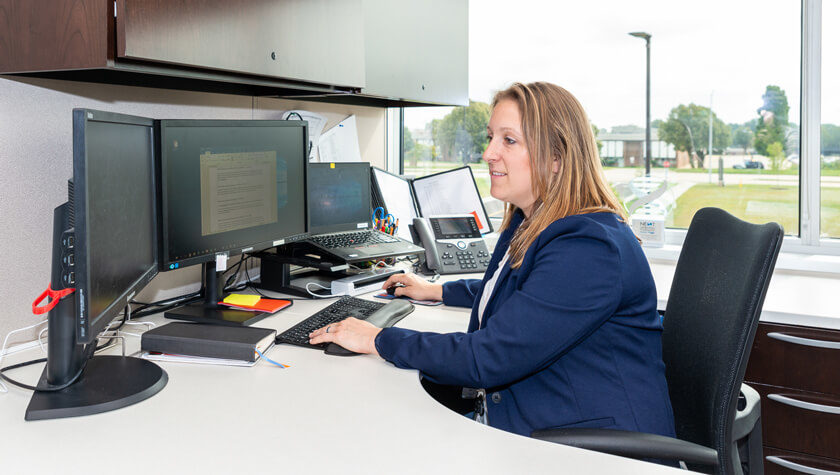 16
September
As the field grows, alumni create programs and services to help patients with complex health conditions
One of the most popular pharmaceuticals in the world is adalimumab — better known as Humira, a medication primarily used to treat rheumatoid arthritis. For years, it has dominated prescription sales, even outpacing popular proton pump inhibitor esomeprazole, also known as Nexium.
But for as common as Humira might seem, it also falls into a category of medications that require more thorough instruction, extra follow-up care and monitoring, and additional insurance approvals that are handled by the expertise of a distinct and growing group of health care professionals: specialty pharmacists.
"I see specialty pharmacy as a leading area of practice within health care, especially in the development of integrated pharmacy practice models and in enhancing the role of pharmacists as clinicians," says Scott Canfield (PharmD '13), assistant director for Clinical Program Development at Johns Hopkins Home Care Group.
In addition to rheumatoid arthritis, specialty pharmacies most commonly assist patients with complex and chronic conditions like cancer, HIV, hepatitis C, multiple sclerosis, cystic fibrosis, and even amyotrophic lateral sclerosis (ALS).
"It is very rewarding to see a plan come to fruition and to treat the first patient with a new, life-altering therapy." –Scott Canfield
After graduating from the University of Wisconsin–Madison School of Pharmacy, Canfield spent two years as the first specialty pharmacy resident at UW Health and then joined Johns Hopkins to pioneer new specialty pharmacy programs to expand services and manage patients.
Although specialty pharmacy is a relatively new and quickly growing area of practice, Canfield is one of several alumni of the School of Pharmacy to lead the charge on innovating services to maximize patient benefits.
High-touch care
A patient referred to a specialty pharmacy will first have a thorough consultation, during which the pharmacist will document the patient's history, determine barriers to adherence, discuss aspects of the disease, teach the patient how to use the medication, and even set them up with copay or other financial assistance. The pharmacist will follow up at designated times to verify components of treatment and medication efficacy and to discuss any side effects or issues with adherence.
"In specialty pharmacy, we manage difficult-to-treat disease states, usually with sequential, dedicated care plans and clinical pathways," says Sharon Faust (BS '07, PharmD '11), director of specialty pharmacy services at Lumicera, a specialty pharmacy owned by Navitus, a pharmacy benefit manager (PBM).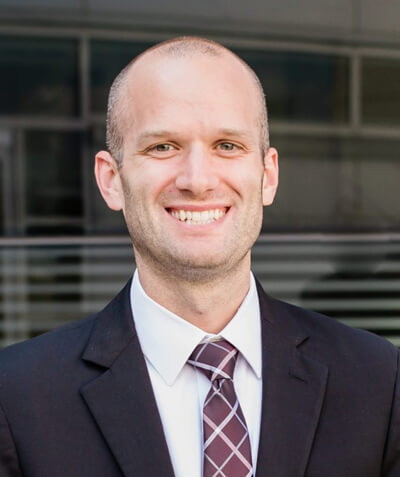 "After three to six months, we hope to see improvement. A clinical program may trigger a full reassessment of the patient's disease state and evaluate how they're doing and how well the medication is working and fitting into their life," she says. If it's not working in the three- to six-month window, the pharmacist has an opportunity to discuss with the patient and provider some next steps to achieve better medication efficacy or tolerability.
Because the conditions specialty pharmacies treat can be complex, often requiring injections or even infusions, they can also be quite expensive — some costing upward of $100,000 for treatments annually.
"Due to the commonly high costs of these medications, there is a much larger focus on ensuring evidence-based treatment with the intended outcome being achieved," says Joe Cesarz (PharmD '10, MS '12), director of Ambulatory Care Services at UW Health. Cesarz helped establish UW Health's residency training program in specialty pharmacy leadership — the first based in a health system.
"To this end, our pharmacists work closely with patients to assess symptom control, disease progression, and achievement of therapeutic goals," says Cesarz. "This provides pharmacists the ability to practice at the top of their license, while providing effective and efficient care for patients."
Specialty pharmacists also help patients understand and locate their financial options and insurance processes, taking some of the pressure off an already stressful situation.
"A specialty pharmacy has the infrastructure to support financial navigation and clinical services," explains Canfield. "Specialty pharmacies rose to prominence over the last couple of decades to provide patient education on complex therapies, clinical expertise in rare diseases, and pharmacy support for prior authorization and financial toxicity."
As Canfield notes, working with a patient population that has niche health needs presents an opportunity for pharmacists to specialize in rare diseases and orphan drugs — meaning the conditions they treat are so rare that they are not profitable or appropriate to produce if marketed through traditional means.
When new medications gain approval from the U.S. Food and Drug Administration, they are increasingly falling into specialty categories, and by cultivating collaborations with prescribers involved in clinical trials, specialty pharmacists are well-positioned to become pioneers with the new therapies.
"This presents an opportunity to become more proactive in our ability to prepare for and implement specialty pharmacy services related to pipeline medications, which is a large part of my current role," says Canfield. "It is very rewarding to see a plan come to fruition and to treat the first patient with a new, life-altering therapy."
Leveraging data for patient-centered care
Because the care patients receive is so personalized and requires frequent communication, specialty pharmacists often can develop a close relationship and rapport with patients. That opportunity is what pulled Faust in and continues to shape her approach to practice.
Faust has been with Lumicera since 2014, when it opened, and has helped build the company into what it is today, including developing its programs to reflect her patient-centered values. In 2016, Faust was honored with a Next-Generation Pharmacist award for specialty pharmacy, in recognition of the culture of patient assistance and care she helped create at Lumicera.
"The growth in the specialty marketplace has provided a great opportunity for pharmacists to instill more value into the health care industry." –Joe Cesarz
"Specialty pharmacy is very clinically focused, so part of our model is to allow pharmacists to have ample time to speak with patients and develop relationships," says Faust. "It is about the impact of conversations and the patient-pharmacist relationship," Faust says.
She sees specialty pharmacy leading the field beyond per-fill metrics of success and toward a focus on the health care savings generated by proactive, pharmacist-led care. Thorough consultations with patients open up underlying disease state management issues that pharmacists can address, which not only improves patient outcomes but also helps control costs.
At Lumicera, Faust is highly focused on collecting data on what's working for patients and what's not. The data paints a picture of both population health and patient progress over time, which helps specialty pharmacists develop clinical programs and drug product insights. It also helps payers evaluate interventions and understand how patients are doing.
"We want to see how we can support patients by covering costs and optimizing success," says Faust. "Data is used in pharmacy to help address health care issues and innovations, like value-based agreements."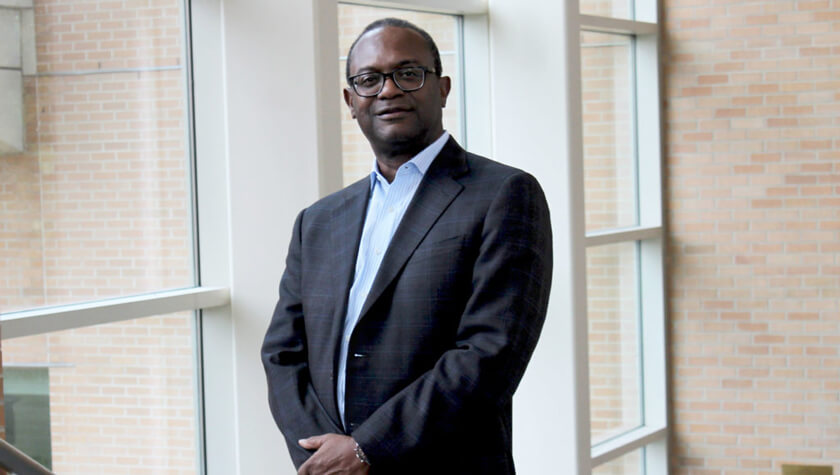 Through value-based contracts, or risk-sharing agreements, drug manufacturers and payers determine coverage and reimbursement amounts based on a drug's effectiveness and use. Real data is crucial in making those decisions work for patients.
Specialty pharmacists also work with providers, payers (such as insurance companies), and drug manufacturers to achieve optimal outcomes. For example, when medication therapies were approved for hepatitis C, those therapies became specialty drugs. 
"A three-month course of therapy for hepatitis C costs about $90,000," says Bruce Scott (BS '79), 2019 winner of the American Society of Health-System Pharmacists' Harvey A.K. Whitney Lecture Award. In November, Scott retired as president of EnvisionPharmacies, which provides specialty pharmacy services.
"For the new drug to be successfully launched and incorporated into formularies, payers needed to be certain that patients would take the medications regularly and be cured, and manufacturers wanted to be sure their products reliably cured the disease," says Scott, who is on the board of directors for URAC, formerly known as the Utilization Review Accreditation Commission, which accredits organizations involved in providing medical care.
Specialty pharmacists are the link between payers, manufacturers, and patients that make this possible.
Developing new service models
Canfield, from his home office in Sun Prairie, leads the Baltimore-based Johns Hopkins Home Care Group's clinical program development, with a focus on specialty pharmacy across outpatient and home infusion services. He's helped develop personalized care models that put pharmacists at the heart of an integrated medical team, working in close collaboration with both prescribers and patients to select treatment options.
"All of our services have shared points of intersection, such as financial navigation, but the care model is tailored to meet the needs of each patient population, clinic, and disease category," says Canfield.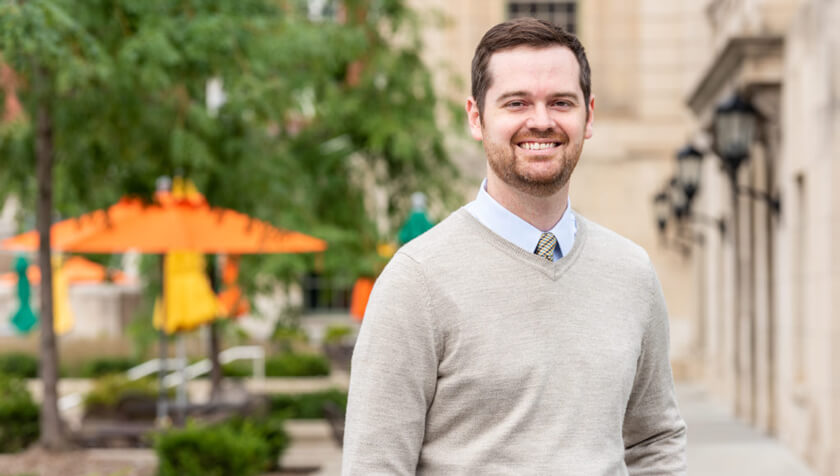 For example, their oncology model utilizes embedded ambulatory pharmacy specialists within clinics who focus on self-administered anticancer therapies, whereas their model for inflammatory conditions utilizes centralized pharmacist support to provide education and care coordination to patients within a call center environment.
"Both services integrate with a centralized prior authorization and patient assistance program made up of pharmacy technicians, but the how and when a pharmacist or nurse interacts with patients is customized," says Canfield.
This unique practice model is gaining national attention, such as through Canfield's presentations at the National Association of Specialty Pharmacy's annual meeting and the Asembia Specialty Pharmacy Summit, and he was recently elected as director-at-large for the American Society of Health-System Pharmacists' (ASHP) Section of Specialty Pharmacy Practitioners.
"I enjoy being in a position to advocate for the role health systems play within a crowded and competitive landscape, as well as in my pursuit of value demonstration tied to clinical outcomes within pharmacy practice," he says.
Poised for growth
"The growth in the specialty marketplace has provided a great opportunity for pharmacists to instill more value into the health care industry," says Cesarz. And that continued growth is accelerating as more national chains dive into the industry.
"Retailers like Walgreens and CVS recognized a market opportunity and started separate specialty pharmacy businesses," explains Scott. "This provides huge opportunities for the profession of pharmacy, and the UW–Madison School of Pharmacy does a fantastic job preparing future pharmacists for this path."
"We need to make student pharmacists aware that this is a fast-growing area of pharmacy and an excellent career opportunity." –Scott Canfield
David Mott (BS '88, MS '92, PhD '95), professor and chair of the Social and Administrative Sciences Division, connected with Canfield, Faust, and other leaders in specialty pharmacy to create an elective course about the career path. The course brings in a series of speakers, such as Cesarz, to give students an idea of what the profession has in store.
In addition to patient care, the dispensing and logistics of specialty medications are complex, which pose more potential career paths for pharmacy students.
"Specialty medications are complex medications, each with specific handling and storage requirements," says Scott.
For example, during transport, biologic medications, must be kept at specified temperatures. If the temperature deviates from the acceptable range for too long a time, the product might become denaturized and lose biological activity. To continue to improve these processes, the industry is rapidly developing leaders in things like cold chain shipping and REMS (risk evaluation and mitigation strategies) integration. 
"We need to make student pharmacists aware that this is a fast-growing area of pharmacy and an excellent career opportunity," says Canfield. "I'm hopeful that more pharmacy schools will follow the UW–Madison School of Pharmacy's example and make this information available."