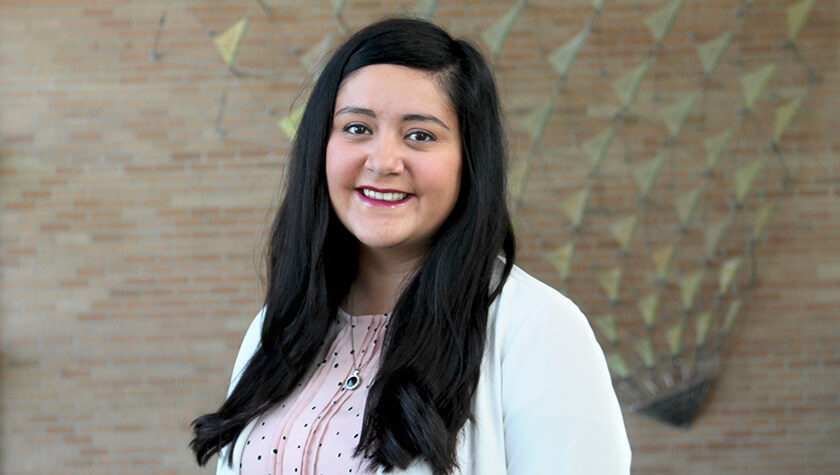 7
September
Maes brings a focus on women's health and chronic disease management to the Pharmacy Practice Division
By Hanzhu Tang
The University of Wisconsin–Madison School of Pharmacy is expanding its faculty expertise with the addition of Marina Maes, who is joining the School as an assistant professor in the Pharmacy Practice Division.
"The School will provide an environment to foster my professional growth," says Maes. "I will practice in a family medicine clinic and also be highly involved in teaching pharmacy students in the classroom."
She is bringing a wealth of knowledge about family medicine and general primary care practice. As she establishes herself at the School and her clinical site, she plans to narrow her focus to women's health and cardiovascular risk reduction within the female population.
"Maes' two years of pharmacy practice residencies in top institutions, where she developed exceptional primary care skills and practice-based research skills, are an asset for the School," says Professor Beth Martin, chair of Pharmacy Practice Division.
Finding family medicine
Maes grew up in Colorado and completed her undergraduate coursework at Colorado State University, before moving on to the University of Colorado to earn her PharmD. Based on rotations she had as a student pharmacist, Maes knew early on that she wanted to end up in a faculty role with a clinical component, so she pursued a post-graduate residency at an academic medical center and landed at the University of Michigan's Michigan Medicine health system.
"My passion for working in a clinic setting grew even more," she says.
To get her closer to her faculty goal, she pursued a second year of post-graduate residency training at the University of Colorado, which incorporated more teaching alongside clinical work.
"Throughout my education, the people who have had the greatest impact on getting me to where I wanted to be were my faculty mentors," she says. "I am excited to be able to mentor future students as all of my previous faculty members have mentored me."
"The female population has unique cardiovascular risk factors and medication safety considerations beyond the general adult population." 
–Marina Maes
As a pharmacist freshly out of her residency, she's hoping to be able to connect with the School's student pharmacists and offer a different perspective. But she is also still seeking continued mentorship herself.
"A large part of what attracted me to the UW–Madison School of Pharmacy is the fact that there are a lot of experienced faculty members," she says. "One of my first goals is to connect with good mentors at the School who can help along my journey of becoming really efficient and successful in practice, research, and teaching."
During her family medicine-focused specialty residency, Maes spent time working in a women's health clinic in an underserved community, a women's health internal medicine clinic, and a resident family medicine clinic that dealt frequently with obstetrics and women's health, which piqued her interest.
"The female population has unique cardiovascular risk factors and medication safety considerations beyond the general adult population," she says. "Practicing family medicine has been a really good way of getting more involved in chronic disease management for women."
Becoming a Badger
As she sets up her clinical practice here in Madison, she's looking forward to developing research collaborations with the School of Medicine and Public Health's Department of Family Medicine to dig further into women's health. At the same time, she's also eager to develop partnerships within the School of Pharmacy.
"From a teaching perspective, I'm looking forward to collaborating with Assistant Professor Amanda Margolis (PharmD '09, MS '17) and Associate Professor Denise Walbrandt Pigarelli (BS '91, PharmD '93) on education-based research, as well as faculty in the Social and Administrative Sciences Division to potentially join forces on some database research," she says.
"I am excited to be able to mentor future students as all of my previous faculty members have mentored me." –Marina Maes
As an assistant professor, Maes will also take on responsibilities in the classroom, such as lecturing on various topics related to family medicine, assist coordinating PharmD students' third-year Introductory Pharmacy Practice Experiences and teaching in the School's nationally recognized Integrated Pharmacotherapy Skills course, alongside Assistant Professor Ed Portillo (PharmD '14), Associate Professor Andrea Porter (PharmD '06), Associate Professor Casey Gallimore (PharmD '05, MS '13), and Associate Professor Susie Barnett (PharmD '04).
"Maes has been recognized for her ability to organize complex projects and teaching responsibilities, making her an asset to our IPPE course coordinator team," says Martin. "As we continue to strive to improve our PharmD students' IPPEs, we're excited for the fresh ideas she will bring to our team, based on the experiences she had as a student pharmacist and preceptor at other institutions."
"I think the Pharmacotherapy Skills course is an excellent fit for my training given my experiences with both inpatient and outpatient residencies," she says.
Although she'll still be cheering for the Denver Nuggets come basketball season, Maes is optimistic about becoming a Badger and all of the opportunities it presents.
"I was looking for a position that would allow me to be active in all areas of pharmacy that I am passionate about: practicing in family medicine clinics, teaching in both a didactic and experiential environment, and conducting collaborative research," she says. "The UW–Madison School of Pharmacy encompasses all of those things."