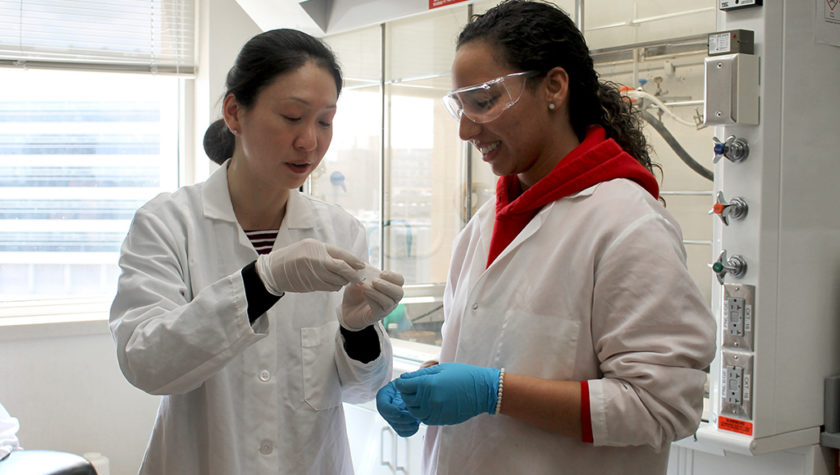 30
November
By Stephanie Blaszczyk
On any given day, you can find Arielis Estevez busy doing research in a sixth-floor lab in the University of Wisconsin–Madison School of Pharmacy. Estevez, a second-year student in the Pharmaceutical Sciences PhD program, has been chosen as one of four students campus-wide for the newest cohort of the National Institutes of Health (NIH) Chemistry-Biology Interface (CBI) Training Program, one of the oldest such programs in the country. Estevez, who researches in the lab of Assistant Professor Jiaoyang Jiang, is the second School of Pharmacy student this year to be chosen for the traineeship.
"Arielis has a strong desire to pursue research, and her extensive undergraduate experiences are especially uncommon from a woman in science," says Jiang. "I'm very proud of what she's accomplished and the new perspective she brings to my lab."
Before coming to the School of Pharmacy, Estevez earned her bachelor's degree in the University of Puerto Rico-Rio Piedras Department of Chemistry, where she built strong research skills, gained chemical knowledge, and received the essential biological training necessary for her work in the Jiang Lab.
"I am very grateful for the PharmSci program, Dr. Jiang, and the CBI Training Program for giving me an opportunity to grow as a scientist and demonstrate what I have to offer," says Estevez.
With the CBI traineeship, Estevez will continue her research developing chemical probes that modulate protein glycosylation levels. Although protein glycosylation is a critical and common post-translational modification, upregulation in this function is linked to most cancer types. Previously reported inhibitors of O-GlcNAc transferase, a glycosyltransferase enzyme that promotes protein glycosylation, often suffer from insufficient potency and/or specificity. The Jiang lab aims to develop more potent and specific inhibitors that could function as potential therapeutic treatments for cancer in the future.

"Through the CBI program, I'm excited to obtain more systematic training on synthetic chemistry and learn a variety of new techniques in chemical biology, biochemistry, cell biology, molecular biology, and mass spectrometry," Estevez says. "My ultimate research interest is to integrate various chemical and biological approaches to develop pioneering solutions for biomedical problems."
Department of Chemistry Professor Helen Blackwell, the current director of the NIH CBI Training Program at UW–Madison, describes the traineeship as "a community of like-minded graduate students who are excited about research that bridges chemistry and biology. We are trying to build on and grow scientists who can attack questions right at the interface; either biologists who want to study more chemistry, or chemists who want to study more biology."
Estevez will be a part of this community for the duration of her time at UW–Madison. As part of the program, she will complete graduate-level coursework in chemical biology and attend seminars highlighting research at this interface, all while polishing her own scientific communication skills. Additionally, Estevez will receive two years of funding to continue her research and partake in a 12-week internship at a site of her choice. Trainees commonly complete their internships at large pharmaceutical companies, smaller biotech start-ups, or national laboratories with the intention of immersing themselves in a laboratory culture vastly different from their research group at UW-Madison.
Estevez is untiringly motivated, infinitely curious, and wholly collaborative, notes Jiang. "She has attended many diverse training programs in Puerto Rico and in the United States and, as a result, has developed a unique breadth and depth of skills in analytical chemistry, organic chemistry, and chemical biology."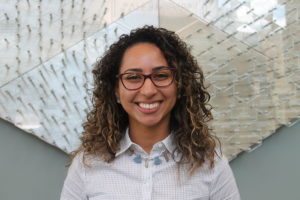 This broad skillset fits in well with the distinct experience found in Jiang's lab, which is composed of students and postdoctoral scholars with training ranging from organic chemistry and proteomics to structural and cell biology.
It's this type of diversity that Jiang says strengthens her lab and allows researchers to ask the most important and most interesting questions. "I'm not limited to what kind of techniques we are going to use to answer those questions," she says. "If we don't know the techniques then we will learn them." This outlook is exactly what propels Jiang's research program forward and promotes the constant professional development of her students.
UW–Madison, and especially the School of Pharmacy, has longstanding ties to the CBI program. School of Pharmacy Professor Dan Rich, now emeritus, instituted the program in 1992. Today, the program goes beyond scientific research and also emphasizes the importance of being able to communicate that effectively to the public, through participation in events like Expanding Your Horizons, a conference held in Madison each fall to expose young girls to the STEM disciplines, which is supported in part by the School of Pharmacy Fund. Estevez volunteered at the conference this year to design and supervise an organic chemistry experiment for 11- and 12-year-old girls.
"It was important for me to participate because I have not seen enough people like me in the sciences," Estevez says. "I felt that underrepresented minority girls would identify with me and realize that it is possible for us to participate in STEM and succeed."