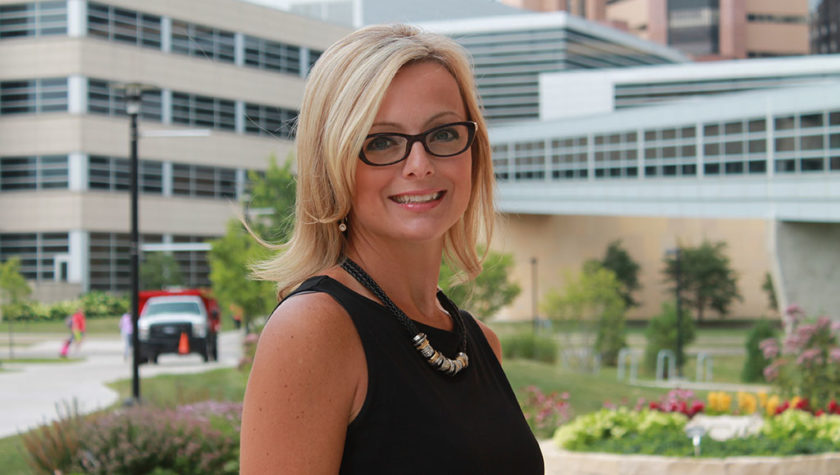 28
February
A member since 1987, Martin has contributed decades of service
Ever since she was an undergraduate student at the University of Wisconsin–Madison School of Pharmacy, Beth Martin has been heavily involved with the American Pharmacists Association (APhA).
Now, as a 30-year member, Martin—assistant dean of Assessment, Teaching, and Learning and associate professor with the Pharmacy Practice Division—is being honored as a fellow in the APhA's Academy of Pharmaceutical Research and Science (APRS) for her exemplary achievements and service to the profession.
In Martin's case, that translates to her decades of experience, ongoing thought leadership, and award-winning research. She's authored more than 25 peer-reviewed articles and several grant projects designed to gain a better understanding of how patients and pharmacists communicate about medications, and her research primarily explores the assessment and evaluation of professional education programming. Martin's focus and contributions have been continually to improve the way pharmacists serve their patients.
"It's a culmination of the commitment and dedication I've put into the association and the profession." –Beth Martin
Martin credits the strength of the UW–Madison pharmacy program as a source of both inspiration and support throughout her career. "We have a long history of involvement and connection with national associations, including APhA. I have mentors, faculty, and colleagues, who are also fellows, so this has always been an aspiration."
In many ways, the award brings Martin's experience with the APhA full circle.
"As a post-grad officer with the APhA, I helped nominate fellows, and it's something I've always looked to achieve," Martin says. "It's a culmination of the commitment and dedication I've put into the association and the profession, so it means a lot."
Martin first joined the APhA in 1987 and stayed active in the organization first through student leadership and then by supporting student leadership as an advisor for 18 years. "Students were always my source of motivation, so to be a part of that leadership development was really valuable to me," Martin says.
After earning her bachelor of science from the School of Pharmacy, she worked in clinics and pharmacies around the state of Wisconsin before gravitating back to the School as both a faculty member and student. Simultaneously, she earned her master's and doctorate degrees part-time from the UW–Madison School of Pharmacy's Social and Administrative Sciences graduate program, while also working as faculty with the Pharmacy Practice Division.
"Being a part-time student also made me a better teacher, because I was more thoughtful of the difference between assigning busy work and focusing on what's really going to pay off," Martin says.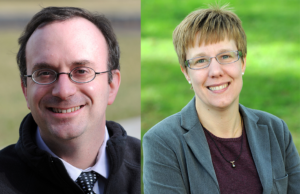 While dividing her time between studying, teaching, and raising a family, Martin continued to set aside time to give back to the pharmacy community as a post-graduate officer with APhA. "It's an association that allows the comingling of all pharmacy professionals — researchers, practitioners, and student pharmacists," says Martin. "That's tough, but the APhA is the best at pulling together all aspects of the discipline."
Martin has participated in the association in nearly every professional facet: practitioner, researcher, faculty, teacher, and advisor. In 2011, her team—which also comprised the UW–Madison School of Pharmacy's Ruth Bruskiewitz, professor with the Division of Pharmacy Professional Development, and Betty Chewning, professor with the Social and Administrative Sciences Division—won the APhA's coveted Wiederholt Prize for their research on the impact of a tobacco cessation training program on pharmacists' confidence, skills, and practice-change behaviors.
The Wiederholt Prize, established in 1996 in honor of former UW–Madison School of Pharmacy Professor Joseph Wiederholt, recognizes the best paper published in the Journal of the American Pharmacists Association (JAPhA) that investigates a pharmacy-related area of economic, social, or administrative sciences. In addition to winning the prize for her own research, Martin has also served as a past member of the reviewing committee that selects the award's recipient.
"I think what I'm really excited about is that while I'm going to be onstage getting inducted as a fellow, I will have a community of colleagues onstage with me," Martin says. She will be receiving the honor alongside the School's Social and Administrative Sciences graduate program alumni Nate Rickles (MS '99, PhD '03) and Lisa Guirguis (PhD '06), who are also being inducted as fellows into the APhA-APRS.
"It's so neat to be sharing this together."
See all of the APhA's 2018 award winners.