4
December
By Katie Ginder-Vogel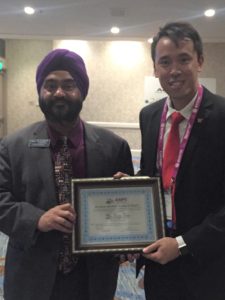 Doctoral student Yu Tong (Tony) Tam at the University of Wisconsin–Madison School of Pharmacy has been honored with a graduate award from the American Association of Indian Pharmaceutical Scientists (AAiPS). Tam received his honor at a gala dinner in San Diego on November 15, during the annual meeting of the AAiPS. He also presented a poster of his research at the meeting.
A committee of six academics, scientists, and field experts review the submissions. According to Dr. Hardeep Singh Saluja, chair of the AAiPS Research Awards Committee, Tam's application ranked high in the areas of methodology, originality, significance, and contribution to the pharmaceutical sciences.
"This year, we received 76 abstracts from all over the United States for the AAiPS Graduate Award," says Saluja. "Tony Tam's abstract received one of the highest scores and was selected for this award."
Tam is a fifth-year PhD student in Glen Kwon's research group. He earned an undergraduate degree in chemistry and a master in pharmacy in Hong Kong before joining Kwon's lab at the School of Pharmacy in 2013.
"I'm very proud of Tony for receiving this highly competitive award," says Tam's advisor Glen Kwon, professor and the Jens T. Carstensen Distinguished Chair Fund in Pharmaceutical Sciences. "This is the second year in a row that a UW–Madison School of Pharmacy graduate student has received this award from the American Association of Indian Pharmaceutical Scientists."
Tam's research centers on developing more effective drug delivery methods for cancer treatment.
"My research focuses on developing an oligo (lactic-acid) prodrug of an anticancer agent (paclitaxel), which is then loaded into a polymeric micelle carrier for sustained drug release," says Tam. "We have shown that this prodrug-micelle delivery system is more stable and has higher anti-tumor efficacy, compared to paclitaxel micelles in breast cancer and non-small cell lung cancer animal models."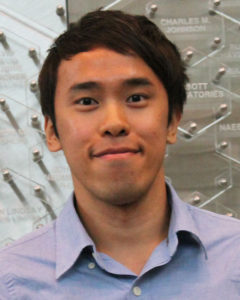 Tam is now preparing a manuscript for publication in Nano Letters based on the research he presented at the AAiPS conference.
Kwon cites Tam's enthusiasm for research as one of his most admirable qualities.
"Tony is hard-working and passionate about his research," says Kwon. "He has been highly productive and a joy to work with."
In addition to a cash award from the AAiPS, Tam also received a conference travel award from the School of Pharmacy Pharmaceutical Sciences Graduate Program, which he used to cover his travel costs to the AAiPS meeting. Travel award recipients are expected to represent UW–Madison at an academic conference.
"I'm aiming to graduate in summer 2018 and getting a job in the pharma industry," says Tam. "I interned in a pharma company last summer in Minneapolis and really enjoyed it, so I'm hoping to network a bit at the AAiPS conference."
The AAiPS gives six awards to graduate students in pharmaceutical sciences, regulatory affairs, and clinical research each year. Four awards are given to students of Indian heritage, while two are open to other nationalities. Interested graduate students submit an 800-word summary of their research findings, which also must have been accepted by AAiPS for a poster presentation at the annual meeting.