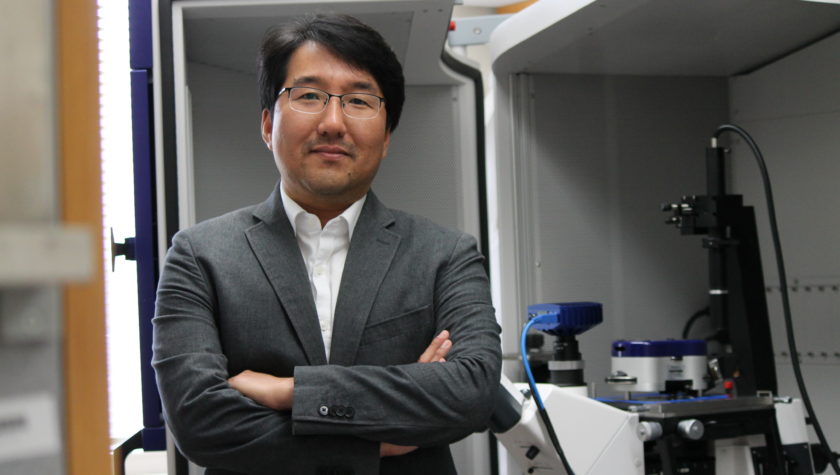 29
November
Capio Biosciences, Inc., a cancer diagnostic biotech startup, is partnering with the University of Wisconsin–Madison on research that will further develop novel technology in cancer detection. The Research Service Agreement (RSA) will support the research of Professor Seungpyo Hong in the Pharmaceutical Sciences Division at the UW–Madison School of Pharmacy to develop and commercialize novel devices for effective detection of circulating tumor cells (CTCs) for better cancer management.
The agreement will provide more than $900,000 over three years for Professor Hong and his research lab to advance new technologies to create novel methods in detecting highly reliable biomarkers of cancers. His research will focus on the development of surface engineering nanotechnology for tailored surfaces to capture CTCs from various cancer types, including head neck cancer, ogliometastasis, non-small cell lung, and cervical cancer.
"Capio is excited to partner with the UW–Madison, a leading university known for science and innovation," says Dr. Andrew Wang, co-founder and chief medical officer of Capio Biosciences, Inc. and associate professor of radiation oncology at the University of North Carolina at Chapel Hill. "This research agreement allows us to continue to work with Dr. Hong to advance our technologies and ultimately bring the assay to clinical practice."
Hong's research work with Capio will focus in four areas:
Optimizing chip surfaces tailored to various cancers
Designing and testing flow chambers for the capture and isolation of CTCs
Developing a high throughput system for enhanced bandwidth of chip production
Testing the optimized surfaces and collecting clinical data
"We've known about CTCs for more than a century and yet there's no technology that provides truly reliable detection of CTCs," Hong says. "The only FDA approved service has low sensitivity and specificity, so there's an opportunity to develop a better device that captures significantly more CTCs for improved cancer diagnostics and monitoring."
Hong is also co-founder and president of Capio Biosciences. The research supports Hong's current work in nanotechnology to enhance diagnosis and prognosis of cancer.
Research Service Agreements with the University of Wisconsin-Madison are applicable when the project will involve a systematic investigation, including research development, testing, and evaluation, designed to develop or contribute to general knowledge.
Learn more about Dr. Hong's entrepreneurial work with Capio Biosciences in Exome (Xconomy) and the Wisconsin State Journal.