18
September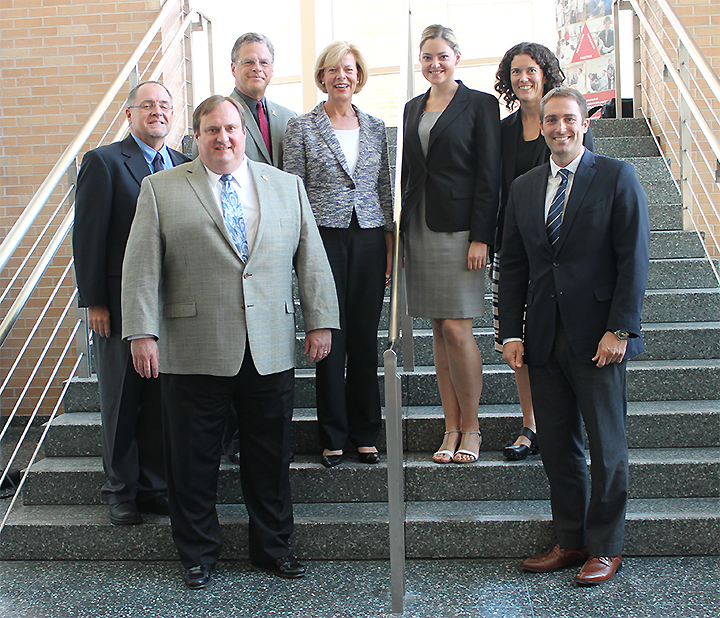 Senator Tammy Baldwin (D-WI) visited Rennebohm Hall in September to learn about the novel Comparative Health System Global Pharmacy Fellowship at the UW-Madison School of Pharmacy. As antibiotic resistance is a growing global problem and a threat to the health of all citizens, the novel fellowship is focusing on antimicrobial stewardship for this first two-year cycle globally and locally by working with public health leaders and forming new interdisciplinary partnerships.
The programs first fellow Laurel Legenza and her mentors Warren Rose and Susanne Barnett, associate professors (CHS) in the Pharmacy Practice Division at UW-Madison School of Pharmacy, will be working on quality improvement projects in Wisconsin and in Cape Town, South Africa through a partnership with the University of the Western Cape, including Prof. Angeni Bheekie and Dr. Renier Coetzee. Following the theme of antimicrobial stewardship, a quality improvement initiative to address Clostridium difficile infections, a serious bacterial diarrheal disease occurring after treatment with antibiotics that kill other bacteria, but permit Clostridium difficile to overgrow. The project will be implemented at district level public sector hospitals in Cape Town.
The Wisconsin fellowship project aims to collect information regarding antibiotic resistance and to make the Wisconsin geographic antibiotic resistance data more useful to health care providers with innovative mapping and data visualization methods (similar to weather radar maps). The project will also be able to detect recent changes in regional antibiotic resistance across the state.
Both projects are intended to foster a culture of antibiotic stewardship, including appropriate antibiotic use to reduce or slow further resistance development. In both regions, the fellowship is expanding the role of pharmacists in global health. This collaborative fellowship was created by Lori DiPrete Brown, Center of Global Health, Connie Kraus, professor (CHS) and Vice Chair Pharmacy Practice Division and Director of UW-Madison School of Pharmacy Office of Global Health, former Dean Jeanette Roberts, and Trisha Seys Ranola, assistant director UW-Madison School of Pharmacy Office of Global Health. The projects align with the Wisconsin Idea, extending university contributions and improving the health of all citizens, locally and globally.