1
March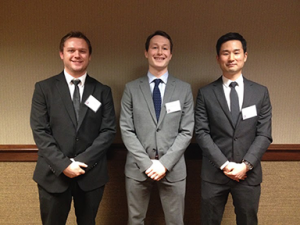 An interprofessional student team comprised of Ryan Miller, DPH-4, Matthew Shanahan, and P. Chulhi, School of Medicine and Public Health student colleagues, were awarded first place at a statewide healthcare case competition organization by Wisconsin AHEC (Area Health Education Centers). Patrick McBride served as the team advisor.
The healthcare case competition was designed to show students the complexity of the healthcare delivery system and the need for collaboration between different healthcare professionals. In the months prior to the event, students analyzed the interprofessional efforts of Chronic Obstructive Pulmonary Disease care at a hospital. On the competition day, each team presented its findings and recommendations for collaboration to a panel of judges.
The UW-Madison team competed in the Wisconsin Dells against nine finalist teams chosen from 21 that applied. The teams were made up of students from private and public universities across the state with each of the seven Wisconsin AHEC regions represented. The judges represented leaders from Wisconsin's various healthcare academia and practice. The first place team earned a monetary award of $3,000. The UW-Milwaukee team earned second-place and a $2,000 cash prize, with the UW-La Crosse team placing third and receiving $1,000.
The Wisconsin AHEC System is a non-profit organization funded by federal grants, the State of Wisconsin, the state's health professions training programs, and local communities. It consists of seven regional centers and one statewide program office. Wisconsin AHEC is a health professions education and outreach program that is part of a nationwide network of programs working to improve accessibility and quality of primary health care while encouraging universities and educators to partner in addressing local health care problems. Wisconsin AHEC provided meals and lodging for students attending the competition, along with opportunities to network with healthcare professionals from around the state. For further information, see www.ahec.wisc.edu.