13
May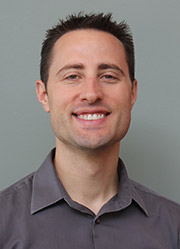 The National Consumers League (NCL) and its partners announced the winners of the third annual Script Your Future Medication Adherence Team Challenge for health profession students. This month-long competition engaged students and faculty across health care disciplines in developing creative ideas for raising awareness about a critical public health issue: medication adherence.
Pharmacy students and fellow health profession students of the UW-Madison Interprofessional Health Council (IPHC), along with Joe Zorek, assistant professor (CHS) in the Pharmacy Practice Division, and Interprofessional Education Liaison, were recognized with the "Health Disparities, Under-represented Community Outreach Award."
The Inter-professional Health Council at the University of Wisconsin-Madison worked in the community to reach individuals with low incomes or without health insurance. The team conducted most activities at free medical and pharmacy clinics, and at local food pantries. The team provided critical information about the importance of taking charge of one's health and taking medication as prescribed during the earlier medical visits. The team directly counseled 200 patients and distributed campaign materials that were used during consultations. Through the team's participation in the Challenge, lasting partnerships have been developed and will continue throughout the year, including monitoring medication adherence levels among clinic patients.
Led by student pharmacist Torie Grover, DPH-2, and Master of Public Health student Natasa Stjepanovic, MPH-2, IPHC created multi-faceted outreach strategies to raise awareness about the importance of taking medication appropriately. During the month of February students were available at a variety of community-based clinics, food pantries, and health fairs to distribute MAC promotional materials and educate consumers about the importance of taking their medications as prescribed.
In addition to volunteer efforts, IPHC student representatives recorded a radio public service announcement in English and Spanish for broadcast on seven different radio stations with a collective reach of more than 250,000 listeners per week throughout Wisconsin.
The 2014 Medication Adherence Team Challenge is part of the national Script Your Future public awareness campaign coordinated by NCL. The campaign includes more than 135 public and private stakeholder organizations, including Challenge sponsors—the American Association of Colleges of Pharmacy (AACP), the National Association of Chain Drug Stores (NACDS) Foundation, the American Medical Association (AMA), the National Community Pharmacists Association (NCPA), the American Pharmacists Association (APhA) and the American Association of Colleges of Nursing (AACN).
"This was the second year we challenged students to work in collaborative teams of future health professionals who interact with patients—the doctors, nurses, pharmacists, nurse practitioners, and others," said Sally Greenberg, NCL Executive Director. "This more comprehensive approach will ultimately result in patients hearing from multiple voices encouraging them to take their medication as directed."
Research shows that nearly three out of four Americans don't take their medications as directed. This may cause devastating results, particularly for people with chronic conditions. Poor medication adherence has been recognized by national health advocacy leaders as a public health priority; it results in more than one-third of medicine-related hospitalizations and almost 125,000 U.S. deaths each year. Improved medication adherence leads to better health outcomes and reduced total healthcare costs.
Student teams from pharmacy, medicine, nursing, and many other health professions worked side by side on campuses and in local communities using innovative solutions to reach thousands of consumers to raise awareness using Script Your Future materials. This year, students also submitted entries in the categories of "Health Disparities Outreach" and "Creative Inter-Professional Team Event." Coordinators also established, new this year, the award for "Effective Communication and Media Outreach."
"The Script Your Future Medication Adherence Team Challenge has been an innovative method for our future healthcare professionals to engage with their local communities," said Dr. Lucinda L. Maine, Executive Vice President and CEO at AACP. "The levels of communication and types of events held in these communities provide essential information and strategies for patients to improve their medication adherence and ultimately their health outcomes."
More than 2,200 future health care professionals held 300 events in 26 states and the District of Columbia, counseling more than 9,300 patients and reaching more than 6 million consumers nationwide.
"It is vital for patients to take their medication as directed in order to achieve optimal health outcomes," said AMA President Ardis D. Hoven, MD. "Educating patients through community outreach helps improve the conversations happening in doctors' offices across the country and helps patients avoid adverse drug reactions and unnecessary hospitalizations. The Script Your Future challenge presents an excellent opportunity for health care professionals-in-training to improve public health."
"The involvement of students and faculty in the effort to boost medication adherence is incredibly important," said NACDS Foundation President Kathleen Jaeger. "The Medication Adherence Team Challenge establishes this issue as a top priority for the next generation of health professionals, and inspires them to advance this goal within their own communities. The winners are showing the tremendous power that healthcare professionals can have on advancing patient care through medication adherence. We hope that is a lesson they will carry with them throughout their careers and that will inspire others to do the same."
"NCPA is proud to co-sponsor the Script Your Future team challenge, a contest that recognizes the next generation of health care professionals' efforts to drive greater medication adherence," said NCPA CEO B. Douglas Hoey, RPh, MBA. "According to NEHI up to $290 billion a year is wasted on the improper use of medication and a comprehensive survey of adherence commissioned by NCPA – Medication Adherence in America: A National Report Card – found Americans only getting a 'C+' for their efforts. Script Your Future could very well be the spark that ignites the next wave of adherence driving innovation and all of the honorees should be congratulated."
"Pharmacists have a unique opportunity, at the medication dispensing stage, to help patients understand the value of their prescription medications, to help alleviate confusion, and to underline the need for adherence, making a real difference in patients' lives. We are excited to be involved in this program and what it means for the future of America's adherence," said APhA Executive Vice President and CEO Thomas E. Menighan, BSPharm, MBA, ScD (Hon), FAPhA.
"Given nursing's strong focus on health promotion and patient advocacy, AACN is committed to working with our colleagues in pharmacy, medicine, and other disciplines to underscore the health benefits linked to proper medication adherence among students, clinicians, and the patients we serve," said Dr. Geraldine "Polly" Bednash, CEO of the American Association of Colleges of Nursing (AACN).
Nearly 50 applications were received from 109 participating educational institutions.