2
May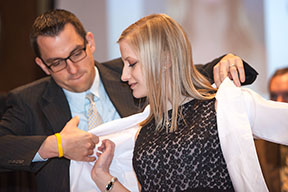 Nearly 130 students from across the state and around the globe earned their first white lab coat Sunday, April 27, 2014 to commemorate the completion of their first year at the University of Wisconsin-Madison School of Pharmacy. The White Coat Ceremony is an annual event which emphasizes the importance of professionalism for the student pharmacists in training.
Family and friends of the Class of 2017 were invited to join the special occasion, which was held at Union South on the UW-Madison campus.
"This event presents an opportunity to formally welcome our DPH-1 students into the school, congratulate them on an outstanding first year, and recognize their hard work," said Dean Jeanette Roberts. "The White Coats are representative of our students' dedication to patient care and the practice as they begin their journey into the profession."
Each student was called forward in the ceremony to receive a lab coat from a representative of the Pharmacy Society of Wisconsin, Pharmacy Alumni Association, or their Student Senate president. An extra special touch, a few students received their coat from their practicing pharmacist parent. In addition, each student received a booklet highlighting the history of the school from the American Institute of the History of Pharmacy as well as a letter from a current practicing pharmacist offering words of advice and encouragement for the final years of school and then advancement into the profession.
Charles Lauhon, PhD, associate professor in the Pharmaceutical Sciences Division and Vice Chair for Pharmaceutical Sciences, was the keynote speaker for the event. Lauhon joined the School of Pharmacy in 1996 and his professional interests center on RNA biochemistry and chemistry/biochemistry of sulfur. His major research interest is the biochemistry of tRNA modification.
Other highlights of the event included a slide show arranged by the students which displayed both their hard work and fun throughout their first year of the program and reading of the class honor code. The ceremony concluded with recitation of the pharmacists' oath led by Beth Martin, PhD, associate professor, (CHS) Pharmacy Practice Division.
Looking at the Class of 2017, about 42 percent carried out their pre-pharmacy coursework at UW-Madison and almost 70 percent of the total started at one of the University of Wisconsin System campuses around the state. Six attended private schools in Wisconsin and 34 started at universities outside the state. Seventy four percent of the class are Wisconsin residents, about six percent come from Minnesota, 17 percent come from other states, and three percent are international students.