3
March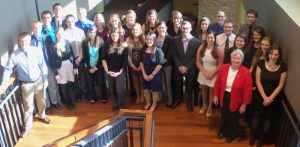 On Sunday, March 2 the UW-Madison School of Pharmacy Rho Chi Honor Society welcomed 28 new initiates into their Eta Chapter.
Established in 1922, Rho Chi is the national, academic honor society in pharmacy that encourages high standards of conduct and character. The UW-Madison Eta Chapter of Rho Chi strives to foster unified leadership and intellectual achievement among members.
Rho Chi members at the UW-Madison School of Pharmacy are selected for their professionalism and academic performance as pharmacy students. To be eligible for membership in Rho Chi, students must be enrolled full time in the Accreditation Council for Pharmacy Education (ACPE) accredited pharmacy program; have finished at least half of the didactic coursework in their pharmacy curriculum; have a grade point average (GPA) in the top 20 percent of their class; and finally, have earned at least a 3.0 of 4.0 GPA.
"Preparation took months, but the ceremony went flawlessly due in large part to the grace of Dean Jeanette Roberts, the acumen of faculty advisors, Professors Warren Rose and Mary Hayney, and the amusing anecdotes of Professor Charles Lauhon," said Brian Buss, DPH-3 and Rho Chi 2013-2014 Eta Chapter president.
The Society seeks universal recognition of its members as lifelong intellectual leaders in pharmacy, and together as a community of scholars, to instill the desire to pursue intellectual excellence and critical inquiry in all aspects of pharmacy to advance the profession.
DPH-2 New 2014 Initiates
James Bynchinski
Lindsey Dailey
Stephanie Dougherty
Krista Dudash
David Dulak
Jeffrey Engle
Kassandra Fabbri
Rebecca Grupe
Anthony Hennes
Matthew Holicek
Heather Hresko
Landon Jennings-Stoyles
Courtney Krapfl
Nora Krause
Sarah Kryka
Catherine Lai
Rebecca Lauscher
Jason Lawniczak
Michael Nagy
Amy Nielsen
Brianna Novotny
Scott Pearson
Chelsea Reed
Michelle Schroeder
Joshua Stine
Quinn Wonders
Sara Worzella
Thomas Zimmerman