17
February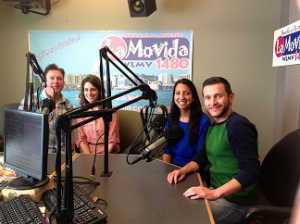 Pharmacy students joined fellow health profession students of the UW-Madison Interprofessional Health Council (IPHC), along with Joe Zorek, assistant professor in the Pharmacy Practice Division, and Interprofessional Education Liaison, to participate in the 2013-2014 Medication Adherence Team Challenge (MAC) held during February 2014.
The competition engages interprofessional student teams from schools of pharmacy, medicine, nursing and other health professions to raise awareness about the critical health issue of medication adherence. Competing in the interprofessional team category, scoring for the challenge will be determined based on the amount and quality of community outreach performed.
Led by student pharmacist Torie Grover, DPH-2, and Master of Public Health student Natasa Stjepanovic, MPH-2, IPHC created multi-faceted outreach strategies to raise awareness about the importance of taking medication appropriately. During the month of February students will be available at a variety of community-based clinics, food pantries, and health fairs to distribute MAC promotional materials and educate consumers about the importance of taking their medications as prescribed.
In addition to volunteer efforts, IPHC student representatives recorded a radio public service announcement in English and Spanish for broadcast on seven different radio stations with a collective reach of more than 250,000 listeners per week throughout Wisconsin.
Additional support for the competition was provided by UW-Madison School of Pharmacy students, Society of St. Vincent de Paul, UW-Madison School of Medicine and Public Health MEDiC South Side Clinic, UW-Madison Physical Therapy Student Pro Bono Clinic, and Midwest Family Broadcasting Corporation.