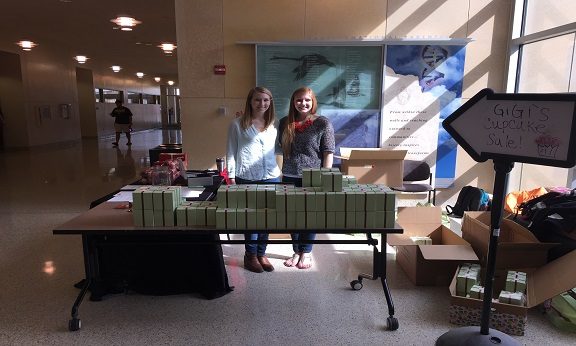 8
June
School of Pharmacy students participating in the Organ Donation Awareness (ODA) group, one of the community outreach efforts of the Wisconsin Society of Pharmacy Students (WSPS) won the 2016 Organ Donation Challenge Award presented by The American Society of Transplantation (AST) Transplant Pharmacy Community of Practice (CoP).
The annual national event relies on collaboration with pharmacy schools and student chapters of pharmacy professional organizations. Teams are challenged with designing and conducting events to ultimately spread awareness about the importance of organ and tissue donation. ODA members work toward raising awareness and increasing the number of people registered for the Wisconsin Donor Registry.
A multi-faceted approach of traditional methods and new initiatives contributed to UW-Madison School of Pharmacy students receiving the award. Students hosted several traditional events including 30-minute organ donation awareness presentations at driver's education classes, educational booths at health fairs, holding a transplant colloquium for students, and attending the Madison Homecoming Parade to spread awareness about organ donation. In addition, members teamed up with GiGi's Cupcakes, Madison, Wis. to hold the annual GiGi's Cupcake Sale in April where more than $530 was raised for The Restoring Hope Transplant House in Middleton, Wis. New initiatives this year encompassed:
a new relationship with the Blood Center of Wisconsin to promote the international "Be The Match" registry for bone marrow donation.
a partnership with the Pharmacy Global Health Interest Group to help with their annual bone marrow registry drive.
volunteering at various "Be the Match" events throughout Wisconsin.
collaboration with the Student College of Clinical Pharmacy (SCCP) student organization to host a transplant pharmacy colloquium highlighting a transplant pharmacy career.
partnering with EVP Coffee, Madison, Wis. to create a coffee sleeve with "Donate Life" logo with an estimated reach of nearly 2000 customers.
attendance at Dane County Farmer's markets.
development of a social media campaign utilizing several tools including Facebook and Instagram.
The winning team will be formally recognized at the American Society of Transplantation meeting in June. Recipients receive a plaque, a monetary donation to be used for future events, and $500 of AST bucks to be used towards an AST membership or attendance to an AST sponsored meeting.