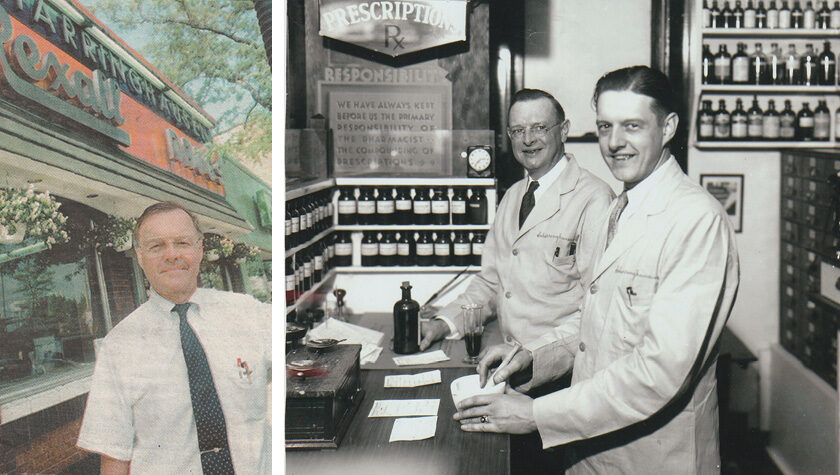 11
December
Third-generation independent pharmacist spent his career in the service of others
By Katie Ginder-Vogel
A career in pharmacy was all but written in the stars for William Scharringhausen (BS '56). He is a third-generation pharmacist, following in the footsteps of his father and grandfather to take the reins of the family business: Scharringhausen Pharmacy.
"I enjoyed working with my father and other family members — my mother and wife were also involved in phases of the operation, serving patients," says Scharringhausen, an alumnus of the University of Wisconsin–Madison School of Pharmacy, who retired in 1999. "When something needed to be done, we would ask, 'How can I help?' Fulfilling needs is what every independent pharmacist does."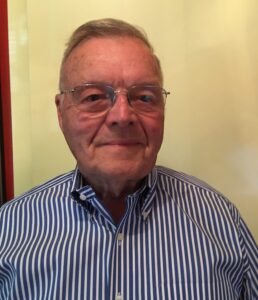 Scharringhausen's leadership, service, and accomplishments as an independent pharmacist — a cornerstone of his community in Park Ridge, Illinois — have earned him the National Community Pharmacists Association (NCPA) Foundation 2020 Dargavel Medal.
"I am surprised, humbled, and honored," he says of the award. "My dad also received the Dargavel Medal. That was an example of recognizing an independent pharmacy owner for contributing to the profession."
Scharringhausen served in NCPA (formerly the National Association of Retail Druggists) leadership for 10 years, first as a vice president, then on the executive committee, as president-elect, and finally as president from 1991 to 1992. 
"I always enjoyed meeting new people, talking about pharmacy and how to help each other," he says of the experience.
The Dargavel Medal is the latest in a long string of recognitions for Scharringhausen, who was honored with a 1997 Citation of Merit and 1992 Alumnus of the Year award from the School of Pharmacy. His devotion to giving back also transcends his profession and encompasses community service, for which he was given a Park Ridge Chamber of Commerce Lifetime Achievement Award, several Kiwanis awards, and various other honors.
"I was always involved in service organizations and joined the Jaycees, Kiwanis, and the Chamber of Commerce," says Scharringhausen. "My personal philosophy in all things, which is my legacy from my parents and grandparents, is that community service is the rent you pay for occupying space on earth." 
Pharmacy runs deep
Scharringhausen's grandparents came to Park Ridge, Illinois — one of the state's earliest settlements — in 1924 and opened Scharringhausen Pharmacy that same year. Scharringhausen's father graduated from the University of Illinois-Chicago College of Pharmacy in 1928 and joined his father in the pharmacy.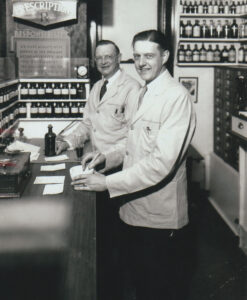 "It was a strong business, based 100 percent on service, with 24/7 availability, but it was a horrible time to be doing business," says Scharringhausen. "During the Great Depression, they lost that business — vendors had been extending credit to them, and they had extended credit to their customers."
The Scharringhausens locked their pharmacy's doors in April 1935, but their professional colleagues and customers wanted them back open so badly that they went door-to-door to raise money to help re-launch the business. In June 1935, a local realtor offered them half of a 25-foot-wide building, and they started over. Once again, the Scharringhausen Pharmacy was serving their community.
Scharringhausen, who was born in 1934, started working with his father and grandfather when he was about 8 years old, earning just 10 cents an hour. 
"I remember being in the pharmacy, doing little tasks," says Scharringhausen. "I never wanted to do anything else. I always had a job, and I always had money in my pocket."
An Illinois Badger
After high school, Scharringhausen was accepted into pharmacy programs at the University of Wisconsin, Purdue University, and the University of Illinois-Chicago. An early summer visit to Madison and the UW–Madison School of Pharmacy secured his decision to break with tradition and become a Badger. His sister, Helen, is a 1953 graduate of the School.
"I lived in a private home on Kendall Ave, six blocks from Camp Randall Stadium, because there weren't enough dorms for freshmen," Scharringhausen says. Even there, he was connected to pharmacy: In one of the house's other apartments lived Bud Niebauer, general manager of Rennebohm's Pharmacies.
Scharringhausen describes his professors at the School as great teachers, specifically mentioning School of Pharmacy Dean Arthur Uhl and professors Lloyd Busse (BS '36, PhD '40), Lloyd Parks (PhD '38), Dale Wurster (BS '42, PhD '47), and William Apple (BS '49). 
"I always had a great relationship with them, and my dad got to know them as well, says Scharringhausen.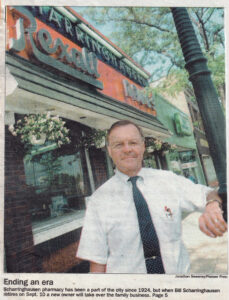 One of his favorite experiences was in the dispensing course taught by Wurster, which Scharringhausen took in his senior year. "Almost all of us were going into community pharmacy, and I had a lot of compounding experience from my family's pharmacy even before I started pharmacy school," he says. "We'd be making an ointment in dispensing lab, and Dr. Wurster would say, 'Show them how to do that the right way.'"
While serving as an unofficial teacher's aid in pharmacy School, Scharringhausen also used his organizational and leadership skills in Badger Athletics. In high school, he was a student manager for the football, basketball, and baseball teams. A friend from Park Ridge, George O'Brien, who was the captain of the UW–Madison football team, encouraged him to pursue a similar management role in college. Scharringhausen mailed his CV to the freshman football coach, and the two met as soon as Scharringhausen arrived on campus. 
"On September 1, I registered, went to the county clerk's office to get my Wisconsin ID, and then went to the football office," recalls Scharringhausen. The football department secretary asked if he could type, which, of course, he had learned to do in high school and when creating pharmacy labels, so he landed the job immediately. 
"I started at the football office, and when practice began, I worked with the freshman team and worked home game weekends with the varsity team," says Scharringhausen. "I used to be the 'gopher' for the visiting team — anything they had questions about was my job." 
A career in service
After graduation, Scharringhausen was in the U.S. Army for six months, and then returned to the family pharmacy, which he ran until his 1999 retirement. Scharringhausen Pharmacy is now closed, and he rented the building to The Medicine Shoppe Pharmacy, before selling the space to the Harp & Fiddle, an Irish pub, several years ago.
"It was bittersweet to leave the pharmacy I had been in almost every day for over 60 years," says Scharringhausen. He was grateful to move on from the paperwork and logistics of running a successful business, but he missed his customers and patients he'd formed relationships with over the decades.
"When something needed to be done, we would ask, 'How can I help?' Fulfilling needs is what every independent pharmacist does."
—William Scharringhausen
In his retirement, Scharringhausen remains active in Kiwanis and his church, plays golf, does home improvement projects, and gardens.
He is also continuing to give back to the profession. Currently, Scharringhausen is mentoring a recent graduate from the School of Pharmacy who is interested in hospital pharmacy. The two connected through the School's new Alumni Link program, which matches Class of 2020 grads with established alumni to ease their transition into professional life during the COVID-19 pandemic.
"I have always enjoyed mentoring young people, knowing that I wasn't going to be around forever," says Scharringhausen. "They will carry the torch to serve their communities."