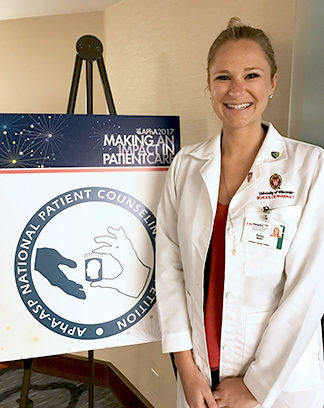 28
March
Kelsey Waier,
a third year pharmacy student, participated in the American Pharmacists Association Academy of Student Pharmacists (APhA-ASP) National Patient Counseling Competition.
The competition is designed to reflect changes that are occurring in practice, to promote and encourage further professional development of the student pharmacist, and to reinforce the role of the pharmacist as a health care provider and educator.
Waier competed in two rounds at the local level and was selected to represent the UW-Madison School of Pharmacy on the national level at the APhA Annual Meeting and Exposition in San Francisco in March. Waier was among 136 who participated in the national competition.
Beth Martin
, associate professor (CHS) in the Pharmacy Practice Division and Assistant Dean for Assessment, Teaching and Learning, served as a mentor throughout the competition. "I was fortunate to have the guidance of Professor Martin as she has fueled my passion for a career in pharmacy and continually reminds me of how fortunate I am to be part of a strong, influential, and advanced program, said Waier. "The competition allowed me to focus everything I have learned on improving medication use and promoting the importance of pharmacists in patient care, network with other finalists across the nation, and show other programs how great UW-Madison is at preparing future pharmacists for our careers."
Waier received a cash stipend from the Wisconsin Society of Pharmacy Students to offset her travel expenses. She was also recognized at the School's Alumni Reception at the APhA meeting. Waier joins a legacy of previous participants from the School, including national finalists Paria Sanaty Zadeh in 2016 and Karrie Radovich, PharmD, in 2014.