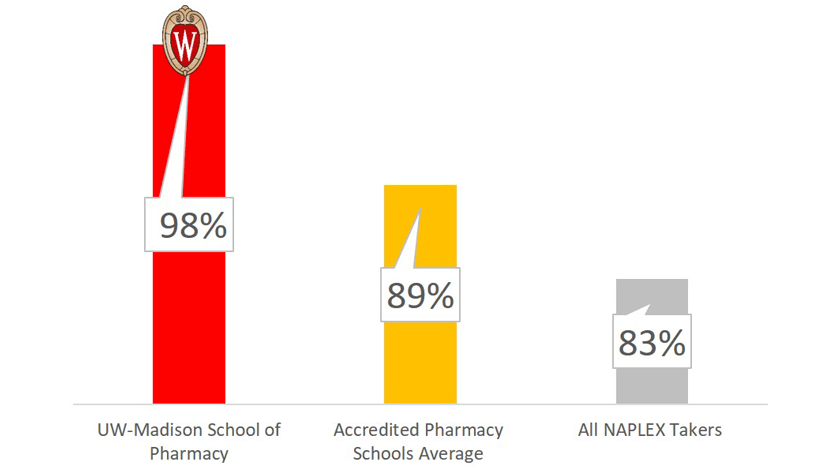 17
April
PharmD students from the UW–Madison School of Pharmacy significantly outperformed their peers on the 2018 North American Pharmacist Licensure Exam (NAPLEX) with a first-time pass rate of 98.33 percent versus the national average for all accredited pharmacy schools of 89.46 percent.
"The School of Pharmacy's NAPLEX performance is consistently outstanding — our first-time pass rate is the tenth highest in the country and the best in the state," says Steven Swanson, dean and professor of the UW–Madison School of Pharmacy. "Our student pharmacists are well prepared to practice as pharmacy leaders as they graduate from our top-ranked PharmD program."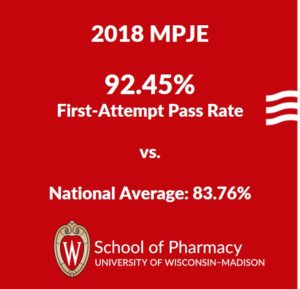 PharmD students also take the Multi-State Pharmacy Jurisprudence Exam (MPJE), and the School of  Pharmacy scored among the best in assessing knowledge of state and federal laws governing the practice of pharmacy in 2018. UW–Madison School of Pharmacy's first attempt pass rate was 92.45 percent compared to the national average of accredited pharmacy schools at 83.76 percent.
"These stellar pass rates reflect the high caliber of our students and the well-rounded, thorough preparation that our PharmD program provides to set up students for success," says Swanson.
The NAPLEX is one component of the licensure process for pharmacists. The MPJE is an exam covering pharmacy law. Both exams are for use by the boards of pharmacy as part of their assessment of candidates' competence to practice pharmacy.