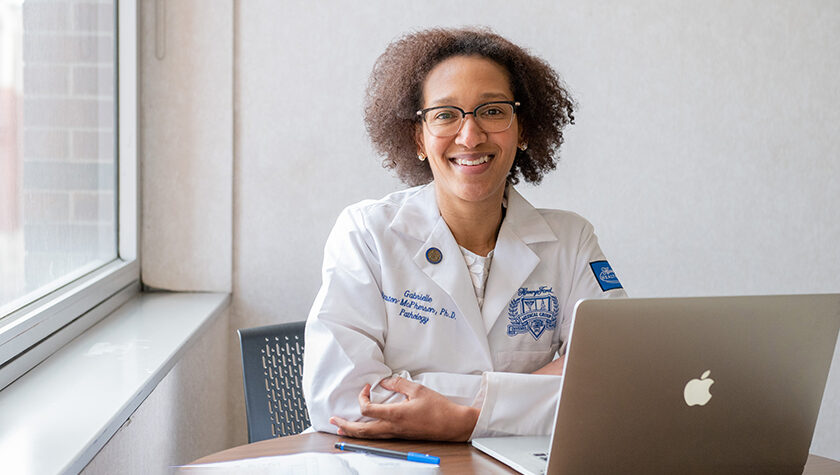 10
March
Gabrielle Winston-McPherson conducts novel research and meets patient needs in the core automation lab at Henry Ford Health System
By Katie Ginder-Vogel
A common thread in the research of Gabrielle Winston-McPherson (PhD '16) is health equity — a topic not often undertaken in laboratory environment.
Winston-McPherson, associate director of chemistry at Henry Ford Health System Detroit, has a specialty in pathology and oversees the core automation laboratory at Henry Ford, where she works with providers to identify, validate, integrate ­— and sometimes even develop — new clinical testing tools and technologies. She is also involved in data mining, analyzing anonymized patient information to look for trends that could help improve outcomes.
"What can we utilize from that patient data to answer interesting questions?" she asks. "For example, transgender patients have the same health needs as everybody else, but often, because of hormonal therapies, their lab values don't look as expected. So having a good idea of what lab values are typical in that population helps providers know what to look for." 
"For me, improving health equity means improving health care for myself, my parents, sisters, brother, and son."
—Gabrielle Winston-McPherson
In 2018, she received the Paul E. Strandjord Young Investigator Award from the Academy of Clinical Laboratory Physicians and Scientists for her work demonstrating that minority patients are underrepresented in large next-generation sequencing oncology tests for cancer predisposition and precision oncology.
Since then, she has also contributed to several publications with the goal of dismantling inequities, including a piece examining laboratory medicine's role in eliminating health disparities, an analysis of racial and socioeconomic disparities in SARS-CoV-2 testing, and in December 2021, a review suggesting the importance of a Black race modifier in a test for kidney function.
Winston has long been interested in equity, dating back to volunteer work in high school.
"In a lot of ways, I am a project of educational equity initiatives that afforded me opportunities I would not have had otherwise," she said. "I think that working in this space is not only important, but personal. For me, improving health equity means improving health care for myself, my parents, sisters, brother, and son."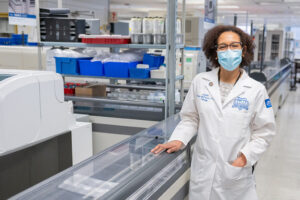 Winston's work — which ranges from detecting laboratory errors, developing several novel testing methods, and an investigation into the microbiome of transgender patients — also received the 2019 George Grannis Award for Excellence in Research and Scientific Publication from the American Association for Clinical Chemistry.
Her interest in health equity and the clinical services she supports at Henry Ford stem from a simple desire to help people.
"In clinical service, you have to like to help people," says Winston-McPherson, an alum of the University of Wisconsin­­­–Madison School of Pharmacy. "For me, that's the thing that brings me the most job satisfaction. Everything I do ties back to trying to help somebody — it could be a provider, a patient, a colleague, or a technologist I work with. I like to help people and provide them with information they need."
Developing tools and technologies
Winston's role at Henry Ford is divided among clinical service, operations, and education.
Her clinical service includes taking provider consultations and growing the lab by bringing in new clinical testing tools and technologies to serve the health system's patient population. 
"I had a question recently from a provider about a toxicology test they want to assess a patient's condition, and they need to know what type of test to order, how to order it, and what the resulting information will tell them," says Winston-McPherson. "A big part of my job is bringing new technologies into the medical field. What do clinical test providers need?" 
To meet the needs of the health system's providers, Winston-McPherson brings new instrumentation into her lab, does validation testing, and if the instrument performs appropriately, she integrates it. 
"For the most part, the technology and assays that we use exist but are new to our lab," she says. "If a company doesn't make it, such as a mass spec assay for immunosuppressant drugs that isn't commercially available, we develop it ourselves."
Winston-McPherson also considers ways to leverage automation to ensure testing processes are streamlined, accurate, and timely.
"In clinical service, you have to like to help people. For me, that's the thing that brings me the most job satisfaction."
—Gabrielle Winston-McPherson
"The lab I work in produces millions of results a year, and the only way to do that effectively is to have efficient processes, so we utilize automation and make it a creative tool," she says. "For example, if I have a test, and it goes on my automation line, and I get a specific result that requires a follow-up test, I can program that into my automation and it gets done on the spot." 
Henry Ford is a teaching hospital with residents, and Winston-McPherson helps pathology residents understand the chemistry section of the core automation lab. 
"I'm also passionate about teaching our medical lab technologists, who are specially trained individuals who perform the testing in our lab," she says. "I make sure I answer their questions and involve them in projects to help them advance their careers."
 Finding clinical chemistry
Looking back, Winston-McPherson says there has been a natural progression toward where she is today.
"As an undergrad at the University of Arizona, I was interested in healthcare but found myself falling in love with organic chemistry. I wanted to utilize novel chemistry to access challenging scaffolds," she says. "For graduate school, I chose pharmaceutical sciences because I felt like it was at the intersection of chemistry with health care and medicine."
As a Pharmaceutical Sciences PhD student in the lab of Professor Weiping Tang, Janis Apinis Professor at the UW­–Madison School of Pharmacy, she was chosen to participate in the United Negro College Fund, Inc. (UNCF) and the Merck Company Foundation Graduate Research Fellowship Program, which gives 37 awards to outstanding African American students and postdoctoral researchers each year.
Her work with the Tang Research Group led to a patent detailing a novel way to increase the efficiency of indole synthesis and produce a new set of promising compounds.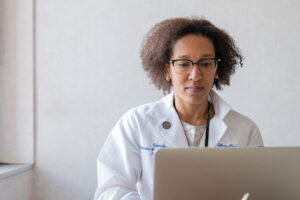 "We discovered some novel activity of our compounds that was very related to health care, through the protein PCSK9," she says. "People with overactive PCSK9 have high low-density lipoproteins, and their bodies don't clear 'bad' cholesterol." 
The Tang Research Group, Winston-McPherson included, showed that stimulating the secretion of an intestinal hormone that regulates insulin and blood sugar levels with a novel compound they developed can inhibit the activity of the protein PCSK9, which helps control cholesterol levels in the blood and could be interesting to pharmaceutical companies as a way to manage cholesterol. 
Winston-McPherson realized she enjoyed learning about health and disease and explored what she might do with chemistry that could allow her to continue learning about health and disease.
"That led me to clinical chemistry," she says. "The focus of my postdoc at the University of Washington Medical Center was to understand clinical chemistry under the umbrella of pathology." 
She credits her work with the Tang Research Group and PCSK9 with helping her pivot from pharmaceutical sciences to clinical chemistry, and to where she is today with the Henry Ford Health System.
"I wouldn't be here without that experience in grad school," she says. "Every year, we get an update letter about how the Tang group is doing and a contact sheet of where people are, so we can stay connected. I will be connected to them forever."