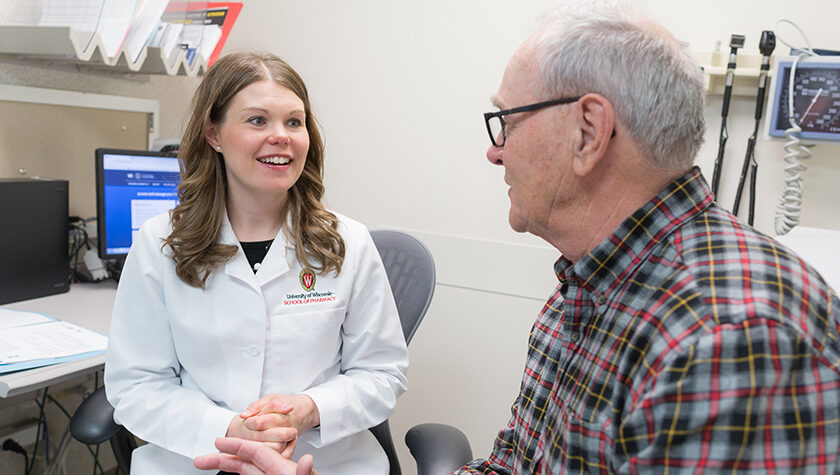 16
March
School of Pharmacy faculty study uptake and barriers to POCT in Wisconsin to encourage adoption
By Arushi Gupta & Katie Gerhards
Over the past year, pharmacies across the nation have become hotspots for COVID-19 testing, shining a spotlight on the consequential role of pharmacists in public health. In communities with a participating pharmacy, patients can easily make an appointment nearby — 90 percent of Americans live within 5 miles of a pharmacy — get their test results within minutes, and quickly modify their behavior based on their results. No clinic visit, which often means extra travel time and limited availability, is required.
This convenient, rapid COVID-19 testing proved to be imperative in understanding and ultimately controlling the spread of the pandemic — so what other health concerns can we deploy this tool against?
Point-of-care testing (POCT), meaning diagnostic tests that yield immediate results at the time and place the patient is receiving care, is a capability that's been available to many pharmacies since 1988, with the passing of the Clinical Laboratory Improvement Amendments (CLIA). Pharmacies can apply for a Certificate of Waiver, and then build a POCT program that could include around 120 simple tests with a low risk of erroneous results, such as blood glucose monitoring, hemoglobin tests, rapid strep tests, or international normalized ratio (INR) tests and learn their results within minutes.
"Point-of-care testing has been shown to improve care. According to previous research, this type of service tends to be well-accepted by patients."
—Casey Gallimore
"Point-of-care testing can help with screening for infectious diseases like influenza, for example, and it can also be used to look at parameters that can help pharmacists monitor treatment," says Casey Gallimore (PharmD '05, MS '13), an associate professor in the Pharmacy Practice Division of the University of Wisconsin–Madison School of Pharmacy. "Looking at blood glucose or cholesterol levels can tell us a lot about whether a patient needs a certain medication or if a medication is working or not."
Although CLIA waivers have been around for decades and national pharmacy organizations such as the National Community Pharmacists Association and the American Pharmacists Association have been encouraging adoption of POCT, there have been few studies about how and where these services are implemented.
With colleagues from the School of Pharmacy, Gallimore launched a study to understand the current landscape of POCT in Wisconsin and encourage more widespread adoption by understanding common barriers. Their results, recently published in the Journal of the American Pharmacists Association, paint an optimistic future.
Wisconsin's POCT trends
Gallimore and her colleagues — including Associate Professor Andrea Porter (PharmD '06), Associate Professor Susie Barnett (PharmD '04), and Assistant Professor Ed Portillo (PharmD '14) — began with a list of all of Wisconsin's 938 registered community pharmacies.
They then randomized the pharmacies and divided them into different regions within the state to ensure representation from all areas. With a goal of reaching out to 15 percent, a team of PharmD students and research assistants began calling pharmacy managers to survey their present and future plans to offer POCT.
Their survey found that 17.1 percent of Wisconsin pharmacies surveyed are currently offering POCT, which puts Wisconsin ahead of national trends — a recent survey that found just 12.6 percent of community pharmacists nationwide are participating in POCT.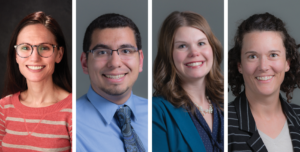 Additionally, nearly half of the Wisconsin respondents — 48.3 percent — reported that they are likely to implement or expand POCT within the next five years, with their main motivation being to advance the pharmacy profession. The pharmacy managers also indicated that POCT would enhance the care that they're able to provide to patients.
"Point-of-care testing has been shown to improve care," says Gallimore. "According to previous research, this type of service tends to be well-accepted by patients."
So what's holding pharmacies back? The biggest barrier to implementing POCT the survey uncovered is time: Pharmacists would need to balance or reassign their existing duties to make time for conducting the tests, interpreting and educating patients on the results, and communicating with the patient's prescriber.
"I think it's challenging for pharmacies to figure out how to work point-of-care testing into their workflow," says Gallimore. "Certainly, there are some pharmacies that are doing point-of-care testing and so there are undoubtedly models out there that work, but it would involve a pharmacy needing to examine how the pharmacists' time is allocated, what their workflow is, and how they can fit point-of-care testing into all of the other responsibilities that a pharmacist has."
Greater care access
About a third of Wisconsin's community pharmacies are located in areas with known shortages of primary care providers, the study notes.
"Access is huge," says Barnett. "Wisconsin's pharmacies are critical access points for rural and urban patients, and adding point-of-care testing to a pharmacy's repertoire could make all the difference in timely diagnostics and disease state monitoring."
Access is why POCT is particularly relevant for community pharmacies in rural areas: POCT allows people to access tests that they may not otherwise be able to, and, because test samples don't have to be sent away to a lab, patients can get results in real time, making it significantly more convenient. Through collaborative practice agreements, pharmacists can also prescribe medication on the spot, or modify existing prescriptions, based on test results.
"Point-of-care testing really unleashes pharmacists' expertise and potential to impact patient health in the community setting."
—Susie Barnett
"Point-of-care testing really unleashes pharmacists' expertise and potential to impact patient health in the community setting," says Barnett.
According to Porter, the pandemic greatly underscored the role pharmacies play when it comes to accessibility and public health, driving them to adopt POCT models.
"There really was a need and a niche for community pharmacies to fill with point-of-care testing. My hope is, now that many have already incorporated point-of-care testing, they'll continue to offer similar types of services, especially in rural areas, once the pandemic has passed," says Porter.
Pharmacy to classroom
This study has the power to encourage more pharmacies to implement POCT services by helping Wisconsin pharmacists understand, anticipate, and address common barriers.  
But another main motivator for the researchers was to gather information that would help them best prepare the UW–Madison School of Pharmacy's PharmD students for their future careers, giving them the tools necessary to practice at the top of their license.
Barnett remarks she wanted to be very strategic, using data and feedback directly from pharmacists, to craft POCT curriculum that would best serve her students and their future careers.
Porter says that staying engaged with research like this ensures the curriculum is up to date and informed with current and future trends in practice.
"The mission of the UW–Madison, through the Wisconsin Idea, is to give back to the state and its population," says Barnett. "With that in mind, we wanted to have a better understanding of what was happening in regards to POCT within the state so that we can ensure that we really are preparing our students to be pharmacists of the future."