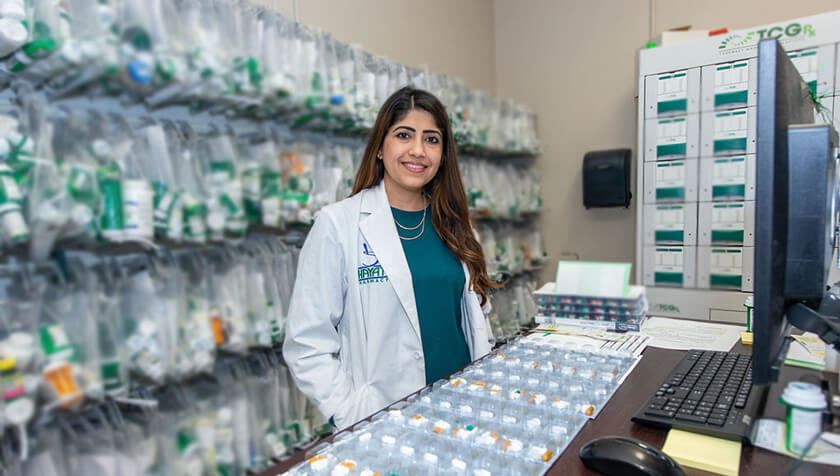 5
June
Alumna Dimmy Sokhal has made a career out of pushing the boundaries of pharmacy practice
Alongside her preceptor and mentor, Dimmy Sokhal (PharmD '13) took a road trip to an apartment complex in Milwaukee for an opportunity to see a side of patients that most physicians, nurses, and pharmacists never do: their home life.
"It was kind of a strange experience to go to a patient's home," she recalls, but the experience yielded lifestyle cues that wouldn't be picked up on during a typical pharmacy or clinic visit. The patient had diabetes, was on several medications, and had limited movement, which made visits to the pharmacy impractical at best.
"I could see what this patient is sipping on, how she is throwing her sharps away, how she is doing her insulin, how she is logging her numbers, and what she keeps on her counter — cakes and cookies or fruits and vegetables," says Sokhal. At the visit, they discovered she was drinking a lot of sugary juices and was throwing her needles into an open trash can.
"It was eye-opening to see how patients care for themselves and how, as a pharmacist, you can come in and give them one-on-one time in an environment where they're comfortable and calm," Sokhal says. "You have to develop trust with a patient for them to let you into their home, but the pharmacist had earned that trust and the patient was willing to listen and learn."
This opportunity to shadow a pharmacist from the Milwaukee-based Hayat Pharmacy during a home visit was arranged by Connie Kraus, professor emeritus at the University of Wisconsin–Madison School of Pharmacy, while Sokhal was in the School's Community Pharmacy Residency program.
"As pharmacists, we all want to make the most impact we can." 
–Dimmy Sokhal
"I had never thought I could do something like that and influence the patients' health," she says. "I knew I wanted to be part of these kinds of services where I can help the patient where nobody else can get to them."
That early experience, which deeply resonated with her motivations in pursuing pharmacy, would shape the rest of her career as chief clinical officer for Hayat Pharmacy's 13 locations around the Milwaukee area.
Discovering the possibilities of pharmacy
Sokhal earned her bachelor's and master's degrees in pharmacy in India and planned on going into pharmaceutical science research. But when she moved to the United States in 2008, for her husband's job in Milwaukee, she saw that pharmacists in the U.S. have a much broader scope of practice, which intrigued her and spurred her to pivot her career plans from researcher to pharmacist.
"I was impressed with the way pharmacists are a part of the health care team and aren't just limited to dispensing," she says, so she began researching pharmacy schools. She came across the UW–Madison School of Pharmacy, was impressed with the quality of the PharmD program, and quickly applied — with just three left to prepare for and take the Pharmacy College Admission Test. Because of the short timeline, she had to drive through the night to take the test in Iowa. But there was yet another hurdle to clear.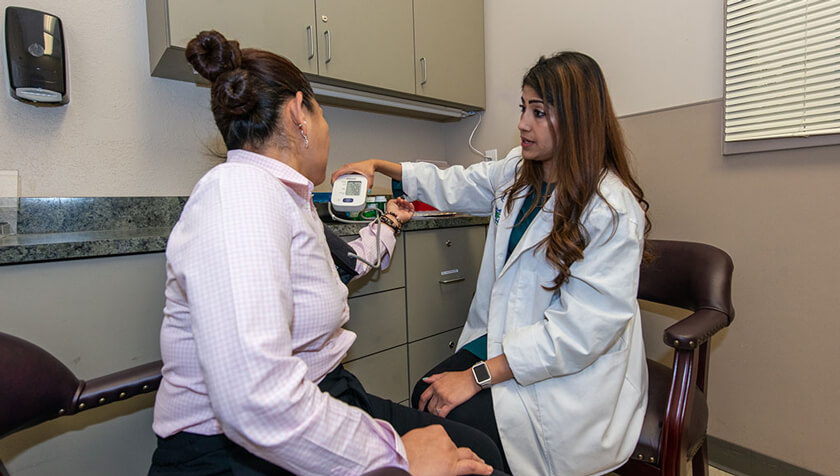 "I still remember the day I came to the School for my admissions interview. I had to drive from Milwaukee to Madison, and of course there was a snow storm that day," she says, but it was all worth it when she received the call that she had been accepted into the UW–Madison School of Pharmacy.
"I just couldn't stop crying," she says. "It was a dream come true to be part of such a great, widely recognized program."
After earning her PharmD, she decided to pursue a residency through the School, which would open up a world of pharmacy practice she had never seen before. The broad scope of practice that inspired her to become a pharmacist was never more evident than during that first home visit.
"I respect the dispensing model — that's the bread and butter of our profession, and I hope it's always a part of my daily life," she says. "But I was really excited about the possibility of doing something different for my patients."
After the home visit, Sokhal reached out to the owner of Hayat, Hashim Zaibak, about working there after her residency. Sokhal has now been with Hayat for five years, conducting home visits, overseeing and assessing the team of pharmacists, creating policies and procedures, and managing pharmacy residents and interns.
"Every day my job is different, and that's something that makes me happy about starting my day," she says. "I look forward to the patient interactions as much as helping student pharmacists develop."
Connecting with patients in new ways
The patients receiving home visits from Hayat's pharmacists are those who need a different approach to care, due to financial, health, or other barriers. Patients are referred to the service by prescribers or case managers, or through Medicaid or Forward Health.
"Our services are tailored to help patients who have complex medication regimens as we work in collaboration with their prescribers," she says.
"Every day my job is different, and that's something that makes me happy about starting my day." –Dimmy Sokhal
Following a referral, Sokhal or another Hayat pharmacist will give those patients a call to see if they would like to have a pharmacist come over, explain their medications, educate them about what each is for and help them with their regimen. Sometimes, a visit will make it clear that a patient is struggling with medication adherence because of confusion. To help, the pharmacy can then repackage their prescriptions into daily doses so all they have to do is open a pouch and take their medication.
In addition to medication reviews, she can also deliver intramuscular injections and vaccines, monitor controlled substances, and provide disease state education.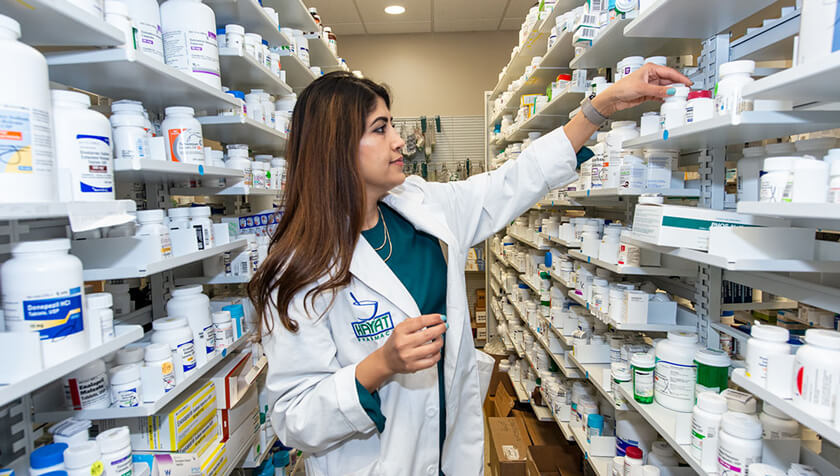 "When you are a health care professional going to a patient's home, you're leaving them in their comfort zone where they aren't worried about trying to find a ride there and back," she says. "They can develop a more trusting relationship and ask more questions than they would in the clinic."
As an immigrant herself, Sokhal also understands the importance of feeling seen and understood, which can have an enormous impact on health outcomes. Often, it boils down to one thing: language.
"Many people, in a diverse city like Milwaukee, have cultural barriers and don't feel free to share their problems," she says. "But when you speak to them in their language, they open up and share more of their medical problems with us."
Sokhal speaks four languages — English, Hindi, Urdu, and Punjabi — and with her colleagues at Hayat, the pharmacy can provide service in nearly 20 different languages. Each language presents an opportunity to connect on a different level with a subset of the patient population, developing stronger relationships to provide more personalized and impactful care.
From multilingual service to partnering with providers to make meaningful interventions for struggling patients, Sokhal hopes the initiatives she's been working on at Hayat are the beginning of a trend for pharmacists nationwide. If pharmacists can practice at the top of their license through collaborative practice agreements — such as monitoring patients on blood pressure medication to provide refills — physicians will have more time to spend on more complex patients that can't be handled at a pharmacy level.
"As pharmacists, we all want to make the most impact we can," she says. "This is just the beginning."
Do you know an alumnus we should feature? Let us know.