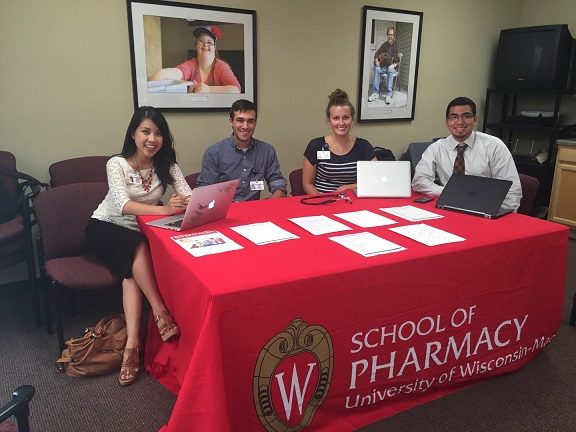 29
August
A break from didactic coursework paired with a community outreach initiative allowed student pharmacists Christina Tran, Eric Friestrom, and Lindsey Hoff to provide essential medication and disease state counseling to patients, caregivers, and other health care professionals at the Epilepsy Foundation Heart of Wisconsin Day of Caring Project. They provided individualized consultations regarding:
safe handling of medications
side effects of medications
possible interactions between prescription medications and/or over the counter medications
The student volunteers were part of the College of Psychiatric and Neurologic Pharmacists student chapter. Ed Portillo, new faculty member at the School of Pharmacy, also staffed the event. Portillo joined the School in July following a two-year residency at the William S. Middleton VA in Health System Pharmacy Administration. Portillo will teach both in the Integrated Pharmacotherapy courses, as well the growing undergraduate FIG and Consumer Self-Care course. He will also begin working with the school's faculty on the development of specific tracks within the professional curriculum. Portillo will continue to maintain a clinical practice within the VA PACT (Patient Aligned Care Team).