19
January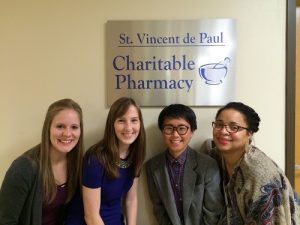 Third year students Jennifer Liao and Katie Kuecker, along with Ali Ritscher, DPH-2, developed and executed a volunteer-run influenza clinic at the St. Vincent DePaul Charitable Pharmacy (SVdPCP) in Madison, Wis.
The twice monthly clinics were held from September 2015 to January 2016 with a total of 110 influenza vaccines administered to primarily uninsured or government-insured individuals and to an ethnically-diverse population.
The clinics were held primarily held during the St. Vincent de Paul (SVdP) food pantry hours and a couple additional off site. The food pantry clients were the primary audience and SVdPCP customers were invited to participate in this public health intervention as well. The main objective of the project was to reduce barriers to preventive care by offering influenza vaccine to them onsite, without appointment, and at no cost. Major goals were defined to ensure the success of the clinics by designing an efficient workflow for the clinics, designating volunteer roles, recruiting volunteers, and creating a training presentation for these volunteer roles.
Liao is a pharmacy intern at SVdPCP who is completing a longitudinal project involved bringing vaccine access to the pharmacy. Kuecker and Ritscher are co-chairs of the Wisconsin Society of Pharmacy Student's community outreach initiative Operation Immunization. The SVdPCP project was supervised by Yolanda Tolson, R.Ph., Managing Pharmacist at SVdPCP, and Mary Hayney, professor (CHS), in the Pharmacy Practice Division. The clinics served to promote the role of pharmacists as immunizers and public health advocates and provide a unique and ongoing learning opportunity for student pharmacists to work with underserved patients.
Operation Immunization and the St. Vincent de Paul Charitable Pharmacy will continue the partnership and seek to expand the service for the local community. Both organizations are eager to mentor students in public health care delivery and believe that the clinics will continue to develop as they help those in need in the future.