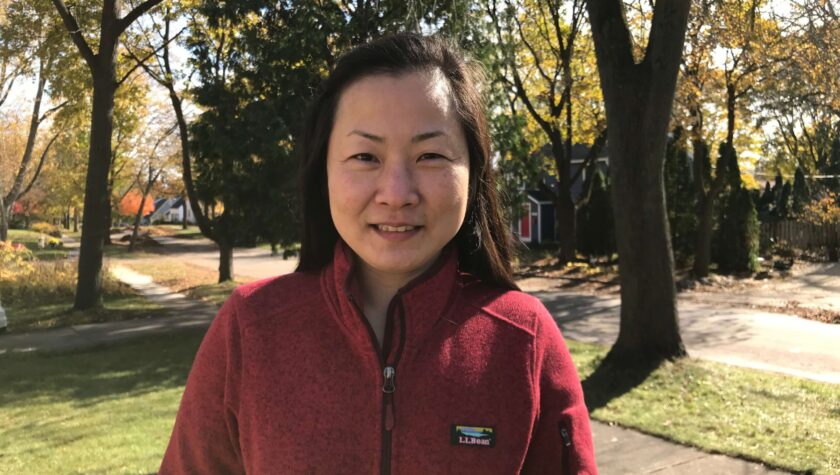 18
November
Sally Griffith-Oh helps explain science through illustrations with 19 published journal covers
Conveying complex scientific concepts visually is not for the faint of heart. But for Sally Griffith-Oh, Information Processing Consultant in the Instructional and Information Technology (IIT) department at the UW–Madison School of Pharmacy (SoP), she can make a scientific illustration worth a thousand words and then some.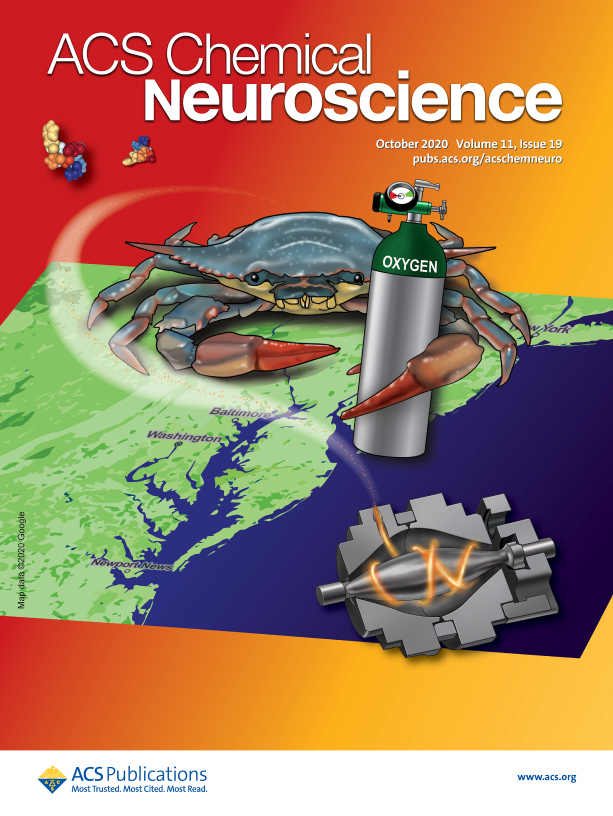 With 28 journal cover designs and 19 of those published by top journals, Griffith-Oh has been prolific in supporting SoP faculty research through impactful scientific illustration. Her biggest collaborators are Pharmaceutical Sciences Professor Lingjun Li and Li Lab members, partnering on a total of 21 covers with 16 published by ACS Chemical Neuroscience, Journal for the American Society for Mass Spectrometry, Journal of Proteome Research, Analytical Chemistry, Molecular & Cellular Proteomics, and Analyst.
"Sally is extremely talented and has a unique ability to visualize scientific concepts in a creative way that is both informative and eye-catching. She is excellent at grasping the basic ideas from our papers and transforming them into visually stunning cover designs," says Li and former Li Lab members Amanda Buchberger and Kellen DeLaney, who collaborated on multiple cover designs with Griffith-Oh.
Pharmaceutical Sciences Professor Seungpyo Hong and Assistant Scientist Michael Poellmann in the Hong Lab have been key collaborators on four journal covers with one resulting in publication in Nano Letters.
"Sally's illustrations give us a way to summarize the findings of our research in a visually clear way, which is important for us to graphically demonstrate our research at the interface of materials science and biology at the nanoscale," says Hong. "It is also important that she helps us convey the concepts to a much broader audience, increasing the impact of our research."
In addition to the Li Lab and Hong Lab, Griffith-Oh has designed covers published in Natural Products Reports for Professor Tim Bugni, Marine Drugs for Associate Professor Jason Kwan, and Organic & Biomolecular Chemistry for Assistant Professor Jennifer Golden. Landing a journal cover with Griffith-Oh's scientific illustrations brings tremendous exposure for SoP research and the PI's lab.
"There is no question that these cover arts created by Sally have attracted more attention to our research," adds Li and Li Lab members. "Sally's visually-striking depictions of our research has led to more attention from readers toward our research, especially from people outside our field or who otherwise are unfamiliar with our research, which is helpful for broadening the reach of our research and for fostering collaboration with other research groups.
"Also, since our research projects are very diverse, these cover illustrations help to distill complex research ideas to attractive images, and greatly increase the visibility and accessibility of our research. Furthermore, these beautiful images also help to convey the excitement of science to the general public via social media and help to recruit talented graduate students and postdoctoral researchers to join our team," they explained.
Photo Gallery: Published Journal Covers Designed by Sally Griffith-Oh
We caught up with Sally Griffith-Oh and her collaborators on how Griffith-Oh brings scientific concepts to life through her art.
What is your background in scientific illustration?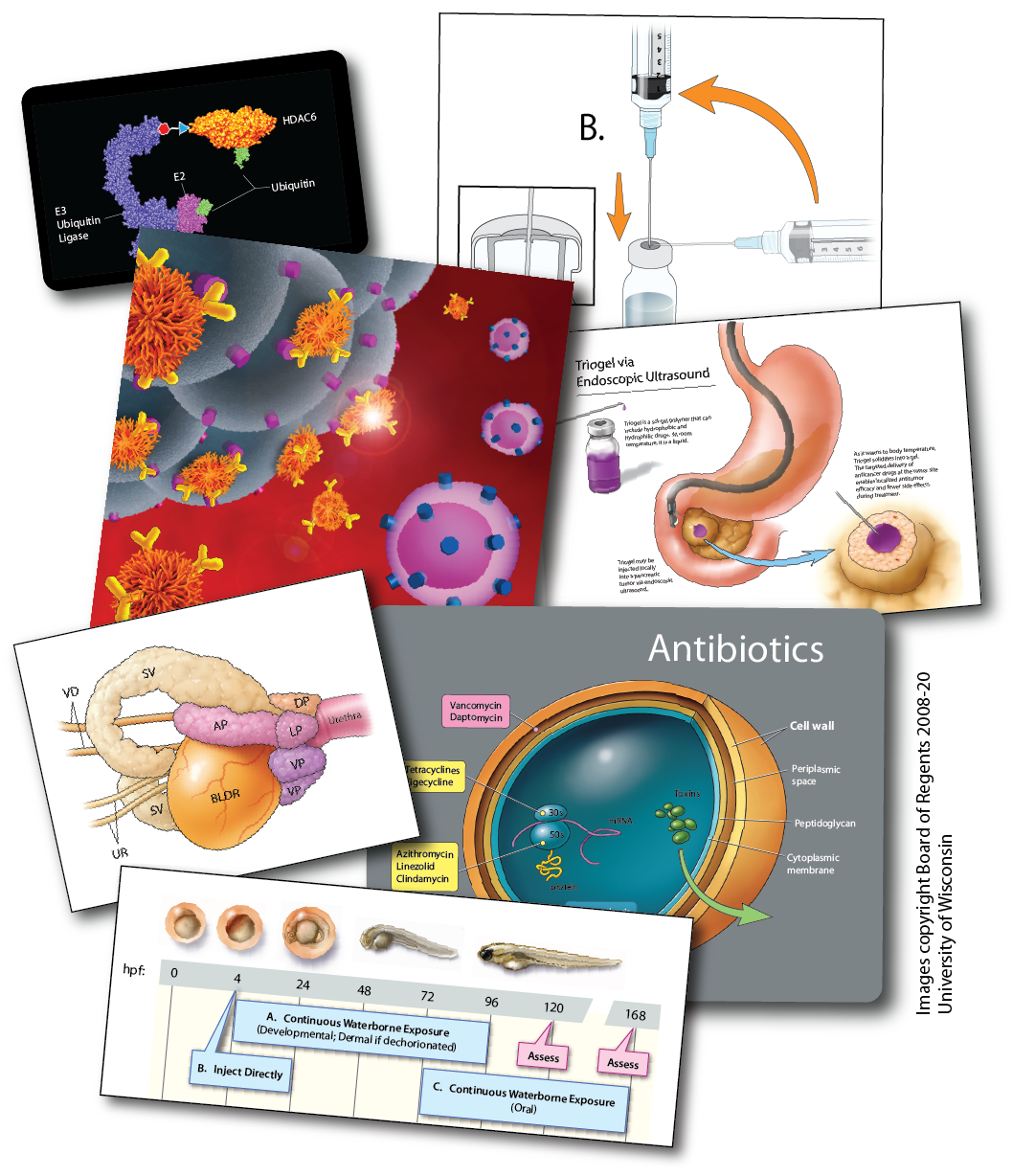 Sally Griffith-Oh (SGO): I went through the Medical College of Georgia's Medical Illustration graduate program, where the training involved a mix of science and art courses. We had gross human anatomy, neuroanatomy, histology, and pathology, which were mostly taken alongside medical, dental, and/or nursing students. We worked with traditional media (pen/ink, graphite, colored pencil, watercolor, etc.) as well as electronic (Adobe Illustrator + Photoshop, Dreamweaver, Flash, After Effects, etc.).
We had opportunities to observe surgeries and watch an entire procedure from start to finish, note the color and proportion of various organs, and see all the equipment and tools used. And we were assigned a wide variety of projects that included infographics, posters, journal covers, textbook illustrations, medicolegal exhibits, storyboards/animations, and websites. Always, the focus was on making sure that we were clearly and accurately communicating key concepts to the target audience.
How did you start designing journal covers at the School of Pharmacy?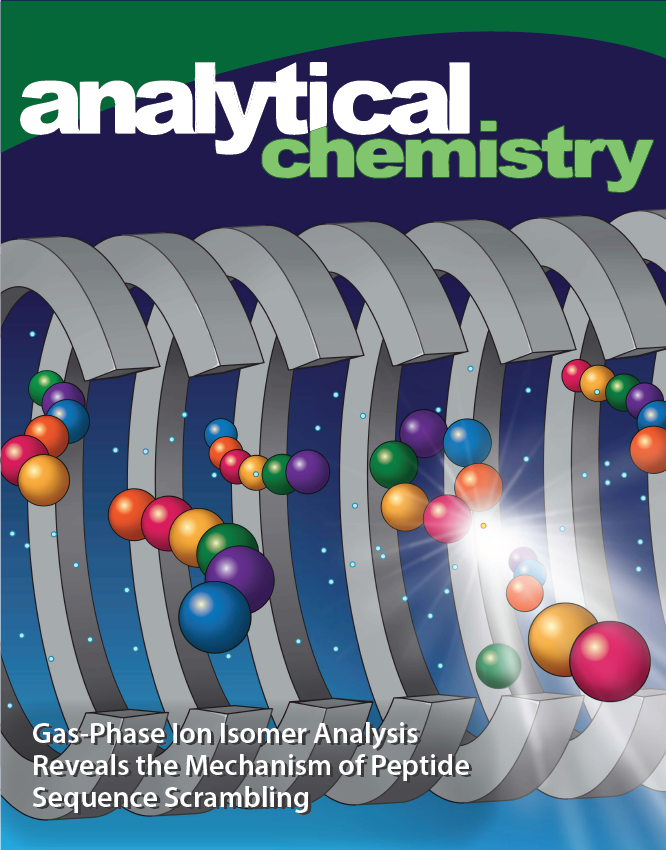 SGO: When I first started at SoP in December 2005, a couple of faculty members requested illustrations for their research posters, publications, and teaching materials. These projects gradually increased over time, and in 2013, Professor Lingjun Li asked if I could help with a cover illustration to accompany her paper that had been accepted by Analytical Chemistry. After that, the number of requests picked up, with the current average being about 4-6 per year.
I usually get approached by faculty, postdocs, or grad students if a journal has invited them to submit a cover image. Faculty have also contacted me when they've needed figures for book chapters, articles, or grant applications. And occasionally I get asked to create animations, interactive programs, or videos to be used for course teaching materials, faculty lab websites, or patient education.
What is your process for creating a journal cover?
SGO: It's a very collaborative process that varies widely depending on the personalities involved. Some people have a very clear idea in mind of what they want their cover image to look like, and others don't really know what they want.
We usually start by sitting down and talking through the main points of their journal article and brainstorming ideas. In some situations, the deadline is right around the corner, in which case I will often ask if it's possible to get an extension from the publisher. I then spend some time doing additional background research to make sure I fully understand the concept to be illustrated before starting on a preliminary sketch. I usually draw something on paper, scan it, and then cut paths in Illustrator. Once I share a first draft, there's usually a certain amount of dialogue back and forth with the researcher(s) about adjustments that need to be made. And then after we've hashed out all the details and arrived at a finalized sketch, I paint everything up in Photoshop.
Lingjun Li and Li Lab Members: Sally is fantastic and fun to work with. She takes the time to fully understand the main ideas of our research and works with us in a collaborative manner. She does stunning work and has so much creativity, but invites our contribution so that we are still a part of the final work. She has such a positive attitude and is always excited to work with us every chance she gets! Sally has the innate curiosity for science and, when that is combined with her artistic talent, it produces an amazing product. Our School is so lucky to have her!
What inspires you or helps you come up with ideas for the cover art?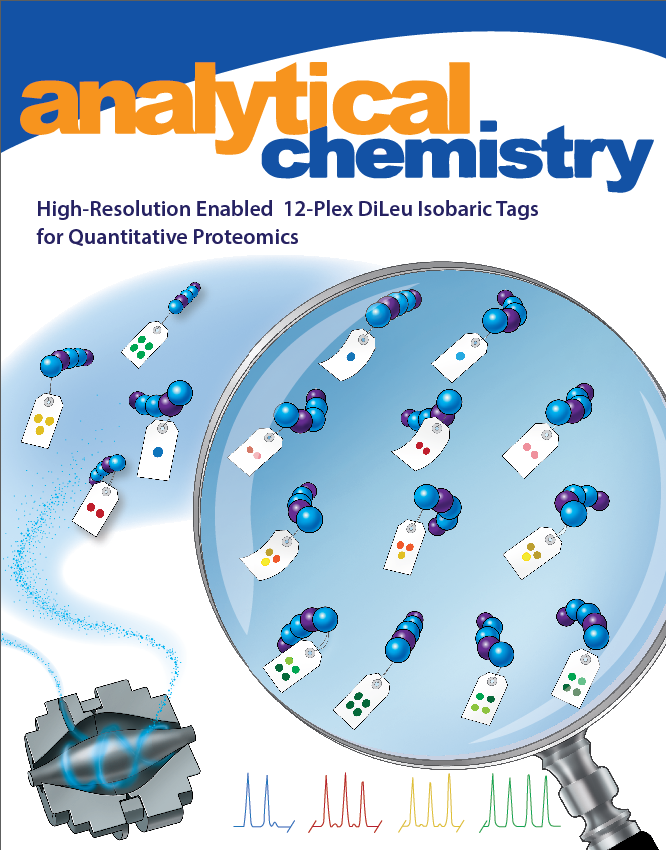 SGO: Often the grad students think of great ideas for representing a concept. For example, one time I was working with Dustin Frost (from Li Lab) on a cover image featuring a new technology that allows proteins fragments of identical lengths to be labeled and sorted based on their differing peptide subunits. We needed to figure out a way to communicate this idea of unique labels without using any words or symbols, and Dustin cleverly came up with the idea of having note tags with different numbers of colored circles on them tied to each polypeptide.
Lingjun Li: Sally works well with my students and postdocs and always takes the time to discuss key ideas about the papers and tries to highlight important aspects of the work. She is not afraid of working off a crazy idea that we have in mind. She has always been very accommodating and is willing to work with us with her design and fine tuning the cover art back and forth until we are both satisfied with the results, which helps to produce high-quality final products.
Which journal cover has been your favorite or the most meaningful one you have done?
SGO: It's hard to pick a favorite. Each project is truly a unique and interesting journey!
Which cover was the most difficult to do?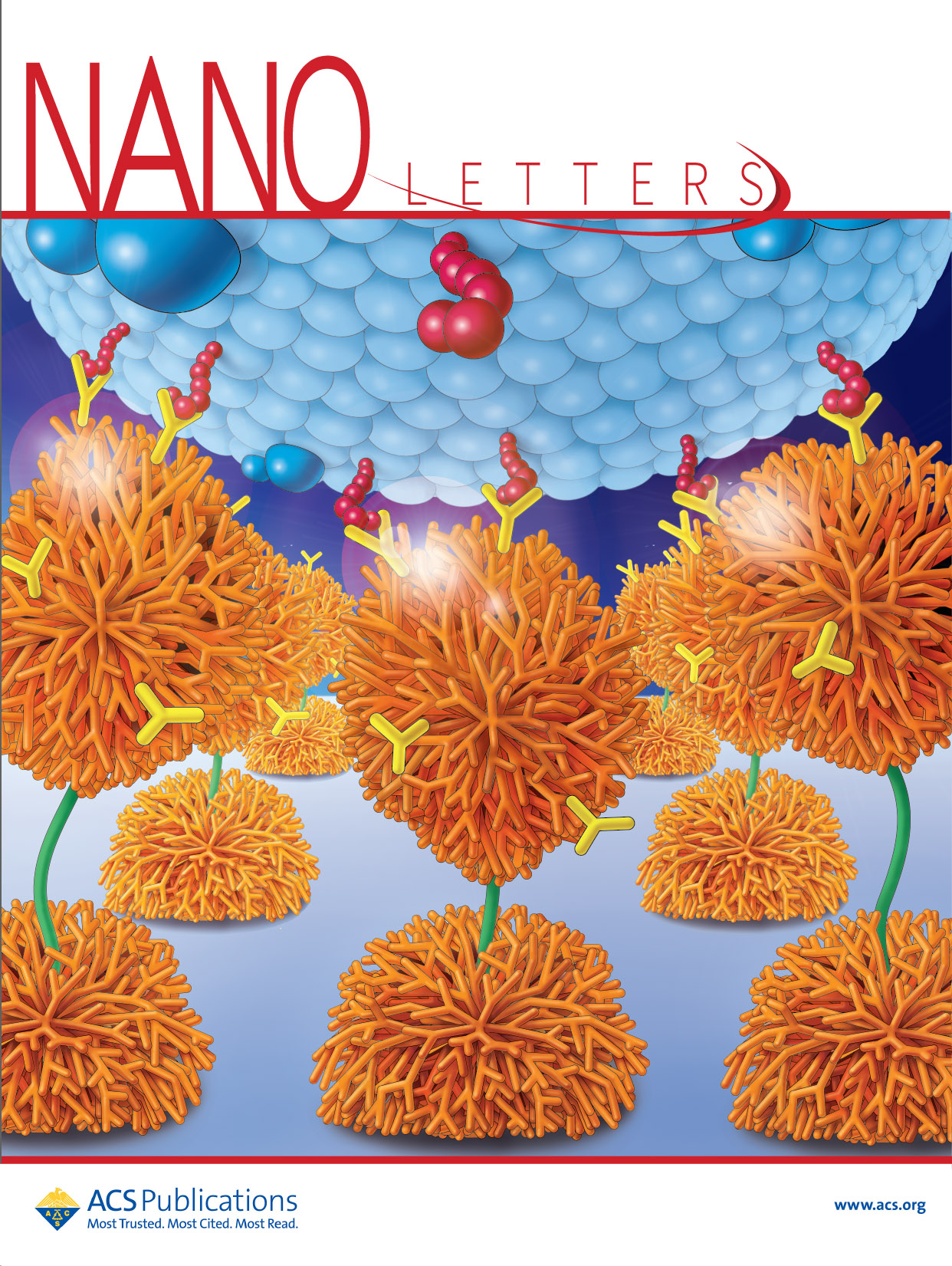 SGO: One thing that can be challenging is illustrating something that no one has actually seen. For example, a project I worked on with PharmSci Professor Seungpyo Hong and Assistant Scientist Michael Poellmann involved drawing dendrimers, which are spherical nanoparticles that are made up of long, branching molecular chains tethered at a central point, much like a pom-pom.
It took me a while to understand whether these long branching chains were rigid like wires, somewhat flexible like half-cooked spaghetti noodles, or super-flexible like strands of hair. Would these pompom-like balls droop when sitting on a flat surface? Or would the density of their branches force them to retain a perfectly spherical shape like a dandelion puff? It took several rounds of questions to understand the exact nature of these miniscule particles.
In general, I'd say the most difficult projects have been the ones where I'm not clear on what the main concept is that the faculty member/graduate student wants to get across to the viewer. Usually in these types of situations, there ends up being multiple rounds of revisions before we arrive at the final sketch. I have gotten better over time at figuring out the right questions to ask faculty to make sure I fully understand what it is they are trying to communicate.
What is your favorite part of creating covers and other illustrations?
SGO: I think the most powerful aspect of scientific illustration is that a viewer can look at an image and immediately grasp a complicated concept that would otherwise take many paragraphs or pages of text to describe.
Before coming to SoP, I worked at a medicolegal graphics company in Richmond, Va., that specialized in visual exhibits for medical malpractice lawsuits. Our job was to create illustrations and animations to help the jury understand the disease state, anatomy, and medical procedures relevant to a particular case so that they could make an informed decision when it came time to choose a verdict. It was always very satisfying when your illustrations helped win a case.
Now that I'm in working at SoP, I really enjoy learning about the cutting-edge research that our faculty are doing. It's exciting to be able to share their discoveries with other science enthusiasts through illustrations and animations.
Photo Gallery: Other Unpublished Covers Designed by Sally Griffith-Oh