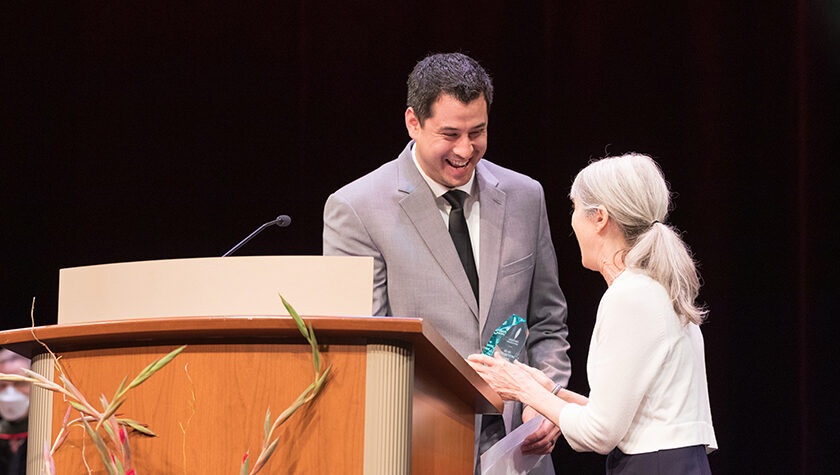 1
June
Nominated by the School's student pharmacists, Joshua Lee is celebrated with 2022 Larry Boh Clinical Instructor Excellence Award
By Katie Gerhards
Joshua Lee, clinical pharmacy specialist with the Marshfield Clinic Health System, has been a preceptor for just five years, but he has already earned two awards: the 2021 Marshfield Clinic Health System Resident Pharmacy Preceptor of the Year Award, and now, the 2022 Larry Boh Clinical Instructor Award from the University of Wisconsin–Madison School of Pharmacy.
"It's a little surreal," he says.
The Larry Boh award honors preceptors, or clinical instructors, who show an exceptional passion for instruction and outstanding communication, professionalism, ethics, and expertise during PharmD students' fourth-year Advanced Pharmacy Practice Experience rotations.
"His passion for teaching is what came through the most in the comments from the PharmD students who nominated him for this award," says Mara Kieser, assistant dean of experiential education and professor in the School's Pharmacy Practice and Translational Research Division. "It's precisely this devotion to the instruction of our student pharmacists that the Larry Boh award is designed to honor."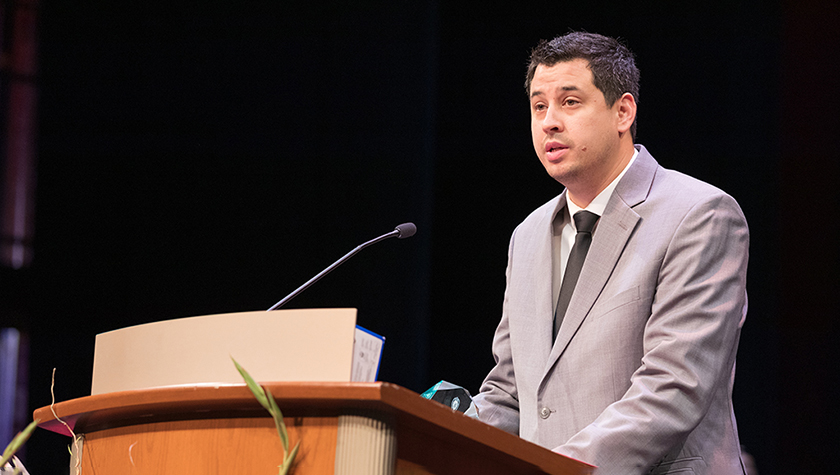 Based at the health system's Marshfield, Wis., headquarters, Lee has a broad role. He divides his time between being embedded within the Internal Medicine clinic, providing direct patient care with the Diabetes Care Management Program, and serving as part of the health system's drug information service, which is a resource available to all providers in the Marshfield Clinic system.
"My job is pretty diverse," says Lee. "Where I'm at in the role I have, I can really tailor students' rotation based on their interests, because I have a lot of colleagues who are specialized in other areas and have different experiences that I can connect them with."
Lee has been a preceptor since 2017, shortly after he completed his pharmacy residency with Marshfield Clinic.
"I have always been interested in teaching," he says. As an undergraduate student at the University of Wisconsin–Stevens Point, he often served as a tutor in microbiology and organic chemistry. Moreover, that interest continued in pharmacy school and beyond.
"I took an academic rotation in my fourth year of pharmacy school," he says. "And when I was doing my residency here at Marshfield Clinic Health System, I completed a teaching certificate for pharmacists through the American Society of Health-System Pharmacists. When I had the opportunity to be a preceptor for students and residents, I jumped into it."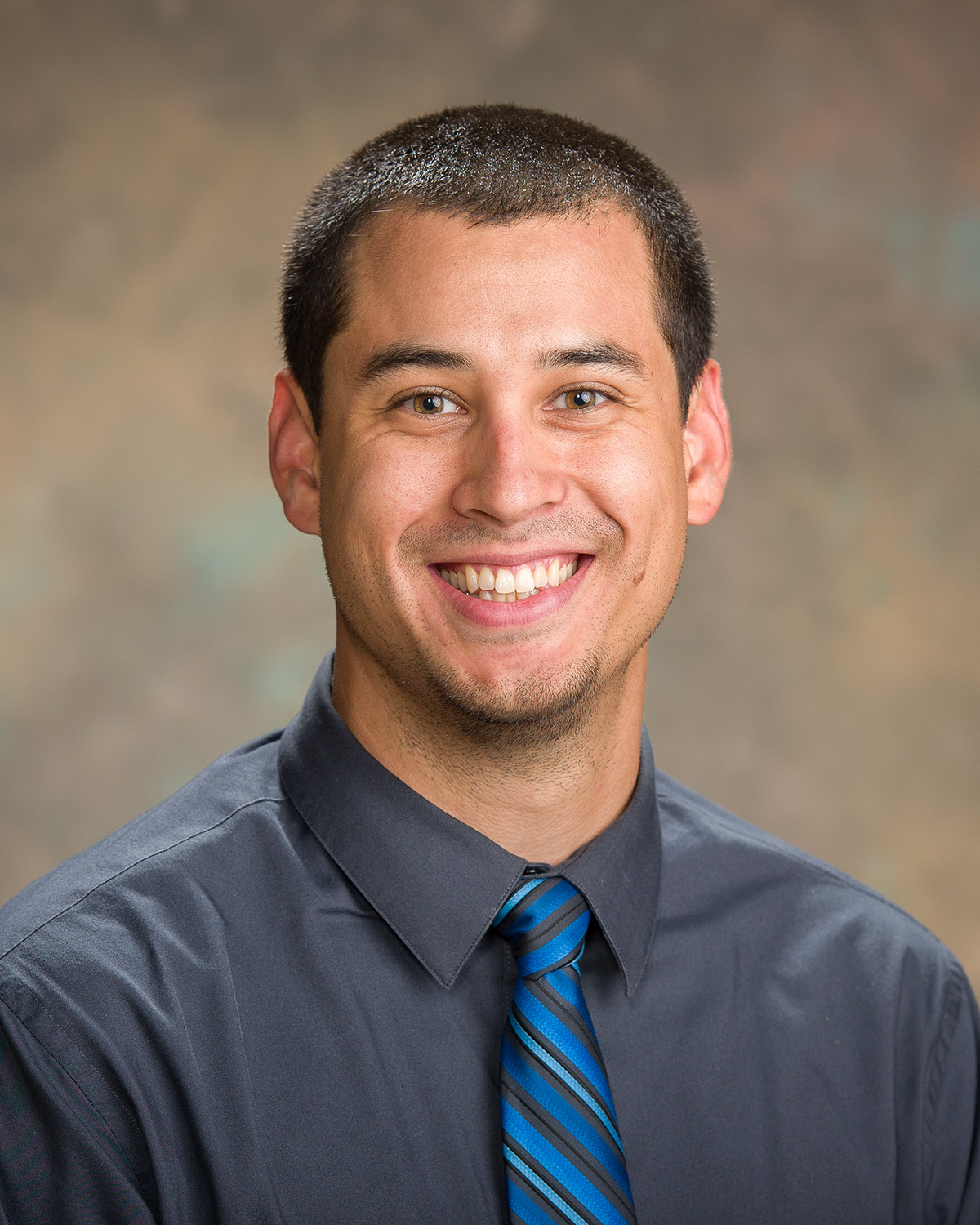 When a new student comes to Marshfield Clinic for a rotation with him, he starts by gaining a thorough understanding of their goals.
"I really try to get to know the learner, whether it's a student or resident, to be able to tailor the rotation to their individual needs," he says. "And not just rotational goals, but what their long-term goals are, whether that's going for residency or what their future job plans are, to see interests or areas they feel they can improve on."
When he knows their interests, he can connect them with his peers in Marshfield Clinic, opening doors for the School's student pharmacists to experience a breadth of pharmacy roles.
"We have a lot of pharmacists in the neurology clinic, cardiology, transitions of care, COPD, and other areas, so depending on what a student's interests are, I can have them rotate one day a week or have other opportunities in those areas," Lee says.
This multidisciplinary exposure also gives student pharmacists an appreciation for pharmacists' role and value on a care team.
"Throughout my rotation, Josh showcased his constant professionalism," wrote one student pharmacist who nominated him for the award. "It was evident that his attitude and ethics had gained the respect and trust of his colleagues. The providers on the Internal Medicine floor respected his opinions and would ask him questions about their patients."
"It's precisely this devotion to the instruction of our student pharmacists that the Larry Boh award is designed to honor."
—Mara Kieser
Like many instructors, Lee says he owes his motivation for precepting to the teachers he had in school and in practice.
"I've had a lot of good teachers growing up and I'm just trying to emulate that and give back knowing how important it is to have a good teacher," says Lee. "And it's rewarding for me to see students grow and learn and get those skill sets that will help them in the future to be a great pharmacist."
Learn about the School of Pharmacy's 2021 Larry Boh Clinical Instructor Excellence Award honoree: Troy Schmeling (PharmD '09).