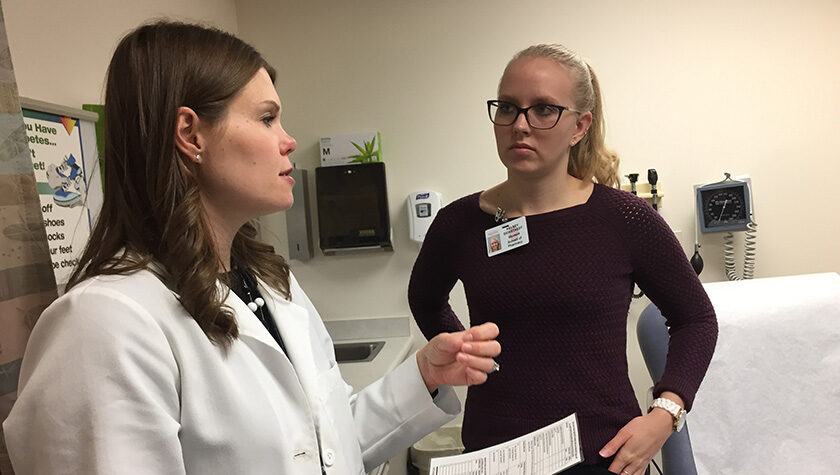 5
December
The changes remodel PharmD students' first year, providing immersive, progressive, and foundational experiences
By Katie Gerhards
For more than a year, faculty and staff in the University of Wisconsin–Madison School of Pharmacy's experiential education program have been conducting surveys, focus groups, and listening sessions with our student pharmacists and preceptors, all geared toward enhancing a cornerstone of our Doctor of Pharmacy program: Introductory Pharmacy Practice Experiences (IPPEs).
Led by Professor Mara Kieser (BS '81, MS '84), assistant dean for experiential education, the group set out to address three main goals: reduce overlap in PharmD students' class and IPPE schedules, make scheduling IPPE rotations easier for preceptors, and shift more experiential hours to the latter end of the PharmD curriculum, to make the most of students' clinical capabilities.
"The PharmD Class of 2024 will be the first ones going through this new IPPE curriculum," says Kieser. "It's been a huge redesign that we think will make the IPPEs more effective for students and more convenient for everyone."
At the same time, members of the School were crafting a complementary new course that would give first-year PharmD students a holistic, interdisciplinary look at pharmacy: the Pharmacy Integrated Learning Lab.
"We had the opportunity to create this as an integrated course, so that students in the first semester of their first year can experience a little bit of each of the School's divisions — Pharmacy Practice, Pharmaceutical Sciences, and Social and Administrative Sciences — and lay a foundation for everything to come," says Professor Beth Martin (BS '90, MS '03, PhD '06), chair of the Pharmacy Practice Division. "This coincided perfectly with the IPPE scheduling changes to let students take what they learn and start applying it right away."
In combination, the changes — spurred by student feedback — have remodeled our PharmD students' first year and created the infrastructure to let pharmacy students connect with the profession earlier in their education, provide immersive clinical experiences, and set them up for success in the classroom and on rotation.
Re-imagining IPPEs
Historically, student pharmacists preparing for their IPPEs — which are clinical rotations completed throughout the first three years of the PharmD program — would contact preceptors at their rotation site and then negotiate hours, working around students' classes and exams, as well as preceptors' hours, days off, and other responsibilities. The result would often mean a patchwork of clinical hours, often at the cost of time in the classroom, and a deluge of back-and-forth emails.
"We really wanted to figure out a way for students to not feel like they had to compromise their education in order to complete requirements," says Associate Professor Susie Barnett (PharmD '04), who coordinates the second-year IPPE course. "That's the starting point we had in mind when we approached this process."
"Providing ample time in the classroom, immersive clinical experiences, and a solid foundation in this multifaceted profession all in the first year will give them all the tools they need to succeed as students and future practitioners."
—Beth Martin
The result of their work is a revamped IPPE schedule that instead uses blocks of time specifically set aside for IPPEs, which alleviates scheduling stress for students, faculty, and preceptors.
"This was definitely a group effort, with the entire faculty participating, as well as students and preceptors," says Kieser. "There was a lot of input and I think we came up with some great solutions."
Pharmacy students sign up for their IPPEs just as they sign up for classes, so they know exactly when they're completing their rotations. Additionally, the new schedule features week-long rotations, meaning that students will get to spend more contiguous hours in practice for a more immersive experience.
The redesigned schedule went into effect for the 2020–21 academic year, with the Class of 2024 being the first to experience the new structure. They will have their first clinical rotations in January 2021, before the spring semester begins.
The progressive nature of IPPEs has also been reshaped, with first-year PharmD students building their foundational skills in a one-week (40 hours) community pharmacy rotation. They will get hands-on experience learning about a pharmacy workflow, using drug information resources, learning about the top 200 drugs, and analyzing information through the lens of health literacy.
Over the summer between their first and second years, student pharmacists advance to a one-week hospital rotation, plus 16 hours in an elective IPPE in a specialty practice area, such as critical care.
"The goal is to really build each level to have greater skills that prepare them for their APPEs, and then their APPEs (Advanced Pharmacy Practice Experiences) prepare them to be practice-ready at graduation," says Kieser.
In their third year, PharmD students spend two weeks (80 hours) in a community pharmacy, two weeks in a hospital, and then a little over one week (40 hours) in an elective rotation, for a total of 200 hours — nearly double the IPPE hours previously allotted to third-year students.
"The third year we've scheduled heavily with experiential hours, because in the state of Wisconsin, that is when student pharmacists can become interns and participate in direct patient care, doing pharmacist-role activities under supervision," says Kieser.
To accommodate the additional IPPE hours, third-year PharmD students (starting with the Class of 2024) can schedule rotations during the summer and weekly throughout the semester.
"It was a big ask for the faculty to give us a block of time in the third year of the PharmD curriculum," says Kieser. "But they made it happen, so now every Thursday is dedicated to students being able to go out and fulfill their IPPE hours without sacrificing any class time."
Integrated learning
Another piece of feedback that PharmD students have often shared is that they don't feel very connected to the practice of pharmacy in their first year of the PharmD curriculum, says Barnett.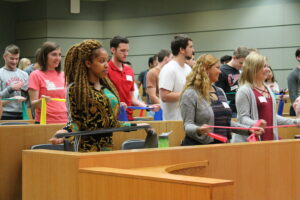 PharmD students spend much of their first year learning about the physical chemistry of drugs, but they can't quite picture how that will help them in their everyday future practice. As more experiential, hands-on opportunities shift out of their first year with the restructured IPPE schedule, faculty and staff have pioneered the new Pharmacy Integrated Learning Lab (PILL).
The PILL course is designed to be the bridge that shows students how all the pieces of their education fit together.
"We created a foundational and integrated course to cover really important skills that support pharmacotherapy, compounding, drug literature, medication safety, and each of those core areas they'll dive into throughout the curriculum," says Beth Rosen, faculty assistant in the Pharmaceutical Sciences Division.
"Taken right in their first semester, it's an introductory, welcoming course that will help students feel a sense of belonging and feel confident about the many integrated skillsets they'll need as pharmacists," she says.
Rosen is one of the course's instructors and designers, alongside Martin and Associate Professor Andrea Porter (PharmD '06), of the Pharmacy Practice Division, and Kate Rotzenberg (PharmD '07), lecturer and associate faculty associate in the Social and Administrative Sciences Division.
"It's a unique course because it's interdivisional, which few courses are," says Barnett. "We have representation from three distinct divisions within the School."
The development of the PILL course was already underway — thanks to the suggestion of Professor Mel de Villiers, vice dean and associate dean for academic affairs — when the experiential education team unveiled their new IPPE schedule. And the changes dovetail seamlessly.
The PILL course has absorbed an experiential component: the student Pharmacist-Oakwood Partners (POPs) program, which connects pharmacy students with an older adult living in Madison's Oakwood Village Retirement Community and its affiliate, SAIL (Sharing Active Independent Lives).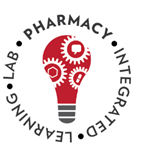 "Students are taking what they're learning in the PILL course and immediately applying it with their POPs partner," says Martin. For example, a team of three student pharmacists were asked about their older adult partner's new prescription medication. The students didn't know much about the medication, but thanks to the PILL course, they knew where and how to learn more in order to discuss it with their POPs partner. And importantly, they felt confident doing it, says Martin.
Instead of jumping right into their first-year IPPEs, students will be gaining skills in the lab and POPs program — such as navigating drug information resources, gathering medication histories, understanding top medications and complications in older adults — and then begin their rotations better equipped.
"They've learned foundational information in the PILL course, had a chance to practice those skills in the lab and immediately apply the new knowledge and skills to their POPs experiences, and then they'll be able to see more pharmacist skills in practice when they complete their Pharmacy Practice Experiences," says Porter.
Continuous improvement
Both of these changes were catalyzed by student feedback — faculty listened to what students had to say and thoughtfully orchestrated changes to the curriculum to optimize their experience and ability to thrive as pharmacy students.
The alterations also move the School of Pharmacy toward its goals outlined in the Strategic Plan. Specifically, one of the goals included reducing overlapping PharmD academic and experiential education scheduling. Another puts the School on the course of continuous improvement through adopting a growth mindset and encouraging feedback from all of the School's community members.
"It's been a huge redesign that we think will make the IPPEs more effective for students and more convenient for everyone."
—Mara Kieser
"I consider this a pilot, and this is our first go-around," says Kieser of the IPPE reorganization. "Hopefully with the help of our preceptors and students giving us constructive comments, we're going to keep making it even better."
The PILL course instructors, too, will continue to solicit feedback from students throughout and following the semester. So far, they've heard that the teams assembled in the lab have helped build study groups and a sense of community — especially important as the School continues to utilize virtual options to keep students, faculty, and staff safe during the COVID-19 pandemic.
"I'm excited for what the PILL course and new IPPE schedule will enable for our student pharmacists," says Martin. "Providing ample time in the classroom, immersive clinical experiences, and a solid foundation in this multifaceted profession all in the first year will give them all the tools they need to succeed as students and future practitioners."