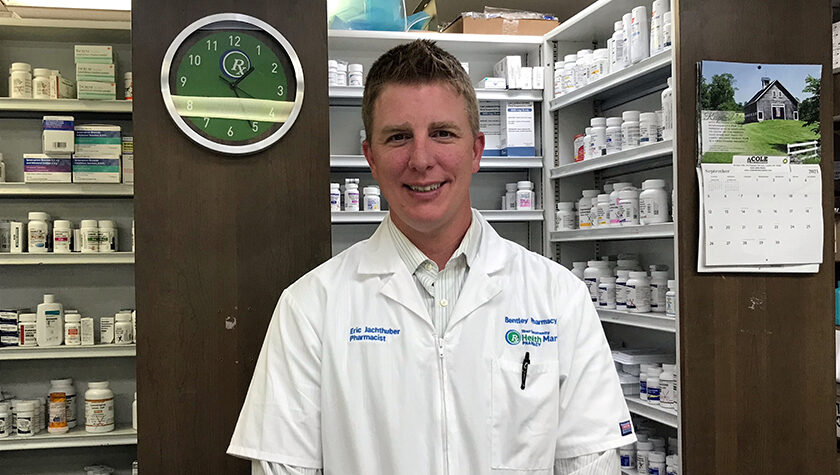 8
September
By Emma Gran
Eric Jachthuber has been a preceptor for student pharmacists on their Introductory Pharmacy Practice Experiences (IPPEs) for nearly 15 years.  
"I've always enjoyed working with students, their enthusiasm for learning keeps me on top of my game," he says. "It's an honor to play my part in building up the pharmacy profession."
As a preceptor, Jachthuber supervises and guides student pharmacists as they gain real-world clinical experience. For IPPEs, which are clinical rotations completed in the first three years of the PharmD program, that means walking students through a pharmacist's daily responsibilities and giving them an opportunity to get acquainted with what pharmacy practice looks like in varied settings. In Jachthuber's case, it's a look at the multifaceted world of rural pharmacy practice.
His passion for the profession and skill in preparing the University of Wisconsin–Madison School of Pharmacy's future practitioners is earning him recognition: Jachthuber is the School's 2021 IPPE Clinical Instructor Excellence Award winner.
"We at the School of Pharmacy are lucky and grateful to have progressive pharmacists like Eric working with our students and showing them the ropes in real-world settings."
—Mara Kieser
The annual award, based on nominations by the School's student pharmacists, honors preceptors who elevate clinical rotations, build connections with PharmD students, and model professional integrity and expertise.
"We at the School of Pharmacy are lucky and grateful to have progressive pharmacists like Eric working with our students and showing them the ropes in real-world settings," says Professor Mara Kieser (BS '81, MS '84), assistant dean of experiential education. "By introducing student pharmacists to the unique challenges and opportunities in rural care, while prioritizing their individual interests, Eric is giving our IPPE students the solid footing they need to excel throughout the PharmD curriculum and beyond."
Jachthuber is a pharmacist and clinical instructor at Bentley Pharmacy — an independent, family-owned practice that has been a staple of the rural Montello, Wis., community since World War II.
"We serve a rural population that does not have a health care provider in town, meaning all our patients must travel outside of our community for their physician care," says Jachthuber. "That gives us as pharmacists a unique opportunity to provide as many services as we can for the community."
The wide range of services offered by the pharmacy — medication therapy management, immunization delivery, medication compounding, COVID-19 testing, and more — exposes students to the multitude of ways that pharmacists can be responsive to their patients' unique needs.
As a preceptor, Jachthuber prioritizes getting to know each student pharmacist and their past experiences, passions, and goals to tailor their rotation experience, while also supplementing that with diverse perspectives to expand students' knowledge beyond the classroom.
Having practiced in both high-volume chain pharmacies and community sites for over 15 years, he strives to help students understand the differences and similarities between various pharmacy practice settings.
"It's rewarding to be recognized by the students and the School for providing a positive experience at my site."
—Eric Jachthuber
"These students will become future professionals, and maybe even future colleagues," Jachthuber says. "I want to help prepare them for any setting they may work in after completing their degree."
A UW–Madison School of Pharmacy PharmD student who nominated Jachthuber for the award praised him for demonstrating managerial capacity and discussing drug pricing during the rotation.
"He would ask me problem-solving questions and try to engage holistic concepts," wrote a different student pharmacist. Another student nominator said Jachthuber was the best clinical instructor they've ever had.
Jachthuber absorbs his students' energy and enthusiasm for learning to keep him motivated to learn about new pharmacy innovations and practices himself.
"Our rural work setting and the support of the Bentley family allow me to be a progressive preceptor," he says. "It's rewarding to be recognized by the students and the School for providing a positive experience at my site."