12
August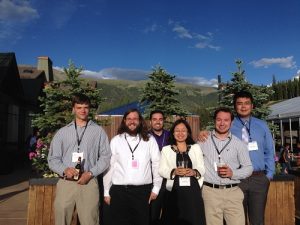 Pharmacognosy ("a branch of pharmacology dealing with medicinal substances of biological origin…") according to the online Merriam-Webster dictionary) is receiving high attention in the Pharmaceutical Sciences Division with the research of faculty members Tim Bugni, Jason Kwan, and Dean Steve Swanson. Bugni, Kwan, Swanson, and six of their research personnel recently returned from the American Society of Pharmacognosy (ASP) 2015 Annual Meeting held in Copper Mountain, Colorado; ASP attendance is a yearly tradition for graduate students in the Bugni and Kwan groups. At the meeting, Kwan was named the sole recipient of ASP's Research Starter Grant for 2015 and gave a presentation within the "Recent Advances in Marine Chemical Ecology" portion of the conference.
Pharmaceutical Sciences graduate students Ian Miller (Kwan Group) and Chris Thomas (Bugni Group) each received 2015 ASP Student Travel Awards which supported their conference participation. They presented research posters, as did graduate students Navid Adnani (Bugni Group) and Ted Weyna (Kwan Group) and postdoctoral researcher Fan Zhang (Bugni Group). Poster titles included:
• Eudistamides A and B, Novel Cyclic Depsipeptides from a Marine-Derived Streptomyces SP (Zhang)
• Investigation of Interspecies Interactions between Marine Micromonosporaceae for Identification of Novel Antibiotics (Adnani)
• LCMS-Based Hierarchal Clustering as a Method to Assess Biosynthetic Relationships among Bacteria (Thomas)
• The Mandelalides are Produced by a Symbiont in the Phylum Verrucomicrobia in the Tunicate Lissoclinum SP (Weyna)
• Single Shot Deconvolution of the Symbiotic Bugula Neritina Metagenome (Miller)
Miller, who has aspirations to join the private sector following graduate school, commented about a conference talk given by Leslie Fischer of Novartis Pharmaceuticals regarding the patent eligibility of natural products. "Recent changes in legislation in the United States have deemed that chemical structures alone are not patentable; instead their precise methods of isolation (from natural sources) or specific applications (such as uses for a particular disease) are patentable," said Miller. Adding, "Ultimately, a changing climate in patent protection complicates natural product drug discovery and development. Fisher discussed the implications of this new law and possible strategies for natural product scientists."
Many in the group enjoyed the mountain biking that summertime in Colorado offers; the conference, organized by the University of Oklahoma, had an obvious western theme, with events featuring bluegrass music and horseshoe competitions. Associate Professor Bugni has been named Co-chair for the 2019 ASP Conference that will be held in Madison.