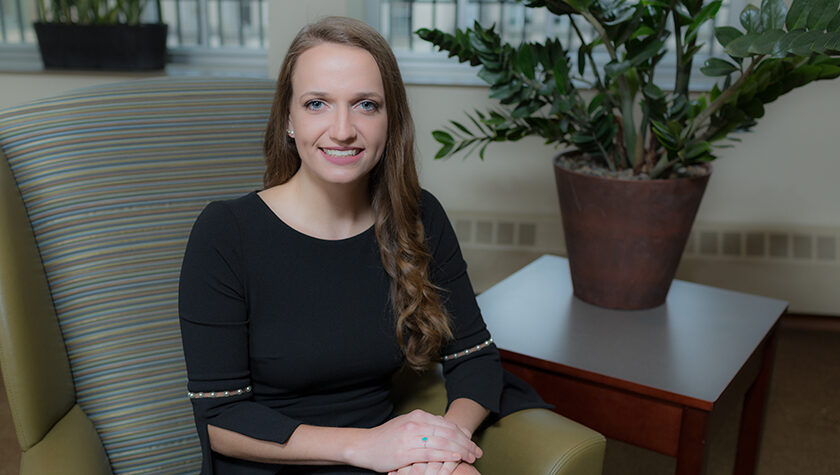 8
September
Brianna Groen's research wins national award and improves virtual education at the School of Pharmacy
By Katie Ginder-Vogel
For research bolstering the experience of student pharmacists during their year of Advanced Pharmacy Practice Experiences (APPEs), University of Wisconsin–Madison School of Pharmacy PharmD student Brianna Groen has been honored with the top prize in the student pharmacist category of the American Association of Colleges of Pharmacy's 2021 Trainee Poster Competition.
"I'm very honored," says Groen, who is a student in the School's Residency Track APPE. "It was a team effort, and I'm so grateful to my team of co-authors."
Groen worked with the School's experiential learning team, including Assistant Professor Amanda Margolis (PharmD '09, MS '17), Associate Professor Denise Walbrandt Pigarelli, and Professor and Assistant Dean of Experiential Learning Mara Kieser, all of the School's Pharmacy Practice Division, as well as co-authors from Aspirus and the Mayo Clinic College of Medicine and Science. 
"It was Dr. Margolis who encouraged me to submit the research to the AACP conference," says Groen. "She knows I'm interested in academia, and she thought I could benefit from attending the sessions, giving a poster presentation, and gaining that experience."
Groen began working with Margolis through an elective course in her third year of pharmacy school, when the COVID-19 pandemic washed across the U.S. and many APPE rotations went virtual, as did the 14 accompanying seminars, which are designed to complement PharmD students' clinical experience and further prepare them for graduation.
"I hope I've been able to improve the seminar experience for myself and my peers in the PharmD Class of 2022."
—Brianna Groen
Margolis explained to Groen that the experiential learning team was working to adapt the way the School delivers the virtual APPE seminars and that the project would analyze and assess how students perceive the addition of synchronous (live) discussion groups of about a dozen students each.
Groen, who plans to pursue a post-graduation residency, threw herself into the research and stuck with it even after the course had ended.
"Virtual delivery of seminar addresses the challenge of APPE students being spread throughout the state and creates an opportunity for easier engagement and participation for students," Groen says. "The synchronous component really ties peers together, ties peers to faculty, and provides a way to connect with others, despite not being able to be in person together."
Groen's research, which was also presented at the School's 2021 PharmD and PharmTox Research Symposium, found that students preferred an asynchronous seminar and that synchronous discussion groups created a more engaging experience and facilitated interaction.
Margolis and Groen met biweekly throughout the year, and the experiential learning team provided valuable feedback.
"Amanda was an incredible mentor throughout this process," Groen says. "When I began working with her, I had never done research, survey development, data analysis, or created a poster before, and she was there to guide me along the way and challenged me to take initiative and be independent with it."
Groen began with a literature review to find survey questions focused on online learning and asynchronous/synchronous learning and worked with her research team to refine the survey questions, pilot the survey with students, and then conduct the official survey with APPE students. She used the same team approach with her poster. 
"It was a team effort," she says. "Everyone was super helpful in giving feedback and support along the way." 
Now, Groen is an APPE student benefiting from her own research.
"The way seminar delivery is currently happening for us is pretty much based on what I found with my research," she says. "I hope I've been able to improve the seminar experience for myself and my peers in the PharmD Class of 2022." 
Groen believes the project's findings will impact online education more broadly.
"My class has two seminars every block, one completely asynchronous, and the other with the synchronous discussion component, and I think that really impacts future online learning," she says. "The School of Pharmacy recognizes that students can be independent while also benefitting from engagement."