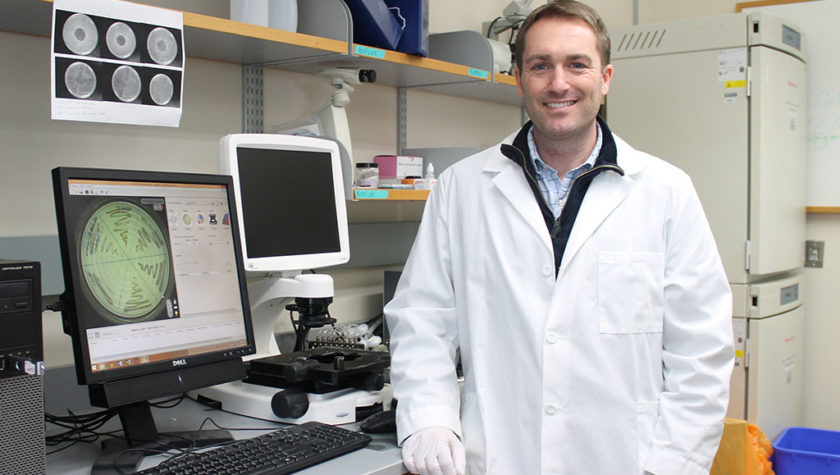 17
August
Latest Path of Distinction becomes the third path option for specialized learning and customization of the PharmD degree
By Tristan Dooley

The UW–Madison School of Pharmacy is expanding its Scholars in Pharmacy program in the PharmD program and has introduced a new curricular area of academic focus for PharmD students — the Path of Distinction in Antimicrobial Stewardship (AMS-PoD). Beginning this fall, 12 students are participating in the AMS-PoD. Paths of Distinction are focused learning opportunities that provide deeper experience, designed to enhance a student's resume and make them more competitive for residencies and jobs.
This new path focuses on antimicrobial stewardship, which is the effort to measure and improve how antimicrobials are prescribed by clinicians and used by patients, according to the CDC. With the World Health Organization calling antibiotic resistance one of the biggest threats to global health, antimicrobial stewardship is becoming a critical need in health systems.
"Antimicrobial stewardship programs, with pharmacist leadership, are recommended by the CDC for healthcare systems," says PPD Associate Professor Warren Rose.
There is increasing demand for pharmacists with antimicrobial stewardship experience, and a long-term need for pharmacists to work in this field. The Joint Commission and Centers for Medicare and Medicaid Services (CMS) require antimicrobial stewardship in hospitals, critical access hospitals, and nursing care centers. Pharmacists play an important role in these stewardship programs to help improve antibiotic use for patients.
The demand for pharmacists with antimicrobial stewardship experience prompted the creation of the AMS-PoD. "This Path of Distinction was created to provide PharmD students with unique training on the subject of infectious diseases and antimicrobial stewardship," says Nate McClain, Scholars in Pharmacy Office Program Administrator. "The AMS-PoD will provide students with core fundamentals to improve antimicrobial use and enhance opportunities for a career in antimicrobial stewardship pharmacy," McClain explains.
The AMS-PoD will go beyond antibiotics to examine administration, information technology, quality, education, research, communication and other aspects relevant to antimicrobial stewardship.
To complete the path, PharmD students must take three required courses in comprehensive immunization delivery, advanced pharmacology, and advanced pharmacotherapy, in addition to the Seminars in Antimicrobial Stewardship course, and one-to-three elective credits related to antimicrobial stewardship. Students are also required to participate in a program-related clerkship, a clinical rotation known as Advanced Pharmacy Practice Experiences.
The Path of Distinction in Antimicrobial Stewardship is now available to PharmD students. "Generally, students will have to start this program in their DPH-1 (first) or DPH-2 (second) year because the courses that must be completed are usually more available in those years," says McClain.
This AMS-PoD joins two other Paths of Distinction within the PharmD program, one focused on research and the other on leadership.
Learn more about the innovative curricular options in the PharmD curriculum.