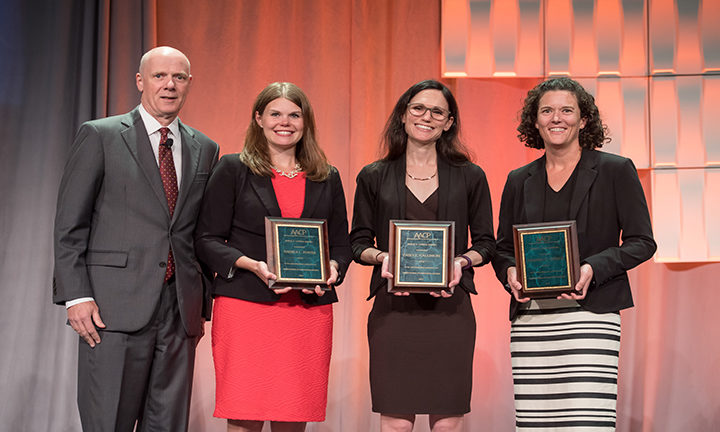 30
March
The American Association of Colleges of Pharmacy (AACP) will honor Associate Professors (CHS) Casey E. Gallimore, PharmD, Andrea L. Porter, PharmD, and Susanne G. Barnett, PharmD, from the UW–Madison School of Pharmacy, with the 2017 Rufus A. Lyman Award, recognizing the best paper published in the American Journal of Pharmaceutical Education (AJPE) in 2016.
The paper, "Development and Application of a Stepwise Assessment Process for Rational Redesign of Sequential Skills-Based Courses," sought to develop a stepwise process to assess students' achievement in course learning objectives, ensuring their preparedness for Advanced Pharmacy Practice Experiences (APPEs) and informing the redesign of sequential skills-based courses.
Gallimore, Barnett, and Porter share a research focus in educational based scholarship. More specficially, Barnett's interest is improving the health literacy of patients through adequate training and awareness of healthcare professionals. Porter's interest is educational innovation and teaching methods, as well as clinical research involving anticoagulation.
"This manuscript presented a series of well-designed systematic qualitative and quantitative assessment methods (student and preceptor focus groups, electronic surveys and course evaluations) used to evaluate and redesign sequential skills-based courses within a PharmD curriculum with the goal of preparing students for their advanced pharmacy practice experiences," said AJPE Editor-in-Chief Gayle Brazeau, PhD, professor and dean of the University of New England College of Pharmacy. "The significance of this approach was that it enabled the investigators to identify strengths and weaknesses in an original course design affecting student performance competency in critical skills, which could be addressed in designing new laboratory courses. Congratulations to Drs. Gallimore, Porter and Barnett for their excellent contribution to AJPE!"
"The stellar list of recipients for these top AACP awards is reflective of the commitment to excellence in community service, education, research, and the diversity of our members' accomplishments," said AACP Executive Vice President and CEO Lucinda L. Maine, PhD, RPh "From genomics to faculty and student leadership, the scholarship of learning and cutting-edge pharmacological research, Drs. Zito, Taylor, Schmidt, Gallimore and Popovich represent the 'best of' pharmacy education."
The authors will be honored with a monetary prize and certificate on July 18 during the Tuesday General Session at Pharmacy Education 2017, the AACP Annual Meeting, in Nashville.
Pharmacy Education 2017 will be held July 15-19, at the Gaylord Opryland Resort & Convention Center in Nashville, Tenn. The conference offers educational programming, exhibits, networking events and award presentations.
Founded in 1900, AACP is the national organization representing the interests of pharmacy education. AACP is comprised of all accredited colleges and schools with pharmacy degree programs, including more than 6,500 faculty, 64,300 students enrolled in professional programs and 5,800 individuals pursuing graduate study.