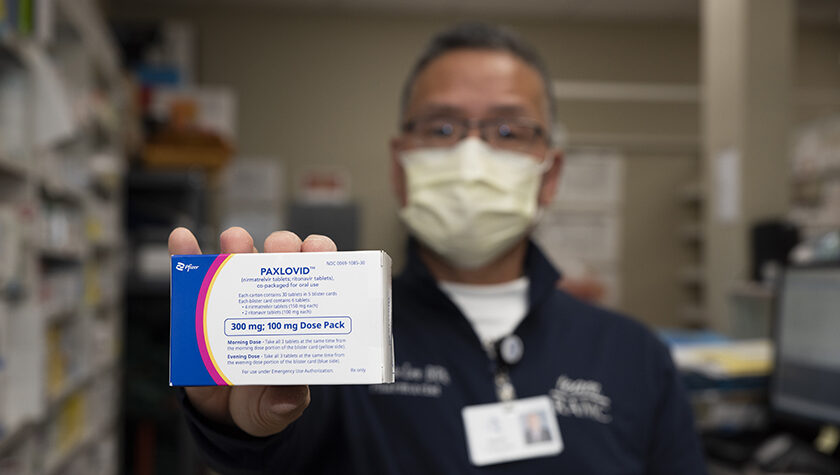 13
December
Alum Charlie Lee weighs in on how pharmacist-prescribed Paxlovid expands pharmacists' impact on community health
By Ben Cadigan & Katie Gerhards
Two years ago, when someone was diagnosed with COVID-19, their only option was to wait, in isolation, for symptoms to improve. Along with the launch of vaccines to prevent severe illness, another revolutionary product changed the course of the pandemic and patient outcomes: antiviral therapeutics.
In December 2021, a year after the release of vaccines, the U.S. Food and Drug Administration (FDA) issued an Emergency Use Authorization (EUA) for Paxlovid, the first oral antiviral for COVID-19 treatment, recommended for patients who test positive for the virus and are at a high risk for progression to severe disease.
"It's really the efficiency by which we can serve people to get them feeling better."
—Charlie Lee
Initially, Paxlovid was only available through a prescription from a physician, but in October 2022, the FDA amended the EUA to authorize state-licensed pharmacists to prescribe the treatment, giving pharmacists yet another tool to help their communities battle COVID-19. This move meant that patients would have access to a one-stop shop for COVID-19 testing as well as prescribing and dispensing a therapeutic. There are nearly 20 Wisconsin locations participating in the federal Test to Treat program, offering all three services — and almost all locations are pharmacies.
"Now that pharmacists are on the prescribing protocol, we can take a quick assessment of the patient and have a prescription come in a much quicker way than you could get into a physician's office, similar to immunization delivery," says Charlie Lee (BS '96), pharmacist at the Reedsburg Area Medical Center. "It's really the efficiency by which we can serve people to get them feeling better."
Overcoming hurdles for patient care
Pharmacist involvement in Paxlovid prescribing means expanded access for patients who aren't located near a clinic, as well as those for whom a clinic visit is cost prohibitive. And the benefits of saved time are substantial, as the antiviral needs to be taken within the first five days of COVID-19 symptoms.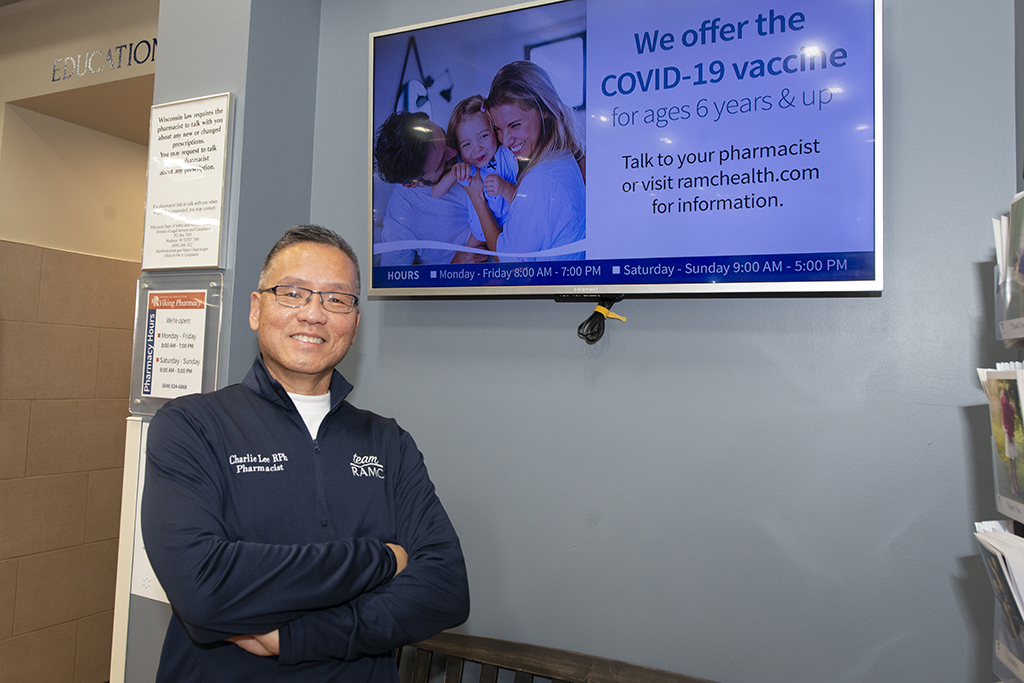 The Reedsburg Area Medical Center recently created a system-wide protocol for pharmacists like Lee to prescribe Paxlovid.
"We've seen a very, very good response," says Lee. "Paxlovid seems to help about 80 to 90 percent of the people that we've dispensed this to achieve symptomatic relief within five days."
Before prescribers can offer Paxlovid to a patient, they have to check a couple of key factors: potential medication interactions and kidney function.
"As pharmacists, getting a list of medications is easy — it's very retrievable information," says Lee. "When reviewing patient information, we see mostly statins and diazepam come through as potential interactions."
In these cases, Lee can then work with the patient's physician to recommend an alternative therapy, to temporarily withhold the conflicting medication, or to adjust dosing and monitor the patient's labs.
The more difficult hurdle is checking patients' kidney function, which requires lab values from within the last 12 months. Unlike medication history, these lab values cannot be patient-reported and must come from a physician with an established relationship with the patient.
For patients with a primary care provider within the Reedsburg Area Medical Center system, Lee can easily access their electronic health record to review their lab values and eligibility.
"But not everyone goes to the Reedsburg Area Medical Center," says Lee, which is where the process sees some stumbling blocks. "The one thing we can do is to give their doctor's office a call to determine their kidney function."
The office's response to that request can go a few ways.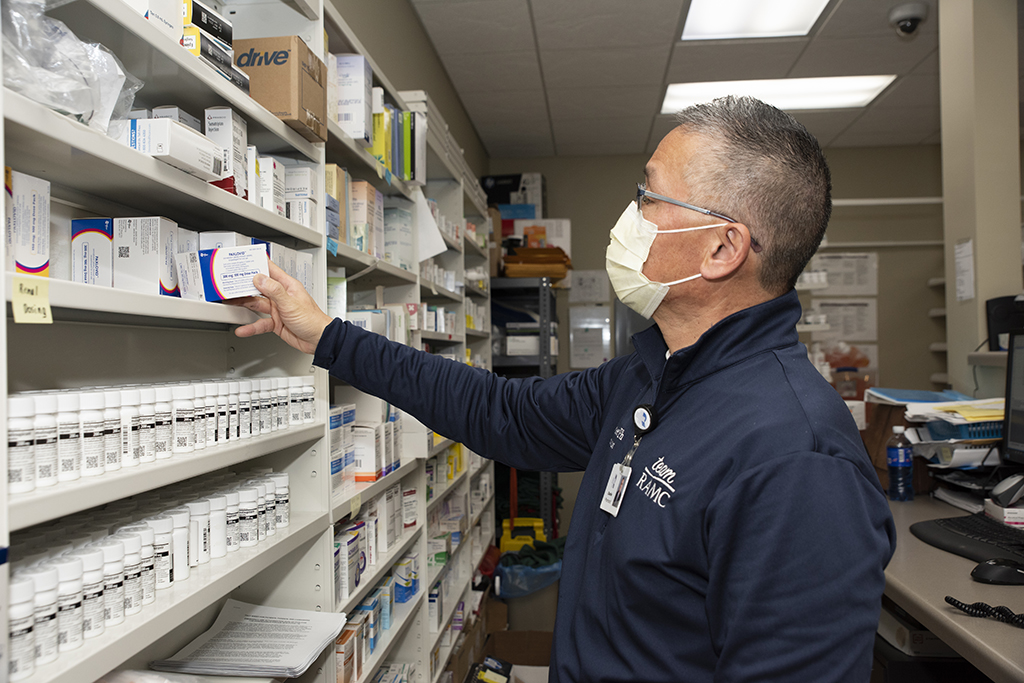 "What I fear the most is to have the patient there in front of me or calling on the phone, but when I call their doctor's office, they say they'll have to get back to me," says Lee. "These are big timing issues for getting patients a quick prescription." 
And other times, physicians may decide to follow up with patients themselves instead of empowering the pharmacist to write the prescription, which could contribute to delayed treatment.
Because of these logistical barriers, many pharmacies aren't yet participating in Paxlovid prescribing, especially as it comes at a cost. Last year, Wisconsin pharmacists gained provider status in Wisconsin and the ability to be reimbursed for certain clinical services, such as immunization delivery or blood pressure monitoring, through Medicaid. However, there isn't currently a pathway for pharmacists to get reimbursed for the clinical screening necessary to issue a Paxlovid prescription.
"This is an important service that pharmacists are providing for the health and well-being of their communities," says Lee. "Hopefully soon, reimbursement policies will recognize the necessity of what we're doing."
Expanding the pharmacist role
Lee says that when he graduated from the University of Wisconsin–Madison School of Pharmacy, pharmaceutical care and medication dispensing were the main priority. But that has progressively evolved.
"We're starting to increase the role of pharmacists as medication experts," says Lee. "Now we're taking blood pressure, staffing diabetes clinics, and can do immunizations — and get reimbursed for it. It's been an evolution."
"This is an important service that pharmacists are providing for the health and well-being of their communities."
—Charlie Lee
Prescribing represents yet another opportunity for pharmacists to practice at the top of their license, use their deep and broad medication expertise, and contribute to direct patient care. Making pharmacists access points for this critical antiviral therapy to help address the pandemic further empowers pharmacists, says Lee.
"We're feeling more empowered; I feel more trusted," says Lee.