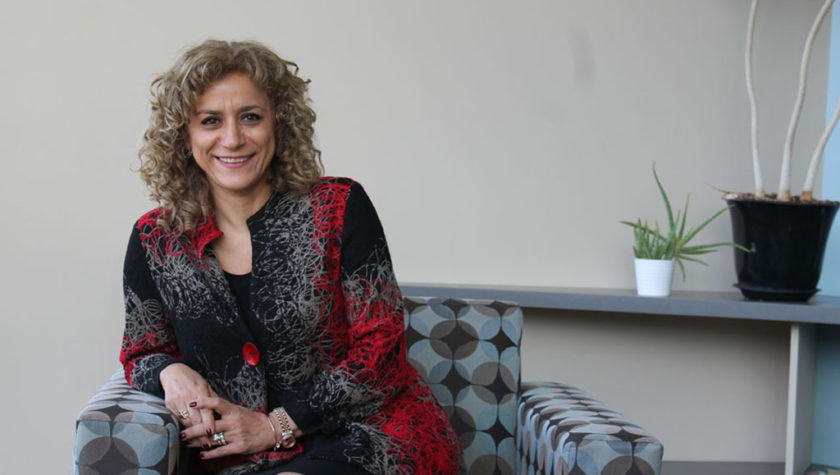 31
May
Alumnus Azita Saleki-Gerhardt reinforces the value of learning a scientific approach to make a difference
It takes an extremely curious, passionate person to tackle some of health care's largest problems. Azita Saleki-Gerhardt (BS '88, MS '91, PhD '93) is one of those people, and she has gathered a breadth of experience in nearly every facet of the pharmaceutical industry. She's gone from the lab making an antibiotic more palatable for children to the C-suite leading operations at one of the largest companies in the industry.
"What attracted me to pharmacy was its unique ability to blend science and research with helping people, and that's why I love what I do," she says. "I wouldn't be in the position I am today without my education at the University of Wisconsin–Madison School of Pharmacy."
Today, Saleki-Gerhardt is president of operations at AbbVie, one of the world's 10 largest pharmaceutical companies, with 2017 revenue exceeding that of other global industry giants like AstraZeneca, Eli Lilly, and even Bayer.
"I knew I wanted a career in developing medicines and drug delivery systems that would have an impact on people's lives," she says.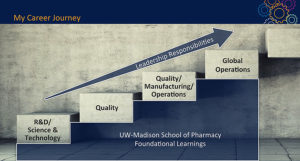 After completing her PhD in pharmaceutics and drug design through the School's Pharmaceutical Sciences Division, she, like many PharmSci graduates, went into industry, where she felt she could use what she'd learned to help patients.
"In my career, I've seen up-close how science has turned HIV from a death sentence to a chronic illness. I've seen hepatitis C turn from a silent killer to a curable disease. And now I'm part of a team trying to accomplish that same goal for cancer," Saleki-Gerhardt says.
"I'm proud to be part of an organization that delivers a consistent stream of innovative medicines that solve serious health issues and have a remarkable impact on people's lives—for more than 28 million patients."
Saleki-Gerhardt, who continues to influence the School's Pharmaceutical Sciences PhD and other programs through her seat on the Board of Visitors, returned to her alma mater to share her experiences and advice with doctoral students who are still setting the foundation for their career path.
"I was so happy to see the same passion and commitment to pharmacy that we had 25 years ago among current students," Saleki-Gerhardt says.
Prepared for success
Growing up, Saleki-Gerhardt was surrounded by several family members in health care, which prompted an early interest in science and medicine. But the more she studied throughout her nine years and three degrees at the UW–Madison School of Pharmacy, the more she felt her path was finding the scientific breakthroughs to create new medications that could change lives, which led her to the Drug Delivery Core of the School's Pharmaceutical Sciences Division.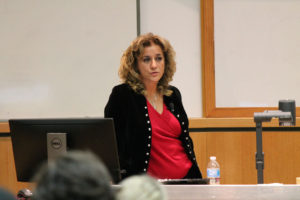 "I was privileged to study under Professor George Zografi, who was an incredible teacher, leader, mentor, and—above all—wonderful person," she says. "Through his example, I learned invaluable lessons in decision-making, prioritization, engagement, and empathy."
With her doctorate in hand, Saleki-Gerhardt started with Abbott Laboratories, working in research and development (R&D). Her first project in the pharmaceutical industry is one that would yield her first patent—of three to date—and cement her commitment to making a difference in public health through science.
Biaxin is an antibiotic used to treat bacterial infections, including throat infections, pneumonia, and tuberculosis, but it's extremely bitter, and children wouldn't take it. Saleki-Gerhardt was charged with masking the bitter flavor.
"This was a big challenge very early in my career because I knew so much was at stake. Children needed this critical antibiotic but were refusing to take it," she says. "Some people at the company didn't think it could be done, so when we successfully masked the flavor without losing any of the efficacy and quality of the medicine, it was an incredible feeling."
Lifelong benefits of learning the fundamentals
With her pharmaceutical sciences background, moving from the small-scale, clinical side of R&D to the large-scale, commercial side of Science & Technology was a natural progression since it requires understanding a drug candidate all the way through the chemistry, manufacturing, and controls processes for a finished drug.
"Understanding the properties of a molecule and the impact of material and processes leads to the development of a robust product, ensuring safety and efficacy for patient," she explains. "Various pharmaceutical factors need to be carefully evaluated to ensure consistent quality at full scale of manufacturing and performance over shelf-life."
After testing her mettle in science and technology, Saleki-Gerhardt transitioned to quality assurance, where she was responsible for ensuring that medications are consistently produced and controlled to quality standards, meet required market authorization, and comply with all obligations.
"What attracted me to pharmacy was its unique ability to blend science and research with helping people, and that's why I love what I do." 
–Azita Saleki-Gerhardt
She then rose to the post of president of Abbott's supply, quality, and manufacturing operations.
"Having a deep understanding of the science behind our medicines, as well as the different aspects of how we scale up molecules to manufacture for commercial sales made me successful in accelerating my career trajectory from scientist to industry leader," reflects Saleki-Gerhardt.
In 2012, after working at Abbott for almost 20 years, the company spun off its research-based pharmaceutical unit into a separate public company, AbbVie, where Saleki-Gerhardt now leads Operations, responsible for more than 6,500 employees in 12 functional units such as science and technology, manufacturing, quality, supply chain, purchasing and supplier management, global security, and environmental health and safety.
Her deep experience in the industry and leadership at a top global pharmaceutical company give her a unique, fascinating view of the progress pharmaceutical science has made in recent decades, and the keys to success in the field.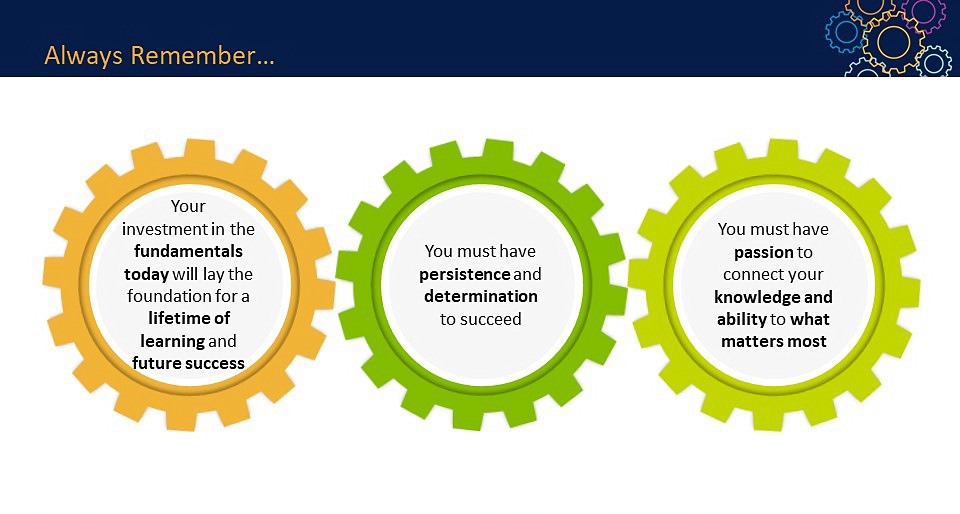 In her talk, "Lifetime of Learning: From Pharmacy to Making Connections and Delivering Impact" with the School's current doctoral pharmaceutical sciences students, what has helped her the most is learning the fundamentals of how to approach a problem scientifically, which can be broadly applied to overcome obstacles.
Those fundamentals, she says, lay a strong foundation for continued learning, but must be paired with persistence, determination, and passion to apply knowledge and skills to solve patients' pressing problems.
"UW–Madison gave me the fundamental training in science, research, and critical thinking that have allowed me to build a successful career, and I still apply those learnings to this day in leading AbbVie's Operations," she says.
In another recent visit to the School, she worked with the PharmD program, to hone student pharmacists' entrepreneurial ideas by providing feedback as part of a judging panel of pharmaceutical industry veterans and other seasoned pharmacists in the School's SHARx Tank competition.
"It's fantastic that the rich tradition of science and innovation continues at the UW–Madison School of Pharmacy, and that gives me great confidence that the next generation will have a solid foundation on which to build their careers, no matter what they choose."
Read about Azita Saleki-Gerhardt's involvement in an entrepreneurial PharmD student group at the School of Pharmacy.
Learn more about the School's Pharmaceutical Sciences PhD program.