18
August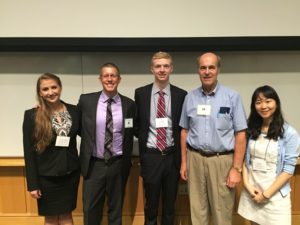 Joanne Peters, a PhD candidate working under the guidance of Betty Chewning, Professor and Apple Distinguished Chair, Social and Administrative Sciences Division, has received the Joseph B. Wiederholt – Consortium for Research in Administrative Pharmacy (C.R.A.P.) Award.
This award recognizes the best research and presentation at the biannual Midwest Social and Administrative Pharmacy Conference. Peters research and presentation was entitled, "Pharmacists' counseling on two over-the-counter (OTC) medications – ibuprofen and emergency contraceptives: A secret shopper study."
The award was created in the mid-1980s when a group of young professors began talking about ways to "revolutionize" their discipline to make it more science oriented. The group consisted of faculty from three research-intensive Big 10 universities: Frank Ascione and Duane Kirking from University of Michigan, Holly Mason and Steve Schondelmeyer from Purdue, and Dave Kreling and Joe Wiederholt from the University of Wisconsin-Madison. The group met several times to discuss plans, develop strategy, and brainstorm ideas, including joint research projects. Although most discussion revolved around important issues, lots of fun also occurred, with Professor Wiederholt often being the principal instigator. Their light hearted approach extended to the irreverent name they chose, the Consortium for Research in Administrative Pharmacy (C.R.A.P.)
The purpose of the consortium was to improve the quality of research and graduate education, promote education-based multi-site research, including a research project involving the three universities. The majority of the initial consortium goals have been accomplished. Professor Wiederholt was a central figure in the formation of the consortium and a significant individual for change in the discipline. In memory of Professor Wiederholt, the remaining consortium members have provided this award.