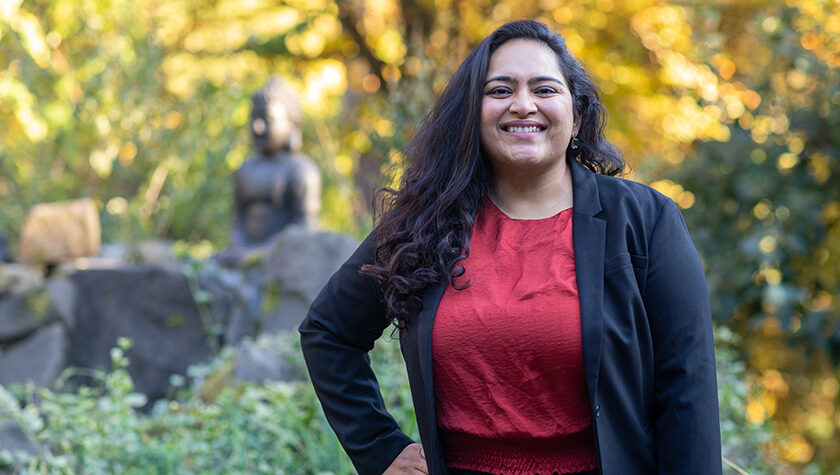 14
December
From government programs to life sciences companies, Karishma Desai (PhD '16) focuses on research to improve healthcare for patients
By Katie Ginder-Vogel
"When I became a pharmacist, my key focus was on patients and the therapies and interventions that can help them," says Karishma Desai (PhD '16). "That's still my focus, but I've learned there's a world beyond direct care, made up of systems, policies, clinical guidelines, and evidence-based practices that are key elements of patient care."
Desai is a graduate of the University of Wisconsin­–Madison School of Pharmacy's Health Services Research in Pharmacy graduate program, and today she's associate research director at HealthCore, which aims to generate the evidence needed to improve healthcare.
"My training at UW was the foundation of my journey," says Desai. "During my time there, there were so many key practices that I realized were instilled in me as a researcher: how to think critically while keeping an eye on the big picture, how to approach research questions or projects while working with multiple people/stakeholders, how to manage your time in efficient ways so you can multitask, and how to efficiently optimize resources."
"The scale of change possible in this field inspires me to work hard and get things done."
—Karishma Desai
She used that foundation to first take a postdoctoral research position at Stanford University before joining Impaq International, a global policy research and analytics firm that is now part of the American Institutes for Research (AIR), a non-profit organization focused on research, evaluation, and technical assistance for projects with government agencies, organizations, institutions, and communities across the U.S. and around the world. After almost five years with Impaq, Desai took on a new role at HealthCore.
"The scale of change possible in this field inspires me to work hard and get things done," says Desai.
National policy impacts
As a graduate student at the School, Betty Chewning, professor in the Social and Administrative Sciences Division, was Desai's PhD advisor. Desai worked with the William S. Middleton Memorial Veterans Hospital in Madison, Wis., to conduct her dissertation, giving her insight into the operations of the country's largest provider of healthcare and how policies impact care.
Desai maintains the close connections she made with other graduate students and faculty, who she describes as leaders in the field of pharmaceutical health services research. She learned a breadth of research methods and collaboration strategies — skills she would carry with her for years.
"Faculty would remind us that when we had the opportunity to use those skills, we would have them in our toolkit," she says. "I may not have used every method during my time at UW, but I knew about it and its overarching goals, ready to be used when a specific research question required that approach."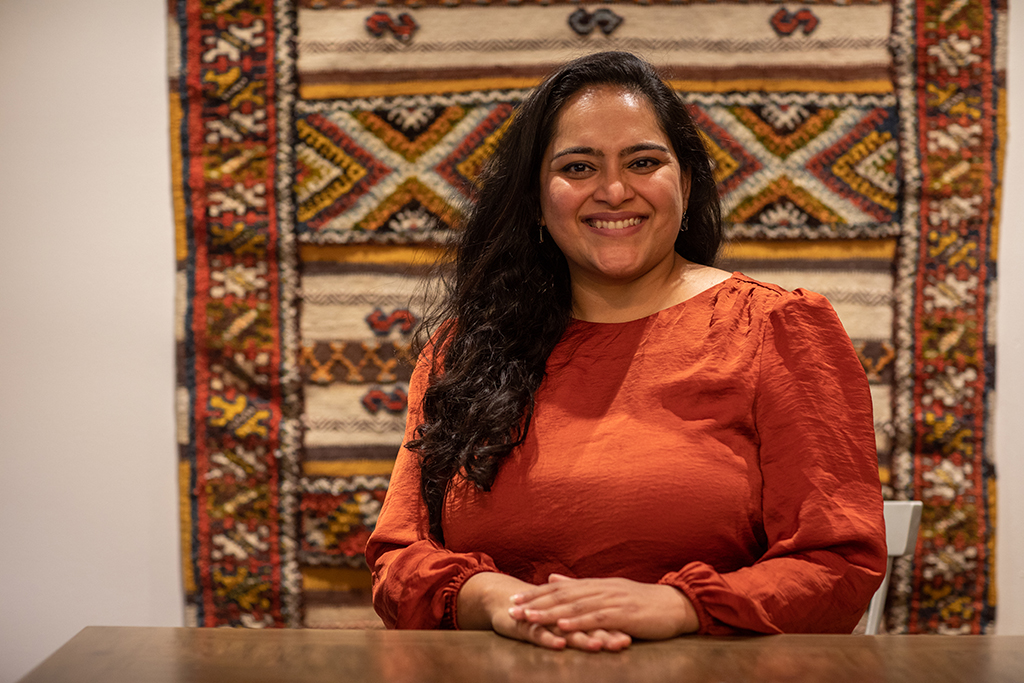 She had the opportunity to apply and strengthen those skills first during her postdoc at Stanford University, researching post-operative pain medications, and then as a research associate at Impaq.
"The most fulfilling part of my time at Impaq was seeing how health policies drive so much of what we can do and have access to," she says. "There's so much that goes into creating policy, including implementation and evaluation, to create the type of change we want to see."
At Impaq, Desai worked on large-scale projects with the Centers for Medicare and Medicaid Services (CMS), Agency for Healthcare Research and Quality, and the Food and Drug Administration, to name a few. For example, she worked on one of the kidney health care models that CMS released, the End-Stage Renal Disease (ESRD) Treatment Choices (ETC) Model to encourage greater use of home dialysis and kidney transplants for Medicare beneficiaries with ESRD, trying to improve healthcare quality for patients while reducing expenditures.
She was part of the implementation team for ETC and several other models, like the Part D Enhanced Medication Therapy Management (MTM) model, which tested whether providing Part D sponsors with additional payment incentives and regulatory flexibilities promoted enhancements in the MTM program, leading to improved therapeutic outcomes and reduced net Medicare expenditures. She also worked on Bundled Payments for Care Improvement Advanced (BPCI Advanced), a new iteration of a previous model that aims to support healthcare providers who invest in practice innovation and care redesign to better coordinate care and reduce expenditures, while improving the quality of care for Medicare beneficiaries.
"They're massive undertakings, requiring multiple individuals, with different expertise, and it was amazing to see the type of work involved in that," she says. 
"You never really know where you'll end up when you're accruing all these different skills and how you might be able to contribute to improvements."
—Karishma Desai
One of the most fulfilling projects Desai has worked on in her career so far is the Medicare Plan Finder, the Medicare.gov tool for beneficiaries to compare and shop for Medicare Advantage and Part D plans. Desai was part of a data group that determined how to display details about drugs, and calculate prescription cost and cost sharing as a beneficiary moves through different phases of coverage. 
"That all stemmed from policy, because cost-sharing is decided by how policies are written," she says. "It was a high-impact project — there are 60 million people on Medicare, and about 10,000 join Medicare each day. Even if a fraction of those people uses that website, I felt it was really making a difference, and I was able to contribute to it." 
Desai enjoyed the fact that the digital tool wasn't a typical research project, where a researcher finds data sources and then analyses the data to answer a research question — it was a digital application that would be used every day and provided a different use case for her knowledge base. 
"I never thought everything I was learning would help me be able to contribute to this type of work," Desai says. "You never really know where you'll end up when you're accruing all these different skills and how you might be able to contribute to improvements."
New perspectives
After almost five years at Impaq International, Desai joined HealthCore, a wholly owned, independently operating subsidiary of Elevance Health. HealthCore works with life sciences companies, government agencies, academia, Elevance Health, and collaborators on a broad range of research services focused on informing key decision-makers. HealthCore research capabilities include health economics and outcomes research, safety and epidemiology research, clinical research, and patient-centered research.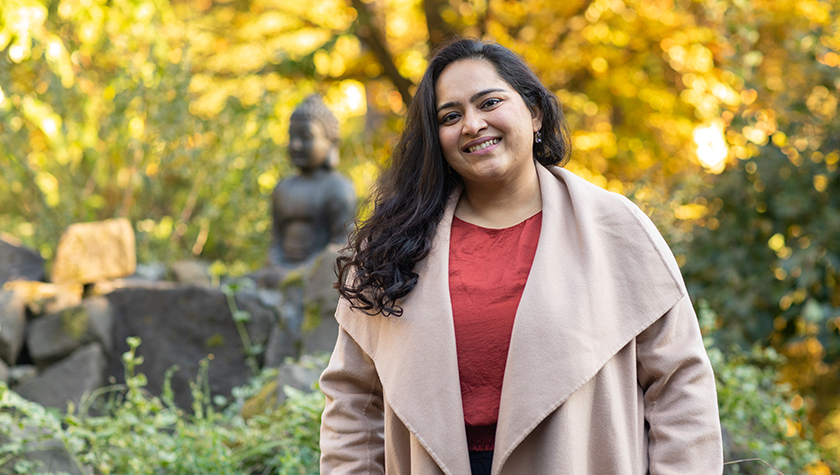 "Real-world evidence generation is gaining so much traction and attention, with everyone realizing the power of data and how it's being used," she says. "The magnitude of improvements in data capture and analytics is mind-boggling. These newer techniques and strategies are things we constantly have to learn about and train for."
In this new role, Desai is thinking about health outcomes from a company and product perspective, while continuing to ensure the aims align with overarching goals of generating insights that complement traditional clinical development information, such as efficacy and safety. She has been involved in several projects in different therapeutic areas, looking into the key elements of healthcare utilization, cost, and health outcomes. Her projects — under wraps because they're still underway — home in on key aspects of therapy and how slight changes to regimens, testing patterns, or even interactions with the healthcare system can help improve outcomes.
"The patient is still center stage, but the hat I'm wearing to help the patient is very different and the method to help is different. Even though we are not directly involved with patient care, the work I do indirectly aims to improve outcomes for patients," she says. "I think these different roles have given me insight on how different areas come together to improve care for patients." 
This new perspective appealed to her, especially because the work aligns with evidence generation.
"Real-world evidence generation is gaining so much traction and attention, with everyone realizing the power of data and how it's being used."
—Karishma Desai
"HealthCore allowed me to shift focus to a different research area, while still being able to use the skills and training I've accrued over the years," Desai says. "I work on business development, which drew my interest because it provides growth opportunities that align with my goals."
Desai serves as the principal investigator for her projects, which could include as many as four at a time in different phases of development. She develops and writes protocols — documents that outline the specifics of each project, from the study design, to what the team will be doing and how they'll accomplish it, to the exact data elements that should be included and defining each of those metrics. 
"My role also includes figuring out the analytics of a project that's already gone through the protocol development phase, or reporting on the findings of a project," Desai says.
An eye on the future
Desai enjoys business development and says there's a certain thrill about winning a new project, knowing her team delivered a clear document with a thorough understanding of their clients' research needs. She is eager to continue to progress into leadership roles, even in the context of leading a small group in an effort to figure out improvements to be made to existing infrastructure, such as different data sources that could help add distinct elements to improve understanding of healthcare use and outcomes in some of her work. 
"I feel there are constantly new developments in the field of health services outcomes — new therapies coming out, changes in regimens, technologies allowing people to be diagnosed at different time points, ways to provide care to patients — and all of that directly impacts how evidence is gathered and policy is written," she says. "So, there are new policies coming into play, which directly impact therapies and how they're paid for and used. It's cyclical — one triggers change in the other — which makes it an exciting, dynamic space to be in."