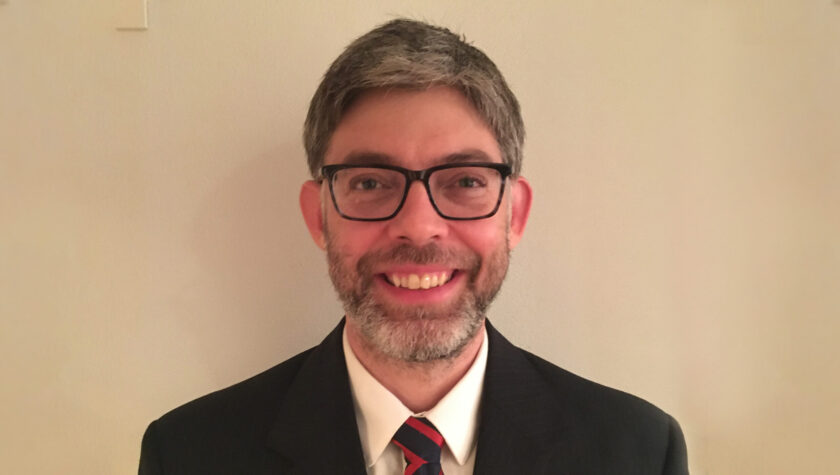 23
June
Zetes is the School of Pharmacy's 2020 Larry Boh Clinical Instructor Excellence award winner
"Pharmacy wasn't even on the radar," says Nick Zetes (PharmD '10). He had an undergraduate degree in biology and wasn't sure if he wanted to pursue medicine or nursing — or neither.
"I was working as a phlebotomist and started to get a little queasy," he jokes. When he saw an opening for a pharmacy technician, he decided to give it a try.
"One thing that I found really appealing about pharmacy is the fact that you see patients frequently and build a real connection with them," he says.
Soon, he worked his way up to technician supervisor, and decided to enroll in the University of Wisconsin–Madison School of Pharmacy to take the next step and become a pharmacist.
"[My preceptors] were really engaged in my learning and growth and I wanted to follow that standard and make sure I was doing the same thing."
—Nick Zetes
Today, he's an outpatient pharmacy coordinator with UW Health, at the American Family Children's Hospital, where he precepts for the School of Pharmacy's fourth-year PharmD students on their Advanced Pharmacy Practice Experience (APPE) rotations.
"When I was a student at the School of Pharmacy and on my own rotations, pharmacists would take me under their wing and show me everything they do," he says. "They were really engaged in my learning and growth and I wanted to follow that standard and make sure I was doing the same thing."
Zetes has succeeded in that mission, earning the School of Pharmacy's 2020 Larry Boh Clinical Instructor Excellence award.
"I feel very lucky to have had Nick Zetes as my preceptor," says one student. "He was compassionate, intelligent, and a great worker — three qualities that make a great pharmacist."
Pediatric pharmacy
As a student pharmacist, he was gearing up to practice in the area of adult oncology after graduation. Then UW Health opened up the American Family Children's Hospital in 2007, and his plans changed.
"In the outpatient pharmacy, there was a sterile hood in the backroom, and they were verifying all the clinical orders, acting like an inpatient pharmacy with lab monitoring and reviewing charts, and dispensing as a retail pharmacy as well," he said, which touched on all of his interests. "It was like a one-stop-shop for anything pediatrics."
When a manager position opened up after he'd graduated, he thought it would be a good fit — and he was right.
"It was a good step for me as a young pharmacist because it left a lot of doors open," he says. But he never felt the need to see where those doors would take him. His position with UW Health also let him explore his interest in oncology.
"We work really closely with the Pediatric Hematology and Oncology Clinic," he says. "Anytime there's a chemo order written, they go into a queue that we verify against the chart and the treatment plan before the orders are released to any pharmacy."
He's been with the children's hospital for almost a decade, building relationships and providing reassurance to families facing uncertainty.
As an outpatient pharmacy, they have many patients — such as those with acute lymphoblastic leukemia (ALL) — who will undergo treatments for several years, he says, which enables him and his staff to build strong connections with those families.
"On the surface, it looks like a big hospital and a big pharmacy system, but the feedback we get from parents is that the staff here know their name," he says. "It feels like a smaller town pharmacy here, and it's comforting to parents."
Supporting life-long learning
Zetes was nominated for the Larry Boh award by student pharmacists who were on his rotation. They were struck by Zetes' commitment to their education and development, as well as his professional attitude and ethics.
In the beginning of each rotation, he sits down with students to learn about their goals and in what ways they'd like to grow by the end of the six weeks. "We circle back frequently and assess where they are and where they'd like to be," he says.
As he moves through patient cases with his students, he tries to make the material memorable by explaining why things are the way they are, instead of presenting facts for memorization. For example, when discussing the treatment plans for ALL, he talks about the history of how treatment has evolved and how medications and processes fit into it. This approach helps Zetes stay sharp, too.
"I like the excitement from students," says Zetes. "Their fresh point of view and fresh knowledge base is energizing."
"I feel very lucky to have had Nick Zetes as my preceptor. He was compassionate, intelligent, and a great worker — three qualities that make a great pharmacist."
—PharmD student
As a preceptor, Zetes' top priority is giving student pharmacists a means for continued learning. Instead of just answering questions, he'll direct the students to look it up and probe further into the topic.
"I want to make sure they're comfortable with using the resources at their fingertips," he says. "As time goes on, you're not being fed a lecture; you have to continue your own growth."
Even on busy days where Zetes and his students might not have much time for discussion, the students can still be learning. "You can still learn from observing and evolve your process over time. Put yourself in my shoes and think, 'What did Nick do that worked? What would I have done? What didn't Nick do that could have worked better?'"
His student pharmacists appreciated his focus on developing independent learning.
"Dr. Zetes is great at keeping students involved even when he has patient-care responsibilities to attend to," wrote one student nominating him for the Larry Boh award. "He does a good job developing a student's thought process and helping them figure out a way to find answers that they are not completely sure about."
Despite now being an award-winning clinical instructor, he was initially hesitant to take on students. But now, he encourages all pharmacists and alumni to share their talent with the next generation of practitioners.
"I was really intimidated to start because of all the great preceptors I'd had, but it's worth the chance to try," he says. "You learn a lot, and you can help."