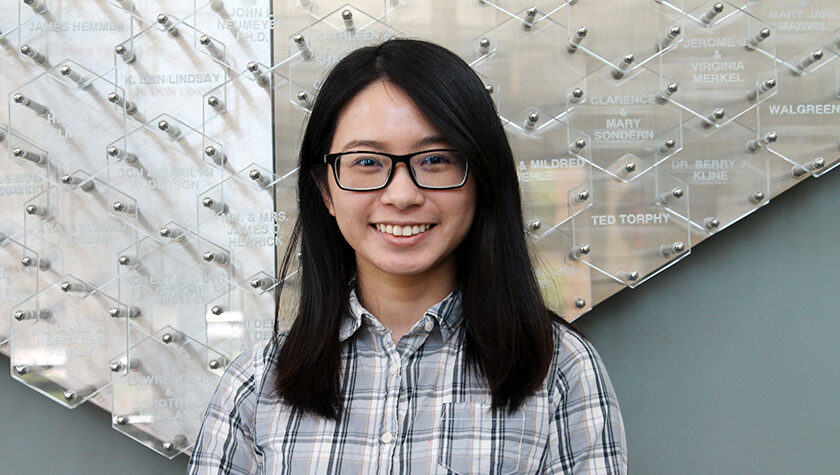 8
June
School of Pharmacy researchers find that the portion of older adults receiving flu vaccines at a pharmacy has more than doubled in a decade
By Mary Magnuson
Over the past decade, there have been transformative changes in legislation, expanding pharmacists' capabilities to provide care and serve their communities. Among these changes have been the rapid spread of state-specific regulations allowing pharmacists to administer vaccines, as well as a change in Medicare policy allowing pharmacists to be reimbursed for select vaccination services.
"The wave of regulatory changes in fact began in the early 1990s. It took several years to scale up, get more pharmacists trained and certified to vaccinate patients, and for each state to change their own laws that regulate pharmacists' authority," says Chi-Yin Liao, a graduate student in the University of Wisconsin–Madison School of Pharmacy's Health Services Research in Pharmacy program.
This confluence of changes triggered exponential growth in the number of pharmacists offering the service and positioned pharmacies to increase vaccine access. A new study from researchers at the University of Wisconsin–Madison School of Pharmacy has found that more patients, particularly older adults, are taking full advantage.
"My findings emphasize the important role pharmacists play in increasing access to vaccination services."
—Chi-Yin Liao
The research — which analyzed Medicare data — found that while the portion of older adults receiving influenza vaccines in a clinic or physician's office declined by 10 percent between 2008 and 2015, the portion receiving vaccinations in a community pharmacy more than doubled, from 16.6 percent to 34.8 percent.
"My findings emphasize the important role pharmacists play in increasing access to vaccination services," says Liao, who led the study.
Convenient care
To conduct the study, recently published in the Journal of the American Pharmacists Association, Liao used data from the Medicare Current Beneficiary Survey (MCBS), which surveys people who are insured by Medicare.
"About 97 percent of older adults in the United States are enrolled in Medicare, so it's a good source for studying this population," Liao says.
Older adults face heightened risks of severe illness from influenza, comprising 70 percent of hospitalizations and 85 percent of deaths associated with the flu, which makes this age group a focal point for immunization efforts.
However, this population also faces more barriers to receiving their vaccines — namely mobility and transportation. Pharmacies, which are within 5 miles of 91 percent of Americans, can help older adults overcome those obstacles. Plus, patients can receive vaccinations in the same pharmacy visit during which they're picking up prescription medications, and pharmacies also tend to have expanded hours compared with clinics.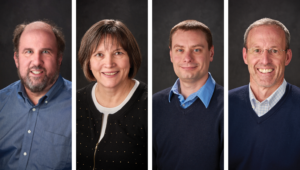 This convenience led 10.9 million older adults to receive their flu vaccine at a community pharmacy during the 2017-18 flu season, which is the most recently available data, up from 4.1 million just three years prior.
"The regulatory changes over the past 10 years or so have made it possible for pharmacists to be important access points for vaccine administration," says Jay Ford, assistant professor in the Social and Administrative Sciences Division.
For example, only 36 percent of counties in the U.S. had at least one pharmacy providing vaccination services in 2006. Just four years later, by 2010, that proportion had leapt up to 97 percent.
"Pharmacists are now empowered to be actively involved in delivering crucial vaccines," he says.
Ford helped author the study, alongside Liao, Professor Dave Mott (BS '88, MS '92, PhD '95) and Assistant Professor Kevin Look (PharmD '09, MS '11, PhD '13) of the Social and Administrative Sciences Division, and Professor Mary Hayney, of the Pharmacy Practice Division.
Liao says she hopes this study details to pharmacists where older adults are choosing to get their flu shot and how they can best support their communities — whether that be through extended hours or outreach. And with COVID-19 mobilizing every segment of the health care team, Liao says she thinks many health care providers are realizing the importance of pharmacists in disseminating vaccinations.
"I think the updates in state laws that expanded pharmacists' ability to vaccinate patients encouraged pharmacists to see that they may have a significant role in the immunization process," Liao says.
Expanding access
Liao's says her interest in flu vaccination started when she moved to Madison, Wis., from Taiwan and learned about how different the health systems were here from her home country.
"When I first learned that pharmacists in the United States have the authority to provide immunization services, I was shocked and amazed by the scope of practice that pharmacists in the United States have," Liao says.
Throughout this project, Ford says it's been an honor to watch Liao grow as a researcher, and he looks forward to seeing what she does next.
"Some of this work around using pharmacists as inroads to vaccinate communities may be helped by the efforts that are being currently made to provide COVID-19 vaccinations through pharmacists."
—Jay Ford
"You can see the growth and the competence that she was building throughout this innovative project," Ford says. "And knowing that in some minor way we were contributing to that was the most rewarding part of being involved."
As a next step with this investigation, Ford says researchers could reach out to some other vulnerable populations and identify what factors go into their decision to get vaccinated and how pharmacists can support these populations and their unique needs.
"Some of this work around using pharmacists as inroads to vaccinate communities may be helped by the efforts that are being currently made to provide COVID-19 vaccinations through pharmacists," Ford says. "But the potential future for this is to continue to illustrate that pharmacies offer unmatched convenience and expertise to provide these immunizations to older adults, and they are positioned to make a tremendous impact."