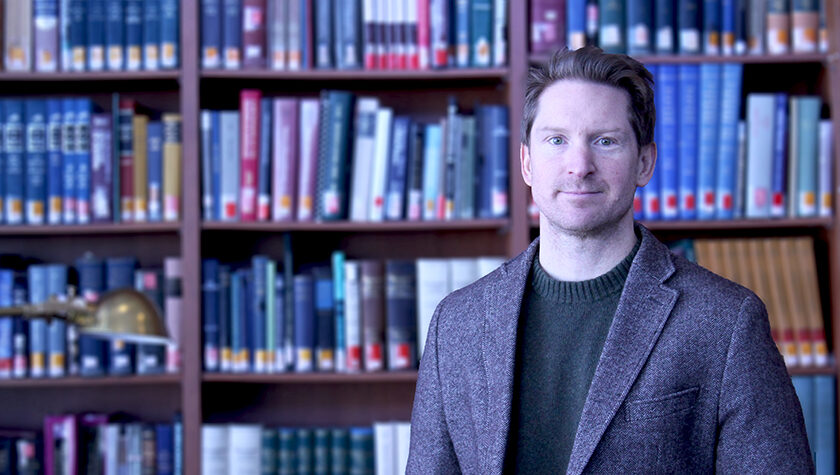 5
June
In a Q&A, Associate Professor Lucas Richert discusses his newest book that explores the social and regulatory evolutions surrounding cannabis
By Mary Magnuson
History hints that cannabis was first used by humans at least 2,500 years ago as part of religious rituals in western China. It has since made its way around the world, in turn being revered as a medicinal substance and shunned as an illegal drug.
As marijuana teeters on the cusp of federal legalization and the debate about its therapeutic applications heats up, many states have taken matters into their own hands and legalized or decriminalized it on their own. But is that the right answer?
Should cannabis be legalized and taxed? Should it be available as a therapy for patients? Is it a "dangerous" drug? These are some of the questions being asked, says Lucas Richert, associate professor in the Social and Administrative Sciences Division of the University of Wisconsin–Madison School of Pharmacy.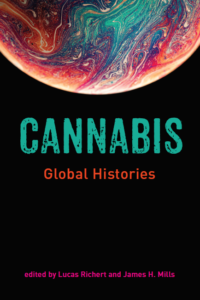 "Countries all across the planet have wrangled over cannabis policies stretching back hundreds of years," says Richert, George Urdang Chair in the History of Pharmacy.
In August 2021, Richert is releasing his newest book, Cannabis: Global Histories, which is an edited collection of writings that dives into the history of cannabis across continents, countries, and centuries.
This is Richert's third book in as many years: He released Break on Through in 2019, which explored the counterculture and history behind psychiatry and the introduction of cannabis and psychedelic drugs like LSD and MDMA into treatment. Earlier that same year, he published Strange Trips, which focused on the intersection of legitimate and illegitimate drugs and how these definitions morph through time.
But this has been his biggest project yet, as he and his co-editor James Mills — a professor at the University of Strathclyde in Glasgow and one of the first historians to study cannabis — had to track down a set of authors to contribute.
"The new book tries to understand the economic, social, and medical aspects of cannabis not only in the U.S., but in different places around the world, from India to Iran, from Afghanistan to Africa," he says.
Inspired by much of the policing around cannabis and the 1930s film Reefer Madness, this book takes a holistic look at the drug through a set of different perspectives and contextualizes how we arrived at today's debate, Richert says.
"Western colonialism shaped and disseminated ideas about cannabis in the 19th century that came to drive the international control regimes of the 20th," he says.
In a Q&A, Richert shares more about the creation and content of his upcoming book.
---
What can readers expect to learn from Cannabis: Global Histories?
I hope it finds a large audience — not only here in Wisconsin, where the issue of legalization recently gained a foothold, but beyond. When you do a deep dive into the global history of cannabis, there are some common themes that you can easily identify. These have to do with race and ethnicity, medical expertise, and taxation.
First, cannabis prohibition arguments and cannabis laws have never, ever been completely color-blind or entirely neutral.
Second, we aren't talking about a process of medicalization right now; we are talking about a process of remedicalization. The first serious attempts to study cannabis as a medicine occurred in the 1830s. Medical knowledge about cannabis has been really contested.
Third, commercialization and corporatism have long histories when it comes to cannabis. Policies about cannabis should be evidence-based and decision-makers should be taxing it at an appropriate level.
Why are these topics relevant today?
Policy decisions around cannabis will impact what some people call "Big Marijuana," potential tax revenue, and public health. Cannabis regulation will impact the carceral state, policing, political calculations, and mark a major break from the past.
"Countries all across the planet have wrangled over cannabis policies stretching back hundreds of years."
—Lucas Richert
Historical records show us that cannabis prohibition laws have been used as weapons at times to maintain control of certain populations – and the way people might behave. Here in Wisconsin, the enforcement of cannabis laws have disproportionately affected persons of color, which is the case in many US states.
With respect to pharmacists and other health professionals, the history of cannabis is an educational resource full of nuance that will be helpful in practice, regardless of whether cannabis is recognized as a therapeutic.
Can you tease an interesting anecdote to give us a sense of what we'll learn?
One anecdote? Considering we are in the midst of pandemic, I'll note that certain individuals have argued cannabis cures COVID-19. This is just a reminder that we need to take the science and history seriously.
Is there another book planned?
The global history of cannabis is more complex and nuanced than we could completely unravel in a single book. I'm currently debating when to kickstart a second volume to dive into some of the periods and places that did not make it into this volume — so, yes!