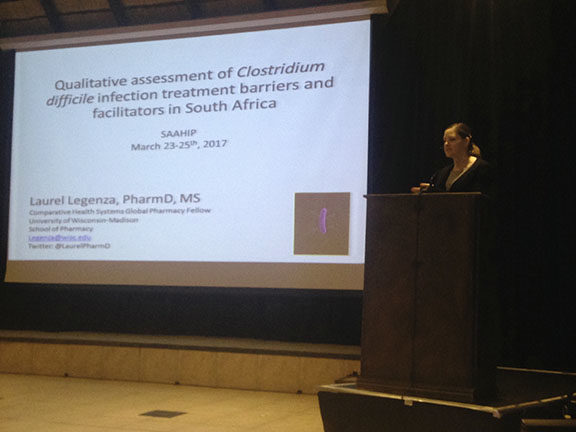 22
April
UW-Madison Comparative Health Systems Global Pharmacy Fellow Laurel Legenza presented the results of the baseline analysis of Clostridium difficile (C. diff) infection in South Africa as a podium presentation at the South African Association of Hospital and Institutional Pharmacists (SAAHIP) 2017 Conference.
The quality improvement project is providing previously unpublished data about C. diff infection in South African district level hospitals, utilizing both quantitative data and qualitative interview data. From this assessment, Legenza and colleagues designed and implemented a checklist to improve the identification and treatment of C. diff infection. Research is ongoing in the Western Cape with the analysis of post-intervention data. Fourth year pharmacy students from UW-Madison and University of the Western Cape (UWC) were also involved with the project including baseline data collection.
Fellowship mentors at UW-Madison School of Pharmacy include Warren Rose and Susanne Barnett, associate professors (CHS), in the Pharmacy Practice Division. From the University of the Western Cape mentors include Professor Angeni Bheekie and Dr. Renier Coetzee.
Legenza attended SAAHIP as an observer with her collaborators from the Western Cape Province. The Western Cape Province won the spirt award for their contributions at the conference, including award winning presentations and participation in sessions. The "Our Journey – Lift Off" themed SAAHIP conference concluded with an "out of this world" space themed closing gala. SAAHIP is a sector of the Pharmaceutical Society of South Africa (PSSA). The conference was held March 23-26 in Central Drakensberg, Kwazulu-Natal, South Africa.