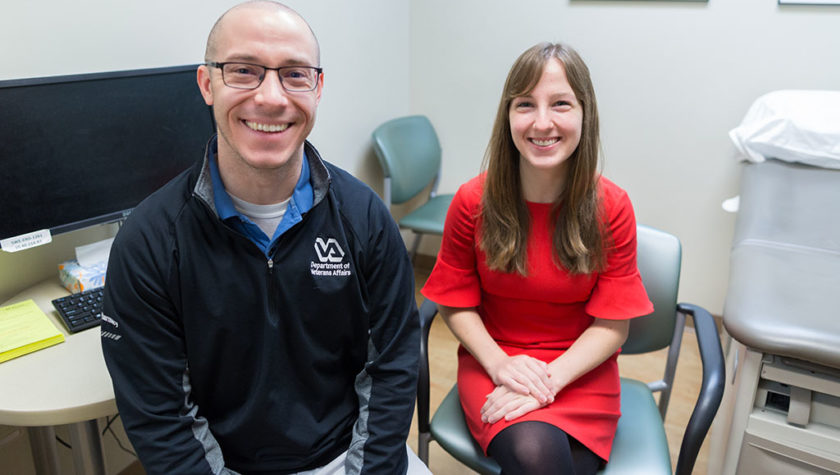 28
March
By Katie Ginder-Vogel
Photos by Todd Brown
Two pharmacy residents and University of Wisconsin–Madison School of Pharmacy alumni, Katie Kuecker (PharmD '17) and Andy Cannon (PharmD '17) are spearheading the development of a new, more engaged role for pharmacists at the Southside MEDiC clinic in Madison, Wis. Every Saturday, except on major holidays, the UW MEDiC student-run free clinics provide free patient care to Madison residents who otherwise might go without.
Historically, a pharmacist staffed each clinic once a month as a secondary advisor. Now, volunteer pharmacists have been more fully integrated into the Southside MEDiC clinic, working as part of the interprofessional health care team with UW–Madison pharmacy, medical, and nursing students, as well as students from the university's physician assistant and doctor of physical therapy programs.
Moving pharmacists from the periphery into the patient care team
At the Southside MEDiC clinic, pharmacists now provide more direct patient care, participate in clinical decision-making, and advise student volunteers. Student volunteers conduct an initial patient interview in groups of two, ideally each from a different discipline, then discuss the case with one of four volunteer physicians and a volunteer pharmacist. This establishes an interdisciplinary care team, in which the pharmacist is always involved.
"We discuss various pharmacotherapy options for patients and choose the best option, based on the situation, cost, follow-up, and availability," says Cannon.
"Medical students do value what pharmacists can uniquely bring to patient care." –Katie Kuecker
Previously, the pharmacist would only be brought in to answer specific questions about drug information and medication dispensation. Because cost is an issue for many MEDiC patients, the pharmacist's role there often involved looking up which pharmacies offered prescribed medications for less than $5.
"It was more of a peripheral role, helping to fill prescriptions and look up cost-effective medication options," Cannon explains. "Now, one pharmacist provider works at the clinic every weekend and is more integrated into the staffing model to enhance patient care."
Brainstorming ways to change the status quo
When Kuecker was a pharmacy student in the UW–Madison School of Pharmacy's PharmD program, she volunteered at the Southside MEDiC clinic as the referrals coordinator her second year, the pharmacy intern her third year, and administered flu vaccinations her fourth year. Kuecker also holds a degree in Spanish, and because Southside MEDiC clinic has the largest Spanish-speaking patient population among its clinics, Kuecker appreciated being able to combine her pharmacy health care interests and Spanish language skills to help provide patient care in Madison, where she grew up.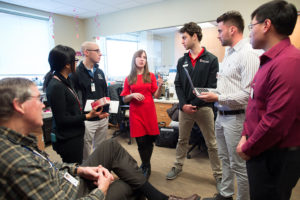 "I wanted to stay involved and give back during my residency," says Kuecker.
Kuecker and Cannon connected as ambulatory care pharmacy residents at the William S. Middleton Memorial Veterans Hospital, where they often talked with their manager, Ellina Seckel, about volunteering at the Southside MEDiC clinic, and how they could advance the role of ambulatory care pharmacists beyond the hospital.
"Dr. Seckel asked us what we could do to give pharmacists more of a provider-type role," says Kuecker.
For her part, Seckel knew Kuecker and Cannon had the leadership skills they needed to put their ideas into action.
"Dr. Kuecker and Dr. Cannon have the passion, strategic thinking abilities, and the desire to optimize patient care," says Seckel, the associate chief of Ambulatory and Specialty Care in the pharmacy department at the Madison VA. "These characteristics make them successful in working collaboratively and convincingly to advance pharmacy practice. I know this is just the start of their leadership in the profession."
Inspired, Kuecker and Cannon met with the Southside clinic coordinators at the MEDiC student-run free clinics, second-year PharmD student Lizeth Garcia-Jennings and medical student Mireya Taboada, who supported the idea of integrating pharmacists into the clinic's patient care model.
Proposing a change
Kuecker shadowed Karen Kopacek, associate professor in the Pharmacy Practice Division and associate dean of Student and Academic Affairs at the School of Pharmacy, who has worked as a volunteer pharmacist at the Southside clinic since 2015. Kuecker then solicited feedback from current students, medical directors, staff, and providers about the best way to integrate pharmacists into the clinic.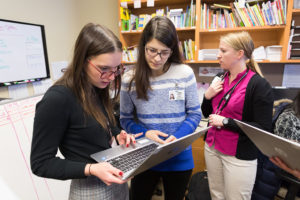 Kuecker and Cannon wrote a proposal advocating the inclusion of a pharmacist at every weekly clinic, rather than just once a month, to answer questions and help patients get used to having a pharmacist regularly available as a health care resource. Kopacek served as an unofficial advisor for the proposal, offering her firsthand perspective and ideas, as well as raising potential issues.
"Dr. Kopacek provided quality feedback to make sure our proposal would be successful," says Kuecker. "She has been an integral part of MEDiC and the pharmacist integration at Southside."
"I was excited about increasing the frequency of volunteering at MEDiC because I felt that students missed out on a unique opportunity to work with a pharmacist when we only volunteered once a month," says Kopacek. "All students and providers have been incredibly supportive of having a pharmacist at the clinic because we have created an interprofessional health care team that successfully utilizes the different expertise each practitioner brings to patient care."
Kuecker and Cannon also hashed out what the role of a pharmacist could look like with the three MEDiC administrators before submitting their proposal to MEDiC's medical directors, president, vice president of development, and vice president of finance, who are all medical students.
Shortly thereafter, they learned that the MEDiC student leadership wanted to do a two-week pilot, which began in November 2017.
Piloting the integration
PharmD student Lizeth Garcia-Jennings says the pilot clinics received a positive response from both longtime Southside clinic volunteers and new volunteers in very role.
"It was seamless," she says. "Everybody integrated really well, it felt really good, and you could see that everyone was working well together. We got such great feedback from the pilot."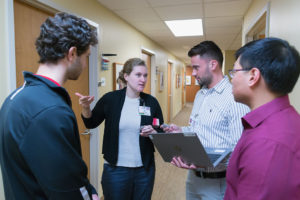 Kuecker asked volunteer physicians and students how they felt the pharmacist fit into the team during the pilot. Some were surprised to see pharmacists in a clinical role, rather than a more traditional dispensing role.
"MEDiC has been traditionally run by medical students," Kuecker explains. "They're trying to increase the pharmacist presence by giving them a role in the clinic and see them grow in that area because they do value what pharmacists can uniquely bring to patient care."
Kuecker and Cannon gathered feedback from students, pharmacists, and medical directors, one of whom became convinced of the value provided by a more integrated pharmacist presence.
"The pharmacists were awesome!" said one physician. "It really seemed like the students got extra benefit in terms of teaching, and we were able to make our care for these patients just that much better from the support. Providers who are willing to call a pharmacist and put two heads together do a better job and are less burned-out than those who try to fly solo and try to 'know everything'."
The overwhelmingly enthusiastic feedback allowed the program to move from pilot to full launch.
"We wanted to see if having a pharmacist available while students were working with their patients would be useful," says Cannon. "We received positive feedback from the physicians involved, as well as the students, and were able to make this a possibility."
Officially bringing pharmacists into the clinical setting
In December 2017, a weekly pharmacist presence was integrated officially into the Southside MEDiC clinic and, by all accounts, has been successful.
"In interactions with students and providers, when we give a rundown of what pharmacists can do, providers are really open to it," says Kuecker. "They've been on board with it and are great to work with in clinic, asking questions, listening, and involving pharmacists."
Cannon says he thinks the integration helps more medical students see the value pharmacists can bring to a primary care clinical setting.
"They can see us interact with physicians to deliver the best care possible to patients," he says. "I have learned that pharmacists can play a crucial role in this type of primary care setting by not only answering patient concerns, educating patients, and empowering them to better manage their health, but also use our expertise to support physicians."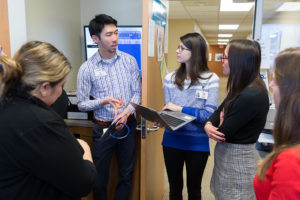 Kuecker says they've already been able to provide unique teaching points for providers and students, by taking a second look at medications and encouraging providers to address chronic conditions, even when patients come to the clinic to be treated for an acute condition.
"We are well-equipped to manage chronic disease states, so even though Southside is a more acute clinic, they also see acute conditions on top of chronic diseases," she explains. "If someone comes in for an ear infection (acute), but they also have elevated blood pressure (chronic), the pharmacist can encourage addressing that chronic condition of hypertension and ask additional clarifying questions," says Kuecker.
Garcia-Jennings has observed pharmacists' ability to educate volunteers from other health care disciplines firsthand.
"At one clinic, Dr. Kuecker discussed the current diabetes medication guidelines with volunteer pairs and providers and allowed everyone to learn and give input, while she taught them all something new," says Garcia-Jennings. "Students from every health care discipline are able to vocalize how much they're learning from these pharmacists that they haven't learned in any other experience, and the providers are just as excited."
"Volunteering at MEDiC invigorates my teaching and strengthens my commitment to patient advocacy." –Karen Kopacek
Kuecker and Cannon recruited pharmacists to volunteer and trained them to get ready for the go-live date of early December. Current volunteer pharmacists include School of Pharmacy faculty members Kopacek, Eva Vivian, and John Dopp; a School of Pharmacy alumni pharmacist; and residents from the VA, SSM Health, and Monroe Clinic.
"We started out by inviting pharmacy residents in the Madison area to volunteer, so our main volunteer population is residents with an interest or focus in ambulatory care pharmacy," explains Kuecker. "We are always looking for more pharmacists who are interested in volunteering, so that we can continue to expand our services to have more than one pharmacist at each clinic or expand to some of the other MEDiC clinics in the area."
If there's a big enough volunteer pool, Garcia-Jennings ultimately hopes to integrate three volunteer pharmacists into each clinic, to form pairs of volunteer pharmacists and volunteer physicians.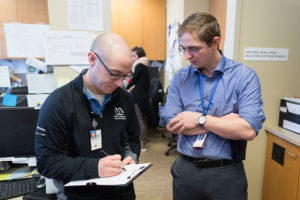 "Ideally, we'd have one pharmacist with each of the three volunteer physicians, to form a team," she says. "It's been great to see more integration of pharmacy into the clinic. We've heard praise from volunteers, students, and clinician providers."
Kopacek is one of the providers who has been delighted to see the positive effects of having pharmacists at the clinic more frequently.
"Pharmacists have helped student teams take more thorough medication histories, ask patients about medication side effects, consider cost when selecting drug therapy, screen for potential drug interactions, and provide more complete medication education," says Kopacek.
"What I love about MEDiC is the opportunity to learn from the other professions, while working collaboratively to improve the health of patients and families. Volunteering at MEDiC invigorates my teaching and strengthens my commitment to patient advocacy," Kopacek adds.
Contributing to the Wisconsin Idea
Kuecker and Cannon feel they're contributing to the Wisconsin Idea by integrating pharmacists into the Southside MEDiC clinic.
"To me, the Wisconsin Idea revolves around service—serving others through the knowledge we have gained throughout our UW education to better our community," says Cannon. "The School of Pharmacy's role in MEDiC is just that.
"Not only are we volunteering our time to better the health of the underserved populations in Madison, but we are also able to give back to the School itself by fostering growth in this organization and empowering future MEDiC volunteers to become more involved. Pharmacy students are in a great position to be able to help these patients and further prove the worth of pharmacy in the primary care setting," he notes.
"The Wisconsin Idea is all about taking what you learn in the classroom and spreading it to others," says Kuecker. "We are well-trained to practice at ambulatory care clinics in a clinical role, and we get to take the skills we learned at the School of Pharmacy and enact a change that elevates pharmacists' status and patient care, and also impacts student learning."
Cannon and Kuecker will be tracking the interventions they have made over time to see the impact they have on patients.
"Pharmacy students are in a great position to be able to help these patients and further prove the worth of pharmacy in the primary care setting." –Andy Cannon
"We can serve as a resource for patients, and when asking a question on a topic, they are able to see how different health care professionals go about answering that question," says Cannon. "Sometimes it may be the same; often, it is different, and when it is, combining the two thought processes can lead to the best care possible."
The two alumni pharmacy residents hope the integration of pharmacists into the clinical setting moves the needle on redefining pharmacists' role in patient care.
"Primary care itself is very patient-centered," says Cannon. "Working in this clinic is unique, as there are a lot of variables to take into account to ensure we are providing patient-centric care. It will be crucial for pharmacists to have this skill set in the primary care setting.
"By proving pharmacist value in the primary care setting, we will be able to empower future advancement in this area."
Become a volunteer pharmacist at Southside MEDiC clinic by emailing Kristi Jones at kfjones@wisc.edu.
Learn more about the School of Pharmacy's Community Pharmacy Residency program or the William S. Middleton Memorial Veterans Hospital's Pharmacy Residency program.