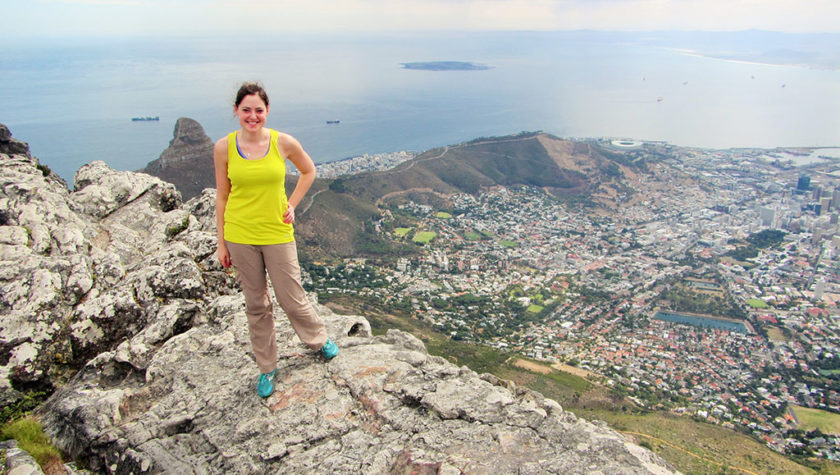 7
September
PharmD alum Laurel Legenza takes aim at antimicrobial resistance and C. difficile
Standing in the humid ocean breeze atop Table Mountain in South Africa, the South Atlantic Ocean to one side and the sprawling city of Cape Town to the other, Laurel Legenza (PharmD '13) feels proud of the work she's accomplished there, knowing that Cape Town will be a bit healthier than when she first arrived three years before.
"It has been a privilege to conduct international research, design a project tailored to the local community, and witness the sustainable change," says Legenza.
As the Comparative Health Systems Global Pharmacy Fellow at the University of Wisconsin–Madison School of Pharmacy, Legenza has spent the past three years orchestrating concurrent health systems improvement projects on two different continents.
In South Africa, that translated into supporting their health system's timely identification of and response to a common but serious and locally understudied infection: Clostridium difficile (C. difficile), which is regarded as an urgent health threat by the Centers for Disease Control. In Wisconsin, it meant creating a first-of-its-kind hyperlocal map of antimicrobial resistance to help physicians treat patients with the right antibiotic at the right time.
"To me, global health means improving the health of all populations and providing equitable health care to everyone, which can be applied here in Wisconsin as well as internationally." –Laurel Legenza
Both of those projects will continue, as she's now the interim director of the School of Pharmacy's Office of Global Health, following the retirement of former Director Connie Kraus. "I am proud of the research foundation and relationships I formed with South African collaborators at the University of the Western Cape (UWC) and within each hospital involved with the project," says Legenza. "I believe these partnerships are life-lasting, and I look forward to continuing to foster those relationships as interim director."
Commitment to international health
The range of the UW–Madison School of Pharmacy's international opportunities for PharmD students is expansive, starting in students' first year with faculty-led field courses abroad, and continuing through their fourth year, when the student pharmacists can sign up for an international Advanced Pharmacy Practice Experience (APPE).
"When I was looking at pharmacy schools—and I applied to a lot of schools—I saw how robust the international options were here in Madison, and that was what really what helped me decide." As a student in the PharmD program at the School of Pharmacy, she was the first student to complete an international APPE rotation in Spain, which was her second visit to the country.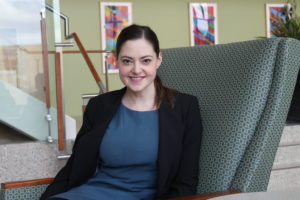 "I had always been interested in intercultural collaboration, so even while I was pursuing pre-pharmacy prerequisites as an undergraduate at UW–Stevens Point, I also studied abroad in Spain for six months," says Legenza. "That made my return visit as a pharmacist in training that much more rewarding."
After graduating from the School of Pharmacy, she completed a residency through the University of Utah Health, and then earned her master of health-system pharmacy administration, which included a quality improvement research project—in perfect alignment with the goals of the UW–Madison School of Pharmacy's Global Health Fellowship.
"I was excited to spearhead collaborative international research and health systems improvement in both Wisconsin and South Africa," says Legenza. "I knew these projects would foster my passion for intercultural collaboration while applying my skills in health systems."
"Being involved in global health takes a lot of self-confidence to speak on your own behalf and to talk to people about big ideas that haven't been done before, and you need the ability to take a risk, knowing that the project might go nowhere," says Trisha Seys Ranola (PharmD '02), assistant director of the School's Office of Global Health. "Laurel has both of those important traits, and we're very proud of what she's been able to accomplish."
Off to South Africa
During her first visit to UWC, which partnered on the project and has a deep, longstanding relationship with the UW–Madison School of Pharmacy, Legenza built relationships with her mentors at UWC School of Pharmacy, Professor Angeni Bheekie and senior lecturer Renier Coetzee, and learned about the community's needs.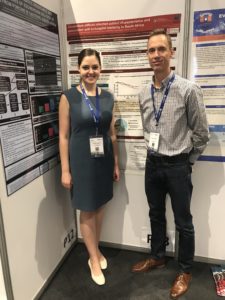 After conducting a needs assessment and working with local practitioners, Legenza and her collaborators decided to design and implement an intervention to ensure appropriate treatment of C. difficile, a bacteria spread through contact with contaminated people or surfaces that can overgrow in the gastrointestinal tract and cause diarrhea. Antibiotics, many of which don't affect C. difficile, can suppress natural gut bacteria and allow for the proliferation of C. difficile. It's a potentially fatal infection, particularly among patients with immunocompromising conditions.
Legenza led the first epidemiology, management, and outcomes study for C. difficile infection in sub-Saharan Africa. The study, published in BMJ Global Health, found a 29 percent in-hospital mortality rate with C. difficile and identified tuberculosis as an additional risk factor for the infection. To combat the shockingly high mortality rate, Legenza and her collaborators designed an intervention—a checklist to enhance C. difficile infection identification and management, covering quality of care measures such as rehydration, contact precautions, and appropriately starting an antibiotic.
Three months after helping to implement the interventions, Legenza returned to Cape Town to see if the health system would maintain the intervention and to collect data. This early data is showing a trend toward improved patient outcomes. For example, adherence to contact precautions increased from just 36 percent before the intervention, to 86 percent. Oral rehydration also more than tripled, from 12 percent to 43 percent.
Legenza presented the baseline results at the 2017 Federation of Infectious Disease Societies of South Africa, an international conference held in Cape Town, which was just one of various presentations she's given on issues ranging from antimicrobial stewardship to the quality improvement role of a pharmacist.
"The most rewarding part was to be able to communicate these results back to the local providers," says Legenza. "They were so grateful to have this research and collaboration and also to see the improvement that the intervention is making in their community's health."
Global health at home
Global health issues are unfolding in our own backyards and communities, which is why Legenza also led a local project with the potential to improve Wisconsinites' health care.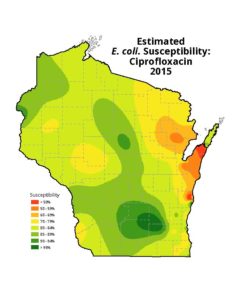 "To me, global health means improving the health of all populations and providing equitable health care to everyone, which can be applied here in Wisconsin as well as internationally," says Legenza.
Simultaneously with her South Africa work, she started a Wisconsin-based antimicrobial stewardship program. Legenza's idea, as covered in the Wisconsin State Journal, maps antibiotic resistance across the state to help doctors prescribe the most appropriate antibiotic at the right time for the right patients. Associate Professor Warren Rose and Associate Professor Susanne Barnett (PharmD '04) in the Pharmacy Practice Division of UW–Madison School of Pharmacy are investigators on the project and serve as Legenza's research mentors.
"Antimicrobial resistance is a threat to everyone, here in Dane county, across Wisconsin, and also in South Africa. It's a problem that doesn't have boundaries, and resistance can transfer very quickly between regions," says Legenza.
To build these maps, in cooperation with the State Cartographer's Office and the UW–Madison Department of Geography, she has been collecting antibiogram data and aggregating this previously diffuse data into an interactive tool to present health care providers with easy, accessible, and timely antibiotic resistance data in the form of maps.
These first-of-their-kind maps could be a huge step forward in Wisconsin's battle against antibiotic resistance, which could serve as a model for a national mapping project. "These maps are an example of our global health work here in the UW–Madison School of Pharmacy that will benefit everyone," says Legenza.
With the Centers for Disease Control's recent report finding 221 instances of unusual resistance genes in "nightmare bacteria," the mapping project is unfolding at a crucial moment for the future of antibiotic efficacy.
"It's a problem that continues to gain momentum and public acknowledgement, and the rise of public concern from large organizations is creating an environment where we can start making dramatic changes," she says.
Continuing health-system improvement
Legenza and the team behind the antimicrobial resistance mapping project are actively recruiting more health systems to collect more thorough data, and she plans to scale the C. difficile intervention nationally in South Africa based on the results of her baseline study and tailor it to serve additional patient populations in need of improved infection identification and treatment.
"I believe these partnerships are life-lasting, and I look forward to continuing to foster those relationships." –Laurel Legenza
Legenza will present the results of that intervention at the International Pharmaceutical Federation World Congress in Glasgow, Scotland, in September 2018.
"I became a pharmacist because it's a wonderful opportunity to be engaged in health science, while at the same time having the opportunity to be very closely engaged with patients and have the expertise in how medications can improve health," says Legenza. "My work through the UW–Madison School of Pharmacy has been an exciting realization of those goals."
Read more about Legenza's work on the ground-breaking antibiotic resistance mapping project.
Learn about the School of Pharmacy's international opportunities for PharmD students.