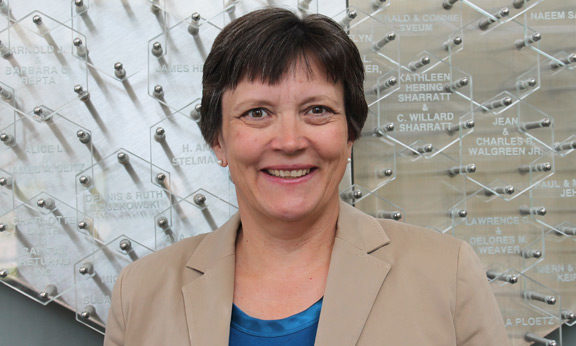 7
April
Mary Hayney, professor (CHS) in the Pharmacy Practice Division, received the 2017 Curtis A. Johnson Award for her contributions to The Journal of the Pharmacy Society of Wisconsin. Hayney was selected for her consistent contributions of high-quality, informative articles regarding vaccinations with relevant updates and practice pearls. In addition, Hayney also regularly inspires students to gain experience in writing for The Journal.
The Curtis A. Johnson Award recognizes an outstanding contributor to The Journal of the Pharmacy Society of Wisconsin during a calendar year. This may include an author(s) who submitted a manuscript that advances the practice of pharmacy or an individual who contributed significantly to the annual editorial plan of The Journal. The selected author(s) or contributor is chosen by members of the The Journal Editorial Advisory Board and Pharmacy Society of Wisconsin staff.
Hayney was formally recognized at the PSW Educational Conference held April 7, 2017 in Madison, Wis.