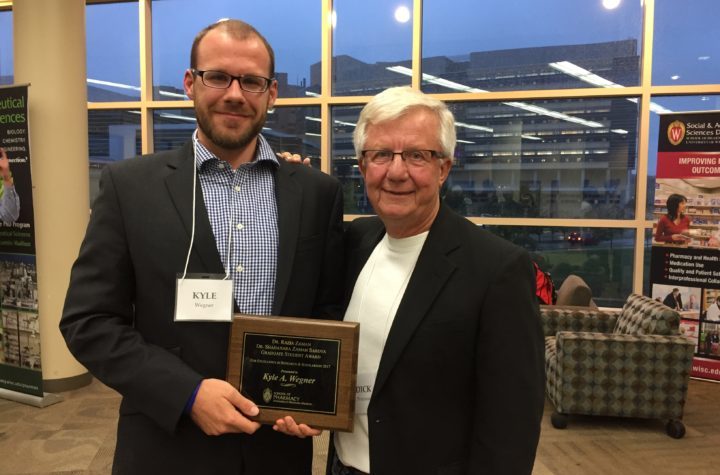 4
December
By Zoe Andrews
The University of Wisconsin–Madison School of Pharmacy graduate programs in pharmaceutical sciences and in social and administrative sciences attract top graduate students. In recognition of the many talented students in the School's graduate programs, a reception was held in October to honor the recipients of the School's annual graduate awards and fellowships.
"Graduate students are essential in carrying out the School's missions of research and teaching, and this annual event serves to emphasize their value to the School community," says Ken Niemeyer, graduate programs coordinator at the School of Pharmacy.
Along with faculty, staff, and fellow students, Professor Emeritus George Zografi was there to celebrate. Zografi served as dean of the School from 1975-1980, and after receiving numerous recognition nationally and internationally, retired in 2002. The George D. Zografi Educational Advancement Fund was established in his honor, allowing Pharmaceutical Sciences Ph.D. students to gain experience in the Zeeh Pharmaceutical Experiment Station.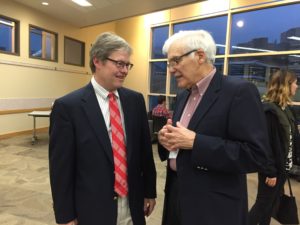 This year's reception also celebrated a record-setting number of first-year graduate students—29 in total with:
"It is largely due to the financial generosity of private donors, alumni, and friends of the School that such a large first-year class is economically possible," notes Chuck Lauhon, assistant dean of Graduate Studies and associate professor in the Pharmaceutical Sciences Division at the UW–Madison School of Pharmacy.
Congratulations to the following award and fellowship recipients!
2016-2017 Pharmaceutical Sciences Graduate Student Travel Awards
The Donald Witiak Travel Awards (Drug Discovery): Jiaxuan Yan and Ka Yang
The Joseph Robinson Travel Awards (Drug Delivery): Chengbin Huang and Niyanta Kumar
Drug Action Graduate Travel Awards (fundraising led by Al Collins and Ken Miller): Yu Feng, Michelle Pizzo, and Li Xuan Tan
2016-2017 Joseph Wiederholt Fellowship in Social & Administrative Pharmacy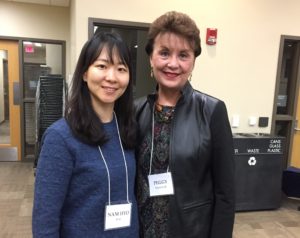 2016-2017 Clarence Sondern Fellowship in Social & Administrative Pharmacy
2016-2017 Zaman-Saroya Graduate Award for Excellence in Research & Scholarship
Kyle Wegner (Molecular & Environmental Toxicology)
2016-2017 William J. Tillman Teaching Assistant Award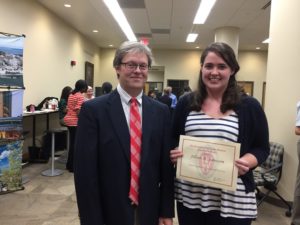 This award recognizes the efforts of graduate students serving as teaching assistants. It was the second year of the award, established by the family of Dr. Tillman, a 1960 graduate of the School of Pharmacy Pharmaceutics Ph.D. program.
Also recognized for teaching excellence were Yen-Ming Huang, Hao Li, Joohyun Park, and Pawel Zbyssynski.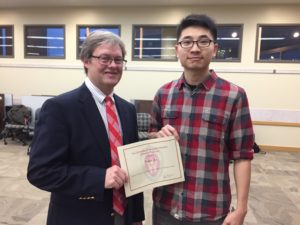 Photo Gallery: 2017 Graduate Awards Reception
Learn how you can support School of Pharmacy students with awards, scholarships, and fellowships.