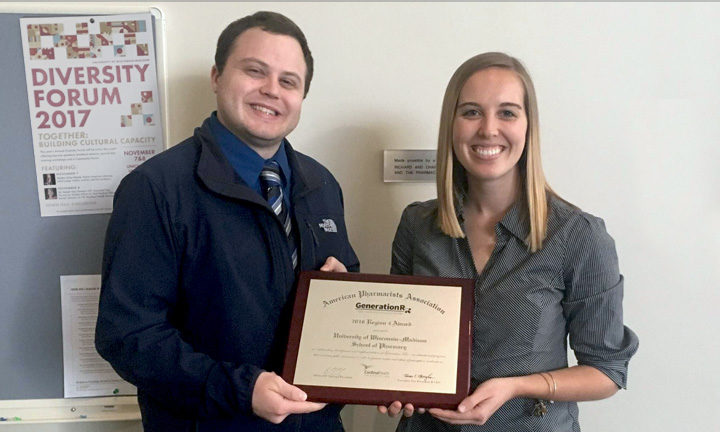 2
December
PharmD students recognized with regional APhA award
By Katie Ginder-Vogel
Pharmacy students can be powerful advocates for medication safety and help fight the opioid epidemic among teens and young adults. Matt Huppert and McKinsey (Kinsey) Clark, third-year PharmD students at the UW–Madison School of Pharmacy, took on the cause with a comprehensive outreach program as part of an initiative called Generation Rx.
The American Pharmacists Association (APhA) added the initiative of promoting medication safety through Generation Rx to existing operations, which meant that every university that participates in APhA is expected to host a Generation Rx division. Since 2012, the Wisconsin Society of Pharmacy Students (WSPS) has led the Generation Rx program at the UW–Madison School of Pharmacy.
WSPS appointed Huppert and Clark to lead the initiative. And Huppert and Clark delivered.
The UW–Madison School of Pharmacy won the Generation Rx Region 4 award from the APhA for the 2016-2017 school year in recognition of their outreach throughout Wisconsin, combined with their outreach to the campus community. Huppert and Clark were selected out of teams from 25 schools—every pharmacy school in the six states of Kentucky, Ohio, Indiana, Illinois, Michigan, and Wisconsin, a region with highly competitive schools.
Educating the next generation
The overarching goal of Generation Rx is to promote the safe utilization of medications and prevent medication misuse and abuse throughout the community. Generation Rx volunteers educate students on major abuse classes, such as opioids, benzodiazepines, dextromethorphan, and stimulants, by giving presentations to high schools, elementary schools, and college organizations; providing information at health fairs; and collaborating with local health organizations.
In Wisconsin, Huppert and Clark's goals were to educate as many students in the state, of all ages, as possible about prescription misuse and abuse, with a focus on opioids; and to attract new people, such as elementary school students and parents of high school students, to health fair booths.
Huppert and Clark met throughout the summer to plan events, recruit volunteers, and plan for the year's initiatives. They prepared a three-pronged approach:
giving presentations at schools around the state;
attending health fairs; and
collaborating with the PATCH program in the city of Madison, which educates high school students about different aspects of health care.
With their Generation Rx program, Huppert and Clark served as advocates for teen health and access to health care as well as helping healthcare providers understand what it's like to be a teenager navigating the healthcare system.
"We educated the teens on prescription misuse and abuse and answered questions about how to navigate a pharmacy," says Huppert. "We also talked about how pharmacists are a very accessible resource for them to ask questions about their health."
For their outreach on the opioid epidemic that was declared a national health emergency in 2017, they focused on the new standing order for naloxone in Wisconsin and created a pamphlet to hand out at community health fairs that describes how to receive a free naloxone auto-injector from the manufacturer, if needed by patients who are uninsured or whose insurance doesn't cover the medication.
"My interpretation of the Wisconsin Idea is that by receiving our education through the university, we should utilize this education to give back to the community." –Kinsey Clark
Volunteering across the state
Huppert and Clark recruited and trained 55 PharmD students to volunteer for Generation Rx, encouraging them to reach out to schools and organizations in their hometowns to give presentations. Several volunteers, including PharmD students Kayla Huebner (DPH-4), Michael Heltne (DPH-2), and Griffin Budde (DPH-2), took the initiative to travel back to their respective hometowns and present on medication safety.
"Kayla Huebner really stood out, as she presented to her old high school health classes every year throughout her time spent in pharmacy school, and even extended her presentations to her hometown middle school," says Clark.
"Griffin Budde gave a presentation on prescription abuse to the entire UW–Oshkosh college football team and led many high school presentations in Madison, and Michael Heltne did many presentations in the Eau Claire area."
Clark reached out to every UW–Madison organization she could think of, running up against the challenge of approaching groups also run by busy college students, but she was able to book presentations to the engineering fraternity Kappa Eta Kappa and to the Pre-School of Pharmacy Club.
"It was difficult to get collegiate organizations to respond because most are run by students themselves who are very busy and may not necessarily see the benefit of a program about prescription drugs," says Clark. "However, we were very excited about the outreach that we did complete."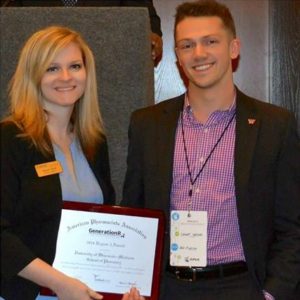 Outreach success
The data illustrates the true success of Huppert and Clark's efforts. They estimate that Generation Rx volunteers reached 1,900 people through 65 presentations and five health fairs, engaging an average of 26 students at each presentation and an average of 42 people at each health fair. And their volunteers represent 16 percent of the total WSPS membership.
Huppert and Clark submitted those numbers, broken down for each event and tracking every community member, student, and volunteer in attendance, to the award selection committee, along with a 3,000-word essay that explained their planning, innovation, and implementation process, as well as their outcomes for the year. Clearly, they impressed the APhA selection committee.
"The APhA award is exciting because it highlights and promotes our School of Pharmacy and all that the PharmD students do here," says Huppert.
Commitment to the Wisconsin Idea
Clark and Huppert have big plans for Generation Rx in the next school year (2017-2018), when Huppert and Michael Korlarchek (DPH-2) will lead the group. A team of interested general members will be assigned to regions in the Madison area, as a way to enhance communication and help general members feel more connected to Generation Rx. They're also counting on the group to maintain a high number of college and high school presentations and to offer additional presentations to assisted living facilities and a booth at the Henry Vilas Zoo in Madison, to engage younger families.
Their work with Generation Rx reflects their support of the Wisconsin Idea, the principle that education should influence lives beyond the classroom.
"My interpretation of the Wisconsin Idea is that by receiving our education through the university, we should utilize this education to give back to the community," says Clark, who will go on an international clerkship in Belize for one of her Advanced Pharmacy Practice Experiences (APPE) rotations next year to experience international pharmacy and do community outreach.
"I think that this is exactly what we are doing with Gen Rx. Students giving presentations are solely volunteers, taking time out of their hectic schedules as professional students to give back to the community," explains Clark. "Even more so, they are reaching outside of the city of Madison and positively impacting the entire state."
Clark, who holds a biology degree from UW–Madison, plans to pursue a residency in ambulatory care after graduation from the PharmD program.
"I really enjoy community pharmacy, and see myself in some sort of outpatient position," she says. "The communication and presentation skills that I've gained from Gen Rx will aid in my success wherever I land."
Huppert, who has a chemistry degree from UW–Madison, hopes to work in a rural hospital once he earns his PharmD degree. He plans to continue to work with the local schools in his community, become a preceptor for new pharmacy students, and develop a scholarship fund for those going into healthcare after graduating high school.
"I think working with Generation Rx has given me the skills to develop new ways to give back to the community I will settle down in after graduation," says Huppert. "I believe it is important to serve as a role model for your community and meet the needs of the underserved."