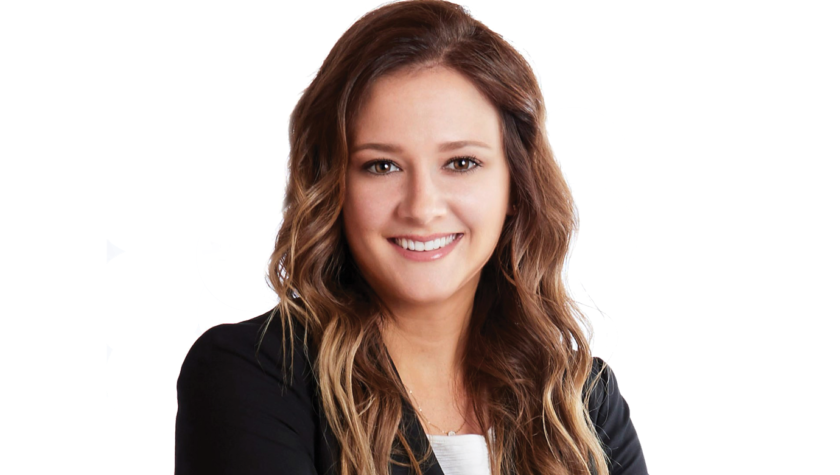 2
December
Alumna Alison Hill applies her background in research to help others protect theirs
By Katie Ginder-Vogel
There is a thriving industry devoted to the discovery and production of drugs—everything from life-saving chemotherapies and anticonvulsants, to common anti-anxiety and blood pressure medications. And there is another industry devoted to protecting those discoveries: intellectual property law.
Alison Hill (BS '11), a graduate of the University of Wisconsin–Madison School of Pharmacy's Pharmacology-Toxicology bachelor's degree program, took a working knowledge of the former and used it as the foundation for a career in the latter, as a lawyer specializing in intellectual property, which includes formal patents and trademarks, as well as informal and intangible creations of the mind. 
"I wanted a connection to the science and innovation that I was immersed in at the School of Pharmacy, but I also liked the idea of using my technical background in a different way," says Hill.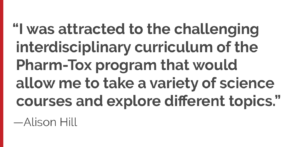 The Pharm-Tox program provides undergraduates in-depth experience in basic, biological, and physical sciences, and students have the flexibility to pursue the research that interests them most, such as biochemistry, animal science, entomology, chemistry, or pharmaceutical sciences. With this foundational knowledge, Hill was equipped with the tools necessary to wade into a legal world that would require a strong scientific grasp.
"One of the unique strengths of the Pharmacology-Toxicology degree is its flexibility through electives," says Professor Jeff Johnson, director of the program. "While taking the graduate-level science courses our curriculum offers, students can personalize the program and research experiences to help them get where they want after graduation."
Finding her niche
As an undergraduate student in the Pharm-Tox program, Hill took a host of challenging classes, diligently memorizing chemical mechanisms and enzyme reactions, molecular biology techniques, and chemical synthesis procedures.
"I was always very interested in science, so I was attracted to the challenging interdisciplinary curriculum of the Pharm-Tox program that would allow me to take a variety of science courses and explore different topics," Hill explains.
She knew she wanted to leverage these technical skills in her future career—although she wasn't yet sure what that would be.
She had considered taking her experience in research and pharmacology to medical school, which nearly a quarter (23 percent) of Pharm-Tox graduates choose to do, or a PhD program in the School of Pharmacy, which is another frequent choice among Pharm-Tox grads.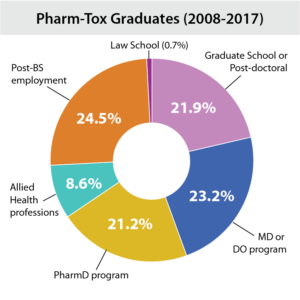 Then, during a seminar presentation, an instructor showed the students a pie chart of Pharm-Tox student outcomes. The largest portion of graduates, the chart indicated, went directly into the workforce, while the rest were nearly equally divided between medical school, pharmacy school, and graduate school, with some allied health professions mixed in.
But there was also a tiny sliver of the chart that piqued Hill's interest: law school.
"The idea of developing strategy and providing guidance to individuals and companies, to help them to navigate complex legal issues to protect their innovations, sounded really interesting," says Hill. So she entered law school at UW–Madison planning to focus on IP and health law.
She wanted to learn more about those areas of law for many of the same reasons she joined the health-science focused Pharm-Tox program at the School.
"The state of health care is always changing in the U.S.," says Hill. "I thought I might be interested in working with clients such as hospitals, to help them protect their operations and business needs as the industry undergoes growth and transition."
As a law student, Hill focused on health law and intellectual property (IP), the technical aspects of which she particularly enjoyed, and drew upon her Pharm-Tox technical knowledge, even publishing an article with the Wisconsin Law Review about the patentability of certain diagnostic devices that enable personalized medicine.
The frontier of health care research, it seems, has always been the fuel on Hill's fire.
In practice
Today, Hill is an IP litigation associate at Dorsey & Whitney LLP, where she focuses on federal IP matters, handling patent, trade secret, trademark, and antitrust cases.
Many of the cases she's worked on echo her time at the School of Pharmacy, representing various pharmaceutical and medical device companies.
"I like that I do something different every day," says Hill. "Every case is different, and all my clients have different goals: to win at trial, to settle for a monetary sum, or to achieve an intangible result. No two cases have been the same procedurally. I'm constantly learning about technology, process, and procedure."
Although her day-to-day focus might change, one thing does not: Hill has to continually educate herself about new technology and developments for each case. And "technology" in this sense doesn't necessarily mean something electronic—but some new specialized knowledge, application, or manner of doing something.
"I have to know the technology at issue inside and out, whether it's a topical NSAID (nonsteroidal anti-inflammatory drug) formulation used to treat osteoarthritis pain, or a CPAP (continuous positive airway pressure) device for the treatment of obstructive sleep apnea," she says. "I need to understand how a patent's claims do or do not 'read on' that technology or a related prior art technology."

Hill says her experience as a Pharm-Tox undergraduate taught her to be persistent and motivated when learning new information, even if it means staying glued to a chair for hours.
"Pharm-Tox was a challenging program," she says. "I learned how to be diligent and to stay focused to learn something. As an attorney, there are times when I have to draw from that experience. If I have a deadline and a million things to do, I have to concentrate and maintain a positive attitude."
Hill's day-to-day work as an attorney includes conducting pre-litigation research; writing opinion letters; managing the discovery process, in which attorneys exchange information like documents and take depositions before a trial; pre-trial motion practice; and trial preparation.
"Memorizing and understanding processes, mechanisms of action, and other aspects of drugs, as well as paying attention to small details that can make a huge difference, are skills that I learned at the School of Pharmacy that I continue to find very valuable in my work as an attorney," she says. "A word change in a brief or patent can make a world of difference, so honing in on those details and analyzing their impact is an important skill."
Hill's destination after leaving the School of Pharmacy might not be typical, but it's perfectly in line with Johnson's hopes for the students who complete the rigorous program.
"The creative path Alison chose to take is rare to see from the Pharm-Tox program," says Johnson. "But it's always exciting to see students take the material they learn, make it their own, and transform it into a fulfilling career."